'Star Wars Rebels' Season 3 Trailer: Grand Admiral Thrawn Will Tear The Rebels Apart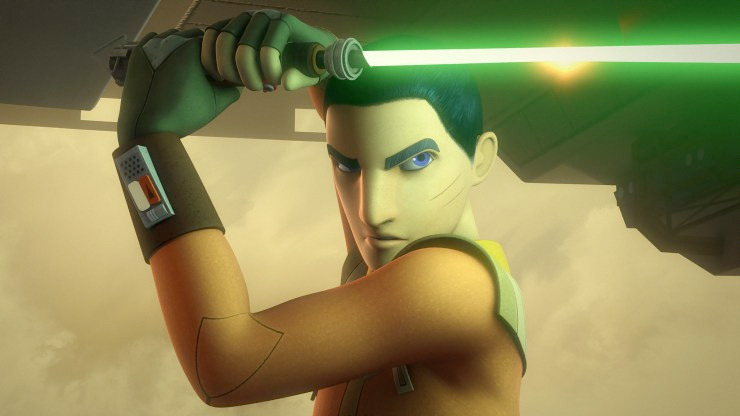 This season of Star Wars Rebels is shaping up to be a big one for fans of the stories that became Star Wars Legends when Disney took over Lucasfilm. A whole series of tales that took place within the Star Wars universe were retconned favor of a future where all of the stories that took place in a galaxy far, far away were officially tied together by the same continuity. But now one of the most beloved bad guys from Star Wars Legends will become canon again this season as Grand Admiral Thrawn enters the fray.
The blue-skinned Imperial superior officer was revealed to be joining the animated series on Disney XD during Star Wars Celebration in July, and now with the season premiere of Star Wars Rebels nearly upon us, a new trailer gives us more of a taste of the danger he poses to our Rebel heroes.
Watch the new Star Wars Rebels season 3 trailer after the jump.
Darth Vader was already a formidable threat last season, but Grand Admiral Thrawn stands a chance at outshining him. The character is known to be a master strategist, and he's bound to have a lasting impact on the Ghost crew by tearing them apart with a variety of intricate plans.
Plus, Ezra himself may end up being a problem as he's becoming much more powerful in the Force, perhaps even being more tempted by the dark side this season as he begins to become more headstrong as he ages. Hopefully he doesn't go down a path that we've already seen in Anakin Skywalker and there's something more compelling to do with the Jedi in training.
For more from Star Wars Rebels upcoming third season, check out the full trailer over here.
Having established a secret base on Atollon, the Ghost crew, now led by a more powerful Ezra, strengthens the rebel fleet by acquiring new resources and recruits eager to stand against the Empire. However, the Imperial efforts to eliminate the rebellion are now being led by the coldly analytical Grand Admiral Thrawn, whose strategic, tactical and cultural insights make him a threat unlike any they have faced before. In season three, Ezra and Sabine take on new roles and challenges as the rebels prepare for their biggest mission yet – a direct assault on the Empire.
Star Wars Rebels returns to Disney XD with an hour season premiere on September 24.