'Hidden Figures' Sneak Peek Makes Taraji P. Henson Tear Up: "It's So Important" [TIFF 2016]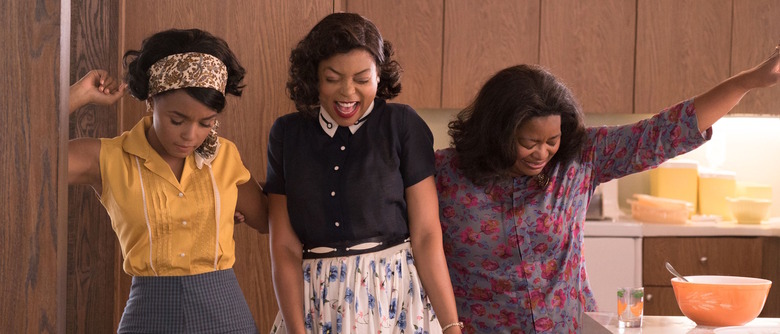 Officially, Hidden Figures does not open until January 13, 2017. But it's hard not to suspect Fox 2000 is considering an awards season push for the historical drama, which centers around three black female NASA mathematicians and engineers who helped launch John Glenn into outer space in 1962. And if so, that campaign got off to a rousing start this weekend at TIFF.
Fox 2000 brought about half an hour of footage to present at the festival, followed by a panel presentation. The latter got emotional as star Taraji P. Henson came onstage wiping away tears, surrounded by co-stars Octavia Spencer and Janelle Monae and producers Pharrell Williams and Jeno Topping.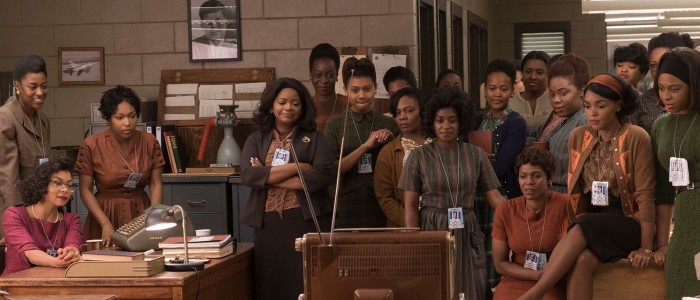 Hidden Figures Sneak Peek Recap
Hidden Figures follows the stories of three women who worked in the "Colored Computers" department (distinct from the all-white "East Computers" department). Mathematician Katherine Johnson (Henson), acting division head Dorothy Vaughan (Spencer), and engineer Mary Jackson (Monáe). The scenes we saw were unfinished, with temporary sound and music, picture, effects, etc., but all together, they suggested a moving film anchored by the friendship between the women, and smart about the countless ways,  their race and gender have stacked the deck against them.
In the first scene, the women's car breaks down on the way to work and a police officer eventually pulls up behind them. He's suspicious at first, but changes his tune when he realizes the women work for NASA, even offering them a police escort. "Three Negro women chasing down a white police officer in 1961," Mary notes wryly as she drives behind the cop. "That is a God-ordained miracle."
Other scenes showed the minor indignities these women have to suffer — for example, Mary realizes she has to travel all the way to another building to use the segregated bathroom, and her white male colleagues seem none too pleased with having their math checked by black women. But there are moments of triumph, too. In one clip, Katherine talks her way into a top-level meeting and wows the room with her math skills (including astronaut John Glenn, played by Glen Powell); in another, Mary makes a moving speech in a petition to a judge to let her attend an all-white school.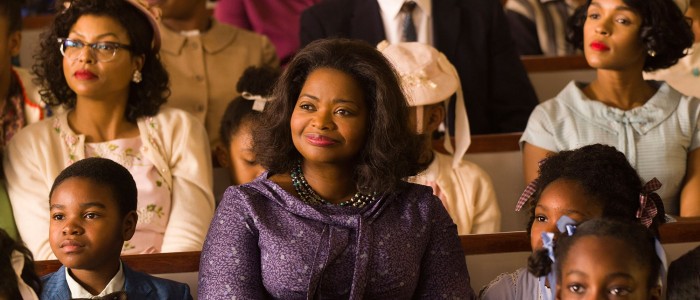 Hidden Figures Q&A Recap
In the Q&A that followed, the cast and producers emphasized how very much the story meant to them. Henson came out still wiping away her tears, explaining to us that it was the first time she and her co-stars had seen these clips. "It's so important, right?" she said. Despite her overwhelming emotions, Henson was eloquent as she explained why Hidden Figures mattered so much to her. "I'm a girl from the hood, okay. I didn't grow up with much. So all I had was dreams and hope." She continued:
If I had known about these women coming up, maybe I would have aspired to be a rocket scientist. Not to say that I have a bad journey, but what I'm saying is that nowadays, this is all kids of color feel like they have. Sports. Rap. Acting. And there's so much more important work to be done. And to be a part of a project that will give children like me, where I grew up, hope, to dream a different dream, that is — I can't even quite put it into words, it really feels surreal right now.
While the true stories that inspired Hidden Figures aren't really classified, they've never been told before on screen. Indeed, Spencer pointed out, few movies have even acknowledged the involvement of women in the space program. "No women, not black or white, were mentioned in Apollo 13, or any of those other movies," she said. "I'm sad that Dorothy Vaughn or Mary Jackson won't see this thing. But I'm excited that Katherine Johnson will."
Monáe added that at its heart, Hidden Figures is a universal tale. "I think Hidden Figures transcends race," she said. "When I see them, I just see heroes. I'm proud as a woman, I'm proud as a minority, but I'm as an American."
Switching gears, Williams talked up the score he's composing with his "big brother" Hans Zimmer. "What we're doing in the moment together right now, I have to say, I dare to say it's revolutionary," he teased. "And the biggest clue I can give you is, just think about the voices. Think about the voices that were in the heads of these three genius women."
After the Q&A, Williams offered a little taste of his music for Hidden Figures in an outdoor concert. Watch the highlights below:
***
Hidden Figures opens January 13, 2017.