Ghost Rider Revealed In 'Agents Of S.H.I.E.L.D.' Previews [Updated With More Footage]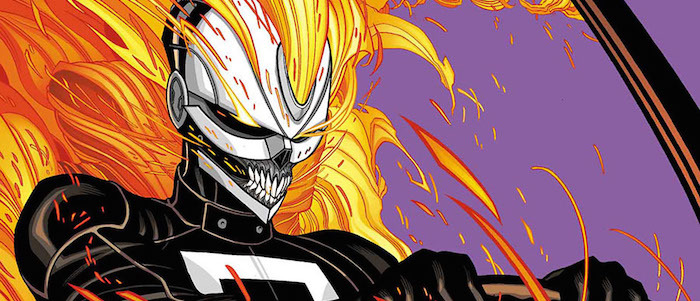 Update From Editor Peter Sciretta: ABC has released a longer tv spot showcasing Agents of SHIELD's newest Marvel hero: Ghost Rider. See that video and more, after the jump.
Marvel's #AgentsofSHIELD returns with a vengeance this Tuesday at a NEW TIME 10|9c on ABC. https://t.co/TIuBq2FXYp

— Marvel's Agents of S.H.I.E.L.D. (@AgentsofSHIELD) September 14, 2016
Jacob Hall's story from September 12th follows:
I never made an active decision to stop watching Agents of S.H.I.E.L.D. Unlike Daredevil and Jessica Jones, this series has never been required viewing – it's always been tasty junk food that's perfect for folding laundry and tidying up the house and for those days where you just want something reliable on your television. I enjoyed the first two seasons well enough and had every intention of watching season three...but then I blinked and the season was over, and I had no idea when I would be able to find the time to get caught up.
If Marvel and ABC introducing Ghost Rider in season 4 is part of a grand scheme to convince viewers who have fallen off to jump back on the show, then mission accomplished, I suppose. A TV spot has revealed the new take on this believed b-side superhero and okay, yeah, sure, fine, I'll get caught on Agents of S.H.I.E.L.D.
Superhero fans who only know Ghost Rider from his two big screen outings (both of which belong in the "Worst Superhero Movie of All Time" conversation) may not recognize this take. While Nicolas Cage played Johnny Blaze, the original comic book incarnation of the character, on the big screen, the television version is utilizing a more recent addition to the Marvel comic book universe: Robbie Reyes. This character was introduced in the pages of 2014's All-New Ghost Rider, written by Felipe Smith and illustrated by Tradd Moore, and it was pretty good but relatively short-lived, running for twelve issues.
While Blaze was a veteran motorcycle stunt rider cursed with demonic powers as part of a pact with the devil, Robbie is a Latino high school student who scraping by in a rough Los Angeles neighborhood when he is gunned down during a street race and reborn as a new Ghost Rider. As you can see in the spot below, that classic flaming motorcycle has been replaced with a flaming muscle car.
The original 15-second tv spot follows:
And here's a proper still of how the character will look on screen. Comic book fans will also note that Robbie (played by Gabriel Luna) is wearing the same style of leather jacket as his comic book counterpart, although the flaming skull seems to be more in line with the traditional representation of the character than Tradd Moore's more over-the-top design.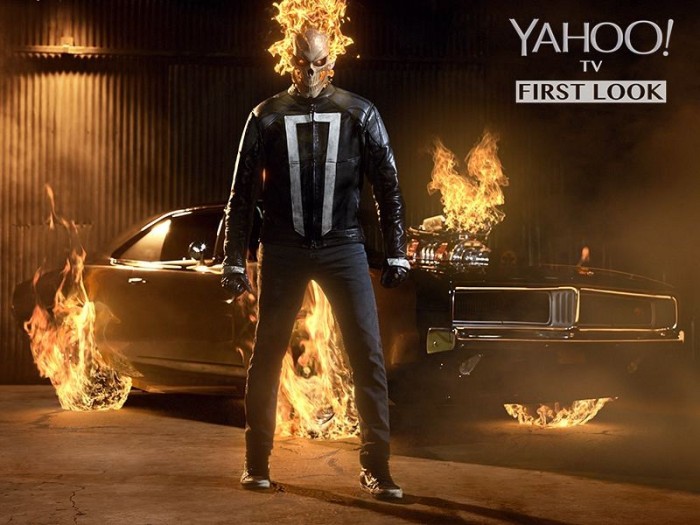 Although this is our first real look at the character and his distinctive automobile, the reveal was initially teased at Comic-Con with this video:
And if you're wondering why Agents of S.H.I.E.L.D. decided to go with Robbie Reyes instead of the more well-known Johnny Blaze, here's what head of Marvel Television Jeph Loeb told The Hollywood Reporter a few weeks ago:
Robbie's story, in its inception, is the story of an older brother who's looking after his younger brother, and then how the world of the Ghost Rider changes that dynamic. That's true of any Marvel hero. We begin in a place where it's something we can all relate to, and then something extraordinary happens to them, not that they've ever asked for it. What we'll find out along the way is Robbie's journey now that he has the burden of being the Ghost Rider, what that does and more importantly how that affects our cast at SHIELD.
Agents of S.H.I.E.L.D. season four premieres on September 20, 2016, and the premiere is titled "The Ghost." In other words, they're not beating around the bush with this one.