'Jurassic World 2' Is Chapter Two Of A Jurassic World Trilogy, Colin Trevorrow Still Heavily Involved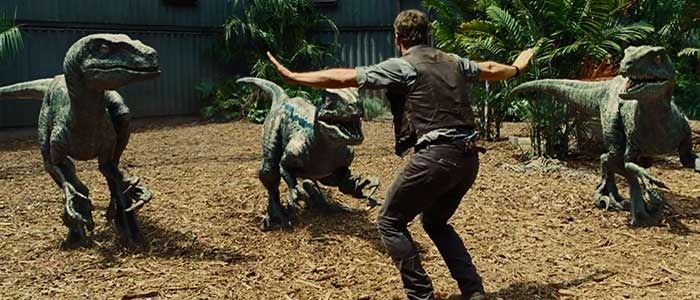 It's been over a year since Jurassic World arrived and shattered every box office expectation, grossing an absurd amount of money and proving that yes, there is still a healthy audience for movies where dinosaurs run amuck and eat tourists. And it's been five months since director J.A. Bayona was hired to take over the revitalized series for Colin Trevorrow, who was turning his focus toward some movie called Star Wars: Episode 9 (whatever the hell that is). Otherwise, things have been awfully quiet on the Jurassic World 2 front aside from a few comments here and there.
However, Bayona has a new movie arriving in theaters in a few months, a movie that just-so-happened to just screen at the Toronto International Film Festival. And you know that means: he's fielding questions about the next Jurassic World and he's confirmed what we've heard before. Yep, it will definitely be chapter two of a planned trilogy.
Speaking with Latino Review, Bayona explained that Trevorrow is still very much involved in the sequel and has mapped out three movies. Here's the full quote:
I think they love The Impossible and The Orphanage—especially Colin (Trevorrow) loved those movies. It's very interesting. The whole Jurassic World is a trilogy that Colin Trevorrow has envisioned. We're writing the second chapter, and it's very interesting where he's leading the story. I grew up watching Steven Spielberg movies and I love those movies and the legacy, so it's a question of being truthful to the legacy and at the same time, bringing new stuff that people will appreciate. We are still six months ahead of shooting, and so far, so good. It's very exciting right now.
Although he directly references The Orphanage (creepy and sad and atmospheric as hell!) and The Impossible (terrifying and impeccably crafted!), you have to wonder how much of Bayona's hiring had to do with his newest movie, A Monster Calls. This fantastical tearjerker about a boy battling his grief with the help of a tree monster voiced by Liam Neeson has earned its fair share of raves out of TIFF, with our own Angie Han giving it a positive notice. This blend of fantasy, sentiment, and special effects exactly what you're looking for in a filmmaker who wants to play in a sandbox created by Steven Spielberg.
But back to this trilogy news. It's not surprising in the slightest that Universal and the Jurassic team want a new trilogy – the first movie was so huge and serialized storytelling that promises a new movie every two or three years is how the blockbuster game is played these days. And it's not surprising that Trevorrow is helping steer the ship because whether you like the movie or not (I remain mixed on it), it's been very clear that this is a world he's passionate about and has approached with the absolute best of intentions. However, Bayona is the interesting factor here because his previous work has been fresh and visceral and wild enough to suggest that he can bring something familiar but new to Isla Nublar and its cast of scaly beasties.
Jurassic World 2 is currently scheduled for a June 22, 2018 release date.