Cool Stuff: Craig Drake Solo Show III Has 'Ghostbusters', 'Mad Max: Fury Road,' 'Ex Machina' & More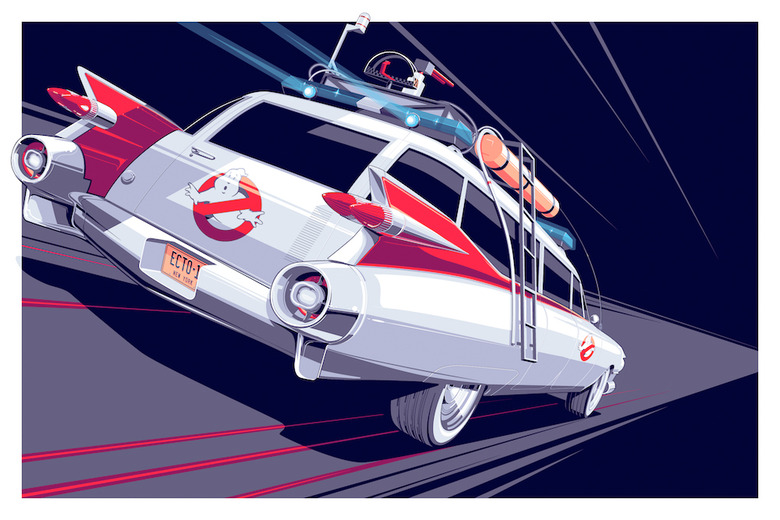 This past weekend saw the opening of the third solo show for pop culture artist Craig Drake. Over at Hero Complex Gallery, fans lined up outside for hours to get into the show to have the first shot at picking up the latest work from the artist who brought us outstanding work from the likes of Star Wars, Pulp Fiction, TRON and more in his last solo art show. Now you can check out the pieces that Craig Drake debuted for this third solo show at Hero Complex Gallery, including tributes to Ghostbusters, Mad Max: Fury Road, Ex Machina, The Fifth Element, Batman, Alien, Akira and more.
Check out the new Craig Drake artwork from this third solo show after the jump.
Here's a batch of the new artwork straight from Hero Complex Galley:
Almost all of the pieces you see above have several different variants you can get your hands on. For example, the A Clockwork Orange piece you see above is a variant, there's also a regular edition, a foil edition, and a special 1:1 variant where each one that you buy will have a completely different, random color on that side. The Ex Machina piece also has a similar collection of prints available.
In addition, for this show, Craig Drake unveiled a collection of illuminated prints that come in lightbox frames that illuminate each piece. A Clockwork Orange, The Fifth Element, Ex Machina, Alien and Akira all have illuminated prints available to purchase. The Ecto-1 from Ghostbusters and the 1966 Batmobile also have illuminated editions to accompany the regular and foil variant editions of the prints.
As for that Scott Pilgrim vs the World print of Ramona Flowers and The Shining piece, those are only originals with no prints available, and the former of those two was sold on opening night. While in attendance for my first time at Hero Complex Galley, I made sure to pick up the Ecto-1 and even picked up a variant of Han Solo in Carbonite that was still available from the previous show.
For details on pricing and edition size, head over to the Hero Complex Gallery website and pick up the pieces you want while supplies last. You can also poke around the rest of the online shop to see what else is available online from previous shows that hasn't sold out yet. There are plenty of great pieces over there to buy.