Watch 'Big Hero 6' Star Ryan Potter Prove To Ben Affleck He'd Make A Great Robin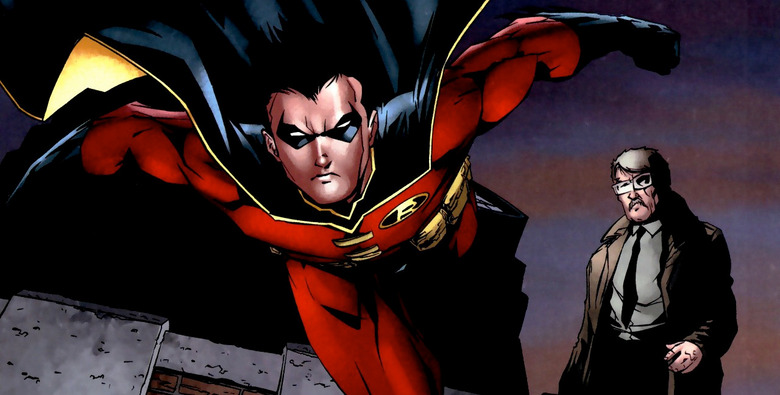 You might not know Ryan Potter by name, but if you saw Disney's Big Hero 6, you've certainly heard his voice. Though he played the young teenage hero, also named Hiro, in the animated adaptation of a Marvel Comics title, the actor just turned 20 years old today, and he's setting his sights on the world of live-action superheroes now.
Before the weekend, you might have seen in a recent edition of Superhero Bits that Ryan Potter had started an online campaign to play Batman's trusty sidekick Robin. Now he's taken things one step further by creating a little audition reel directed towards Ben Affleck, showing that he can handle some serious action as The Boy Wonder. Honestly, it's a pretty impressive little pitch. Watch Ryan Potter's Robin audition video after the jump.
Ryan Potter shows off some pretty impressive action chops here, showing that he has fantastic skills with a staff, just like the sidekick from the comics. Also, notice that in the title of the video, Ryan Potter is specifically pitching himself as the Tim Drake version of Robin. Tim Drake isn't an Asian-American character in the comics, but making that change when bringing the character into the DC Expanded Universe wouldn't be something outlandish. In fact, it would fit in with Hollywood's efforts to diversify the roster of superhero characters on the big screen.
In addition, auditioning for the Tim Drake version of Robin makes sense when you consider what has happened in the presumed timeline of the DC Expanded Universe. We already know Robin has been killed by The Joker and Harley Quinn, and that's part of what has sent Bruce Wayne into his darker, more reckless crime-fighting behavior. In addition, it seems that the Robin who was killed by The Joker was the Jason Todd version of the character before the events of Batman v Superman.
Taking that into consideration, many have assumed that Dick Grayson must have been Robin before that (just like in the comics), and has already moved on to become Nightwing elsewhere in the DC Expanded Universe. That would leave the window open for Batman to take on a new sidekick in the form Tim Drake.
If you're not familiar with Tim Drake, he's the third iteration of Robin in the comics. As a child, Drake had an encounter with Dick Grayson while he was still performing in the circus with his family as The Flying Graysons. At a later age, a nine-year old Drake was able to figure out that Bruce Wayne and Dick Grayson were Batman and Robin after seeing the latter perform an acrobatic move that he had seen performed by Grayson in the circus.
Following this revelation, inspired by the heroes, Drake trains in martial arts, acrobatics, detection and studies like crazy to make sure he's in peak physical and mental condition. At the age of 13, Drake takes it upon himself to stop Batman's stream of recently reckless behavior following the death of Jason Todd by becoming his new sidekick. He's put through a stream of rigorous tests and training in order to help ensure he doesn't meet the same fate as Jason Todd.
Seeing this storyline play out on the big screen would be interesting, but I can't imagine them doing that in the first solo outing for Ben Affleck as Batman. After all, we're already getting kind of a Batman & Robin dynamic with Ezra Miller The Flash, at least judging by the footage from the Comic-Con sizzle reel, so bringing a new Robin into the DC Expanded Universe may not be in the cards so quickly. However, a solo Batman sequel could possibly incorporate Tim Drake into the equation.
Anything is possible with the solo Batman movie, but since a lot will happen in Justice League before then, we'll have to wait to see where we find Batman after that adventure. We already know he's going to deal with Deathstroke in his first solo outing, but who knows what else is in store.