The Reason Why 'G.I. Joe 3' Is Delayed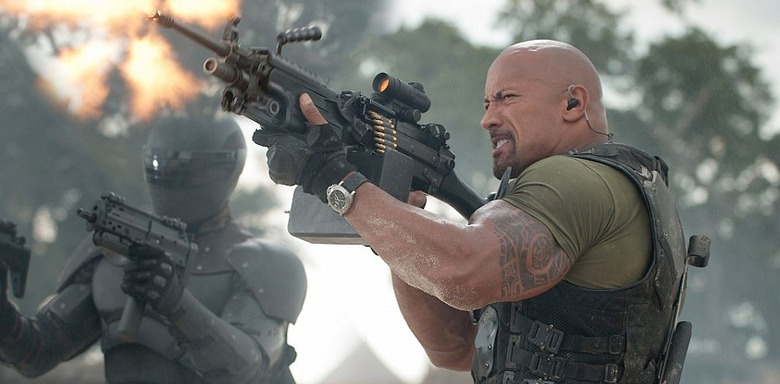 It's been a long time since we heard anything about G.I. Joe 3. The last development on the sequel had up and coming writer Aaron Berg
, and before that D.J. Caruso
of the movie instead of G.I. Joe: Retaliation director Jon M. Chu. We're not sure if either of those two talents are still involved with the project, but it doesn't sound like G.I. Joe 3 is going to happen anytime soon thanks to the busy schedule of Dwayne Johnson.
Find out what's going on with G.I. Joe 3 after the jump.
G.I. Joe franchise star Byung-hun Lee (who plays Storm Shadow) was attending the Toronto International Film Festival for the premiere of The Magnificent Seven and
(via
) sat down with the actor for an interview where discussion turned to the status of G.I. Joe 3. Here's what the actor had to say:
"I heard from the studio that there's a possibility to do the third one, but I think they're waiting for the actors' schedules. They're arranging the schedules for the actors, especially Dwayne Johnson."
The cast of the G.I. Joe franchise has a fairly decent sized ensemble, so determining when there's an opening in all those schedules is likely pretty damn hard. But as Lee notes, Dwayne Johnson is undoubtedly the busiest of the crew, and his schedule doesn't appear to have much free time over the next few years.
Right now Dwayne Johnson
, and the video game adaptation
. Then there's also the pulp fiction adaptation
, and sequels to
and Journey to the Center of the Earth (the third one is apparently titled Journey 3: From the Earth to the Moon, and
) Then Johnson is also
in the DC Comics flick Shazam.
Some of those projects don't have set release dates yet, so they may not be an issue, but since he also still has to do press for upcoming movies such as Moana, Baywatch and Fast 8. Plus, that doesn't even include the 16 projects Johnson has in development on IMDb, including the
Big Trouble in Little China and an adaptation of the
Disney theme park ride Jungle Cruise
.
G.I. Joe is undoubtedly a priority for Paramount Pictures, and the toy franchise is supposed to end up being tied into the
developing Hasbro cinematic universe
that will include M.A.S.K., Micronauts, Visionaries and ROM. As for how quickly that will happen, we don't know. But hopefully Dwayne Johnson has some time in the future to make sure we don't see G.I. Joe 3 delayed much longer.