Billy Crudup Joins Rick Famuyiwa's 'The Flash'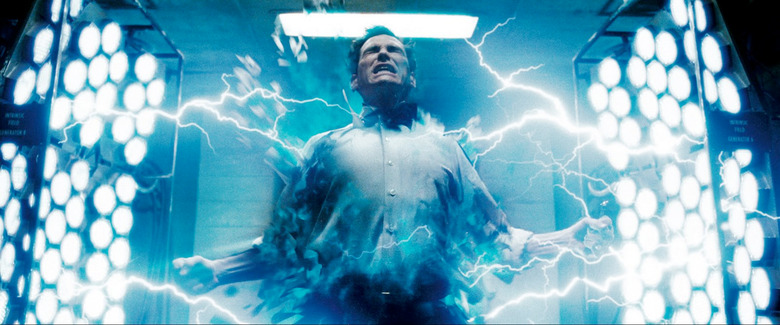 Right now production on Justice League is underway, but early next year the start of another franchise will begin shooting, giving one of the superheroes from the DC Comics ensemble a chance to venture out on their own.
The Flash is set arrive early in 2018, though the character played by Ezra Miller has already appeared in some security camera footage and a surprising time travel sequence in Batman v Superman: Dawn of Justice, as well as a cameo in Suicide Squad. With the start of production looming closer, the supporting cast is starting to beef up a bit, this time with Almost Famous and Mission: Impossible III star Billy Crudup taking a key role
Find out more about Billy Crudup in The Flash after the jump.
Variety reports Billy Crudup will be taking a role in The Flash as Barry Allen's father Henry Allen. This won't be the first time Crudup has entered comic book territory since he also played Dr. Manhattan in Zack Snyder's adaptation of Watchmen, which also happens to be a Warner Bros. Pictures release.
As of now, there's no indication as to how pivotal Billy Crudup's role will be in the movie, however it would be interesting if the film took a cue from the Rebirth comic storyline. In the new series following The Flash, Professor Zoom goes back in time and kills Barry Allen's mother Nora Allen, framing Henry Allen for her death. Barry's father then goes to jail, leaving his son to spend his life trying to prove his innocence.
This seems like a feasible story element of The Flash movie since the footage we've seen of the Scarlet Speedster in the Justice League Comic-Con sizzle reel appears to indicate that Barry Allen is on his own. Bruce Wayne stops by his place, and there are no parents around. And judging by all the monitors and whatnot in Barry Allen's residence, I wouldn't be surprised if he's been spending his time looking for the man who framed his father.
That's all speculation on our part, but as the supporting cast in The Flash starts to get assembled, maybe we'll find out more. A rumor previously pinpointed the villain team known as The Rogues as being the antagonists of The Flash movie, so maybe my guesswork is completely wrong. Only time will tell.
Rick Famuyiwa is directing The Flash with a script from Seth Grahame-Smith based on a treatment by Phil Lord and Chris Miller. In addition to Ezra Miller and the recently cast Billy Crudup, the cast also includes Ray Fisher as Cyborg and Dope star Kiersey Clemons. Stay tuned to find out more about The Flash as the project develops and inches closer to its March 16, 2018 release date.