Chris Pratt Says 'Guardians Vol. 2' Will Be The Biggest Spectacle Of All Time, Steven Tyler Wants 'Vol. 3' Role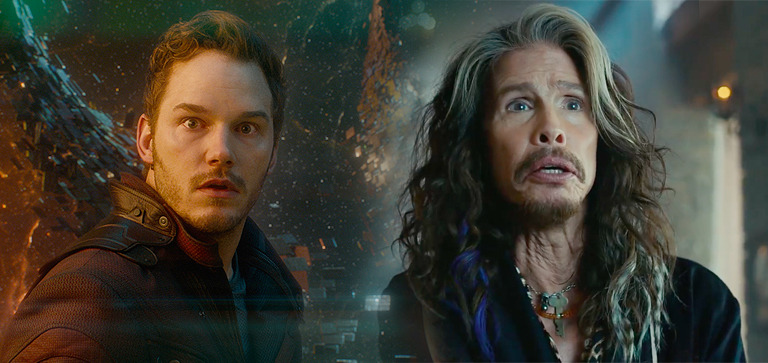 The hype surrounding Guardians of the Galaxy Vol. 2 is already very high. Fans are so excited about the sequel that director James Gunn even had to ask people to stop asking him when the trailer was going to arrive. According to his recent barrage of answers to frequently asked questions, it will arrive sometime before Christmas, so just be patient.
Now Chris Pratt is adding to the hype machine in a recent interview where he claims that the movie will be the "biggest spectacle of all time." And when you have a sequel building that much excitement, it should come as no surprise when a rock star like Steven Tyler says that he wants a role for Guardians of the Galaxy Vol. 3, whenever that happens.
First up, let's talk about what Chris Pratt had to say about Guardians of the Galaxy Vol. 2. Pratt was up in Toronto for the premiere of The Magnificent Seven at TIFF, and The Toronto Sun (via Cinema Blend) talked with the actor about the upcoming sequel. And while he couldn't divulge any new information about the movie that we didn't already know, he did offer this little bit of hype:
"It's a fabulous script. I think it's going to be- I'm not using hyperbole, here – I think it's going to be the biggest spectacle movie of all time."
Most of the time when people use words like "biggest spectacle" and "of all time," they're incredibly hyperbolic. However, there's a good chance that Pratt isn't exaggerating here, and that's truly what he believes. The first Guardians of the Galaxy was surprisingly outstanding, and I wouldn't be surprised for the sequel to amp things up and surpass the greatest of that movie. At the very least, that's what fans want, and we hope Chris Pratt won't be proven wrong when the movie comes out next summer.
Meanwhile, someone outside of the Guardians of the Galaxy universe is looking to get in on the action. Aerosmith frontman and former American Idol judge Steven Tyler has been promoting some kind of horror thriller that he appears in called Happy Birthday, and while speaking with People Magazine, he said that working on that film made him want to do more movies, and he has one very specific title in mind:
"I would do anything to be in Guardians of the Galaxy 3 – are you listening James Gunn?"
Even though the soundtracks for Guardians of the Galaxy are chock full of classic rock and pop music, director James Gunn hasn't brought any musicians into the cast of his cosmic comic book universe yet (Correction: A reader pointed out Jimmy Urine, the lead singer of Mindless Self Indulgence has a role in Vol. 2). Other additions in Guardians of the Galaxy Vol. 2 include veteran actors such as Kurt Russell and Sylvester Stallone, but presumably no major rock stars appear.
Steven Tyler feels like the kind of musician who would fit in perfectly in an alien world, but it might be tough to feature him in the movie without it being distracting, kind of like his cameo in The Polar Express. But if people like Keith Richards and Paul McCartney can get on board the Pirates of the Caribbean franchise, then maybe having Steven Tyler in Guardians of the Galaxy 3 is something James Gunn would consider.
However, for now there is no release date for Guardians of the Galaxy Vol. 3, though it's almost a guarantee that a third installment will be planned sometime in the future. There's no guarantee that James Gunn will be back for a third round though, so he may not be the one that Steven Tyler has to convince. Plus, this may not be something that fans are up for seeing either.
Anyway, we're getting ahead of ourselves, because we still have a long way to go until Guardians of the Galaxy Vol. 2 hits theaters next year on May 5, 2017.