'Free Fire' Trailer: Ben Wheatley Drops Brie Larson Into A Feature-Length Gunfight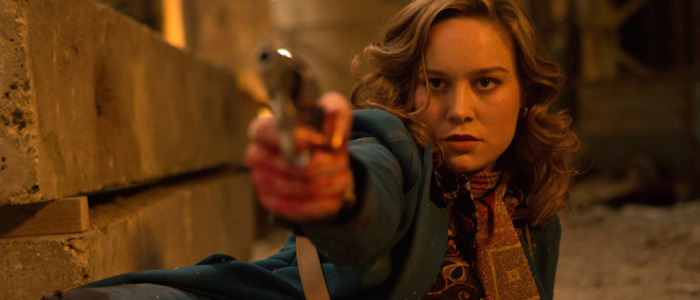 The impending arrival of new Ben Wheatley movie is always a cause for celebration. The genius (yes, I'll break out the "G" word) behind films like Kill List, Sightseers, and High-Rise has been a favorite of mine for years, leaping between genres while maintaining his signature dark comedy and unflinching ability to sell genuine pain and terror. His new film, Free Fire, is built around a premise that is simultaneously old school and high concept: two groups of criminals in 1970s Boston arrange an arms deal in an old warehouse, things go south, guns are drawn...and they proceed to engage in a gun battle that plays out over the course of the entire movie, mostly in real time.
The first Free Fire trailer has arrived (in bloody, NSFW red band form!) and you can check it out below.
Free Fire actually held its world premiere at the Toronto International Film Festival last night, and the reviews so far have been mostly positive, a nice bounce from the hugely divisive (and from my perspective, brilliant) High-Rise. The trailer itself sells a movie that looks far more approachable than most of Wheatley's work so far – his penchant for combining grisly violence with black comedy is on full display, but it's wrapped in a package that could be appealing to audiences who found the psychedelic A Field in England too weird or Kill List too oblique. Frankly, Free Fire (at least in trailer form) looks like the kind of thing Guy Ritchie would have made if he hadn't taken off for Hollywood.
Free Fire Trailer: Red Band
If you want more, there's this red band U.K. trailer, which runs about a minute shorter.
Free Fire Trailer: UK Version
It certainly helps that Free Fire features the biggest cast of any Wheatley movie so far. Brie Larson is the instant standout because she took home an Academy Award for Room earlier this year and is on deck to play Captain Marvel, but the rest of the ensemble isn't made up of slouches. There's Armie Hammer, the dashingly handsome and charming actor who should have been a star by now. There's Cillian Murphy, being allowed to go full-Irish. There's Jack Reynor, who has won the undying love of anyone smart enough to have watched Sing Street by now. There's Wheatley regular Michael Smiley, whose mere presence just makes me grin like a loon. And then there's Sharlto Copley, a living, breathing wild card whose performance is almost always dependent on the material he's given. I would like nothing more than to love another Copley performance.
In short, this is a group of people I really want to see shoot at each other for 90 minutes.
Free Fire doesn't have an official release date yet, but A24 will release it in theaters sometime in 2017. In the meantime, here's the glorious poster for the film, which looks like it leaped into 2016 from a time tunnel connected to 1974.