First 'Avengers: Infinity War' Set Photo Shows Josh Brolin As Thanos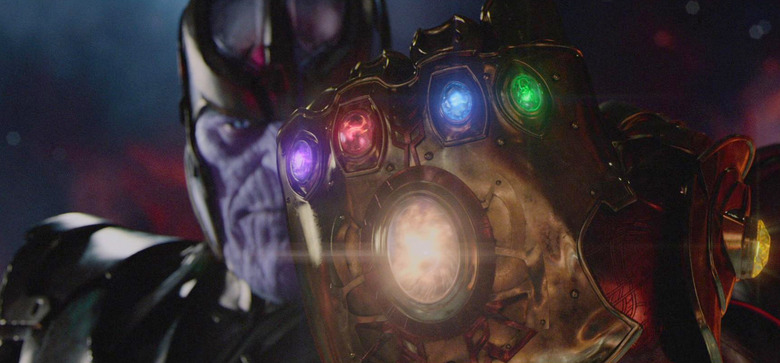 Production on The Avengers: Infinity War won't officially begin until November. However, directors Anthony & Joe Russo are already busy at work on pre-production. And to prove that they're busy preparing to shoot the sequel (which is no longer the first chapter of a two-part sequel), they've posted a photo from the set to show their rehearsal time with Josh Brolin as the Mad Titan known as Thanos.
Check out The Avengers Infinity War set photo after the jump.
Here's what the Russo brothers posted to Facebook earlier today: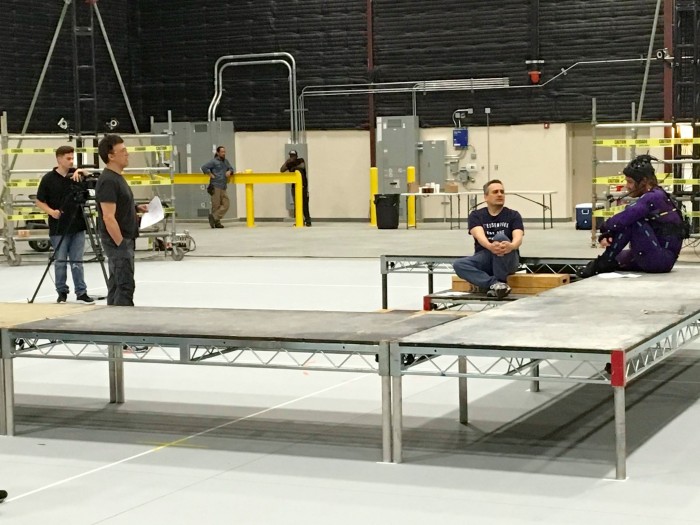 There's not much to see for anyone hoping to spot some kind of revelation in the background. But that's Josh Brolin wearing a purple motion capture suit in order to bring the digitally created villain Thanos to life. Sure, he could be wearing any color suit if he wanted to, but the purple probably puts him in the right frame of mind to be a bitter Grimace with a shiny, deadly glove and no Infinity Stones.
The last time we saw Thanos was in the credits scene of The Avengers: Age of Ultron when we saw him remove the Infinity Gauntlet from its holding space. Clearly annoyed that another Infinity Stone is now out of his grasp, Thanos simply says, "Fine. I'll do it myself."
Thanos will have a much more substantial role in The Avengers: Infinity War, so Anthony & Joe Russo are probably conducting some standard camera and motion-capture tests to figure how best to shoot scenes that will feature the villain while in production. Presumably Josh Brolin will be on set with the rest of the cast for some sequences in addition to shooting motion-capture work, but there's a chance all of his performance could be done on a soundstage somewhere, separate from the rest of the production.
This forthcoming face-off with Thanos has been a long time coming ever since he orchestrated the attack on New York City by way of Loki and an army of Chitauri soldiers. Surely he'll take credit for that attack upon meeting The Avengers, which will probably only piss of the superhero team more. And we already know one of the members of the assembly gets a little unstable when they're angry.
Thanos certainly still has a lot of work to do since he has no Infinity Stones in his possession at all. It'll be interesting to see how quickly he rounds them up from around the galaxy, and just how much destruction is waged in order to do that. Of course, we'll be waiting quite awhile before we see how that plays out because we have Doctor Strange, Guardians of the Galaxy Vol. 2, Spider-Man: Homecoming, Thor: Ragnarok and Black Panther coming to theaters before Avengers: Infinity War arrives on May 4, 2018.