Paul Thomas Anderson And Daniel Day-Lewis Confirmed To Reteam For 2017 Film At Focus Features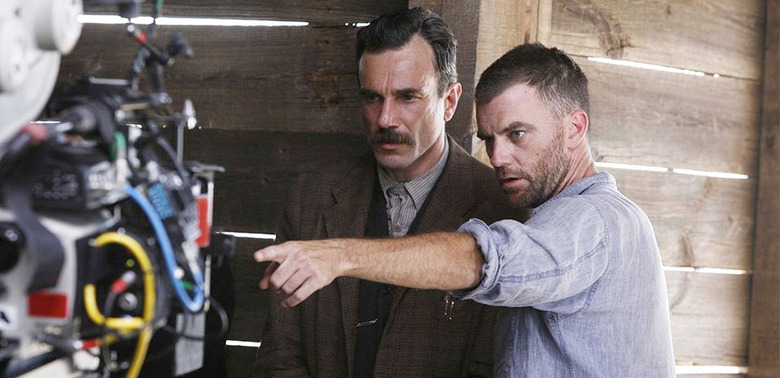 Cinephiles were buzzing with excitement over the summer when rumors pointed to a possible reunion of director Paul Thomas Anderson and his There Will Be Blood star Daniel Day-Lewis for an untitled film that was reportedly set in the fashion world of New York City during the 1950s. Today we have confirmation that this reunion is actually happening.
Up at the Toronto International Film Festival, Universal and Focus Features picked up the worldwide rights to the project (beating out Fox Searchlight in a bidding battle) for the still untitled film that will be released sometime late in 2017. Even though details are sparse, there's a chance someone may have figured out what the movie is about. Find out more after the jump.
Back when the rumor of this project started circulating online, Vulture did some serious digging to try to figure out what the latest Paul Thomas Anderson Daniel Day-Lewis movie could be about. Taking the idea that Anderson's movies like Boogie Nights and The Master were inspired by real people, they dug into the history of fashion in 1950s New York City and came up with an educated guess as to who Daniel Day-Lewis' character might be inspired by.
The best guess the outlet came up with was that Day-Lewis may be playing Charles James, a fashion designer known for creating "some of the most audacious, expensive gowns in the world and even dressed other titans of couture like Coco Chanel." They have a whole rundown of James' life and career which sounds like it would make a fascinating film in the hands of Paul Thomas Anderson, if only as inspiration.
However, we should note that the Deadline report that confirmed the reunion of Paul Thomas Anderson and Daniel Day-Lewis says that the movie takes place in 1950s London, which could make that educated guess irrelevant now. A press release from Focus also confirms that detail saying Anderson "will once again explore a distinctive and surging milieu of the 20th century through the new movie – the couture world of 1950s London." It should be noted that the Vulture research piece explains that 1950s New York City fashion was dominated by fashion designers who were working out of Europe, so maybe we'll get a taste of both locations in the same decade.
Honestly, it doesn't really matter what this movie is about. All we need to know is that Anderson and Day-Lewis are working together again, and hopefully we get a film as compelling and masterful as There Will Be Blood. Their collaboration resulted a Best Actor win for Day-Lewis and seven more nominations for the film, including Best Director, Best Screenplay and Best Picture. And having Megan Ellison's Annapurna Pictures also on board just sweetens the deal.
The pressure is on to make something that lives up to that kind of success, especially with an awards season release planned for 2017,  but for now we're just anticipating seeing the film. As soon as any more solid details start to surface, we'll be sure to let you know.