'Headshot' Trailer: It's 'The Bourne Identity' Meets 'Taken' With 'The Raid' Star Iko Uwais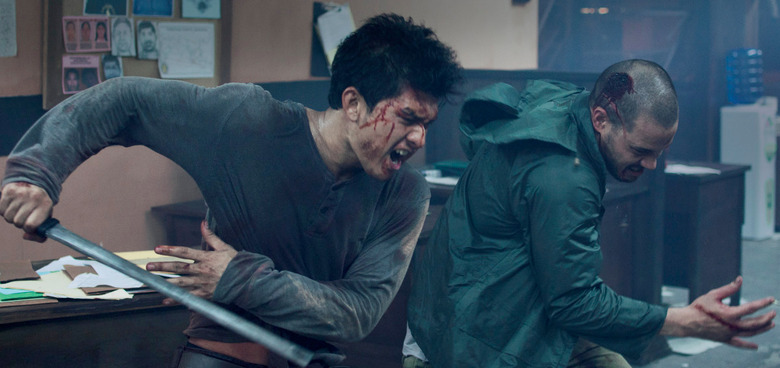 Two of the very best action films of the past decade are undoubtedly The Raid and The Raid 2: Berandal. The films deliver some of the most fast-paced, hard-hitting, perfectly choreographed action in recent memory, and while director Gareth Evans is responsible for bringing it all together, leading man Iko Uwais deserves plenty of credit for pulling off his own fight scenes and stunts. And now he's back in what promises to be another brutal action flick, albeit with a derivative story.
Headshot is premiering at the Toronto International Film Festival this week, and the first trailer for the Indonesian action flick has just arrived online. If you loved the action in The Raid franchise, then you'll definitely want to check this one out. Watch the Headshot trailer after the jump.
The film hails from The Mo Brothers, who are Timo Tjahjanto (director of the "Libido" segment of The ABCs of Death) and Kimo Stamboel. It should come as no surprise that the style of the film feels close to that of Gareth Evans' work in The Raid movies, because Timo Tjahjanto actually worked with him on the "Safe Haven" segment of V/H/S/2.
Having Iko Uwais in the lead easily gets me more excited to see how much ass gets kicked as he attempts to track down and save the woman who saved his life from a gang of ruthless thugs who just might be his former colleagues from a life he no longer remembers. Sure, that's a story we've heard plenty of times before, but with this kind of action in play, I'm fully on board to see how this all turns out.
The rest of the cast features Chelsea Islan, Sunny Pang, David Hendrawan and Very Tri Yulismann, who had the easy to spot role of Baseball Bat Man in The Raid 2. If you want to know more, here's the official synopsis straight from TIFF:
A nameless man (Uwais) wakes up in a hospital with severe head trauma, not knowing who he is or what happened to him. Assisted by devoted student doctor Ailin (Chelsea Islan), who nicknames him "Ishmael" after the character in Moby Dick, he recovers and tries to regain his memory. Naturally, Ishmael's past is about to catch up with him, in the form of Lee (Sunny Pang), a drug lord and gang boss whose tentacles reach deep into the police and the penal system. When Ailin is kidnapped and Ishmael sets out to get her back, he finds himself pitted against an array of skilled fighters who may have been his former colleagues. As Ishmael battles through a series of deadly fights with this squad of enforcers, fragments of his past are teased out and the puzzle of his identity begins to come together.
Headshot opens in Indonesia on December 16th, there's no US release date yet.