'Collateral Beauty' Trailer: Will Smith Writes Letters To Time, Love & Death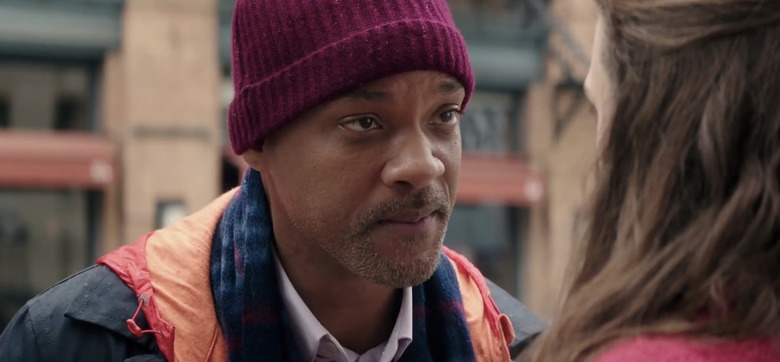 Even though Rogue One: A Star Wars Story will undoubtedly dominate the box office when it hits theaters in December, there's at least one film that's bold enough to go up against the franchise spin-off on opening weekend.
Collateral Beauty stars Will Smith as a dejected man named Howard who has lost the flare of life he used to have before his daughter died. As a form of therapy, Smith begins writing letters to Time, Love and Death, and one day he gets a surprise when one of them actually shows up to talk to him. Watch the Collateral Beauty trailer after the jump.
Speaking to Entertainment Weekly about the movie, "It's a little bit It's a Wonderful Life and a little bit The Wizard of Oz. It's the process of Howard putting his life back together, but there's also some interesting mystical elements. There's huuuuge spoilers. It's delicately framed in a way that's going to be tough to promote."
One spoiler may be how Time enters the equation because in the trailer we only meet Death (Helen Mirren) and Love (Keira Knightley). We're not sure if one of the other characters played by Michael Peña, Edward Norton, Naomie Harris, Jacob Latimore or Kate Winslet (who Smith called "The Avengers of a Christmas dramedy") will end up being Time, but that's something we'll probably have to wait to learn in the movie.
This is definitely the right kind of counter-programming to go up just before Christmas against Rogue One. It's obviously got a lot of heart and appears to be something that the family can head out to theaters to see around the holidays, especially with that It's A Wonderful Life vibe.
However, I wonder if the appearance of Love, Death and Time is all a ploy put on by his co-workers. After all, the synopsis says this, "When a successful New York advertising executive experiences a deeply personal tragedy and retreats from life entirely, his colleagues devise a radical plan to force him to confront his grief in a surprising and profoundly human way." A drastic plan would likely involve having people pose as the intangible entities that he's been writing to, but there could easily be something more magical at play too.
Collateral Beauty arrives on December 16th.