Theme Park Bits: Eli Roth Comes To Halloween Horror Nights, An Never-Built Mary Poppins Ride, And A Very Early Look At A New 'Star Trek' Roller Coaster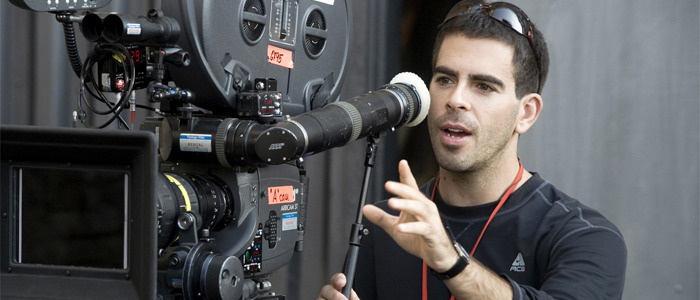 In this edition of Theme Park Bits:
Hostel director Eli Roth lends his talents to Universal Studios' Halloween Horror Nights.
Visitors to Mickey's Not-So-Scary Halloween Party will get a Zootopia exclusive.
Disneyland is getting a villain and ghost-themed Halloween parade.
The dance troupe Jabbawockeez returns to Halloween Horror Nights.
California Adventure's Twilight Zone Tower of Terror is getting a temporary seasonal re-do.
Legendary Imagineer Tony Baxter shares an early design for a Mary Poppins ride.
A look at new decorations popping up for Halloween Horror Nights.
Early footage of the under-construction Star Trek: Operation Enterprise.
Check out the full map for Universal Studios Florida's Halloween Horror Nights.
Go behind-the-scenes of the latest Frozen stage show.
And more!
There tends to be some overlap between the east coast and west coast versions of Universal Studios' Halloween Horror Nights, but the Hollywood version will always have one thing the Florida version will not: the Terror Tram, which transforms the park's legendary tram tour into a spooky new attraction whose theme changes every year. And for the 2016 edition, they have turned to Hostel and Cabin Fever director Eli Roth to provide the story. Here's a bit from the official press release, which includes Roth lavishing praise on Universal's hugely popular seasonal event:
"Eli Roth Presents Terror Tram" will expose guests to the fabled legacy of serial killer clown "Hollywood Harry," the story of a former jovial celebrity clown turn depraved murderer, and the minefield of carnage he left behind.
"I'm thrilled to be part of 'Halloween Horror Nights' again," said Eli Roth. "We wanted to completely fabricate an original story that brings together our absolute freakiest, scariest most disturbing ideas. The 'Halloween Horror Nights' team is the best in the business. Their production and execution is unmatched and I know this 'Terror Tram' experience will blow away all expectations, and haunt guests for the rest of their lives. 'Halloween Horror Nights is the must-see event for any horror movie fan—it's like the Super Bowl for scary movies, and is my favorite event of the year."
And as those paragraphs implies, Roth's story will involve a killer clown who plots revenge on Universal Studios and everyone who dares visit it:
The all-new "Terror Tram" experience will tell the sordid tale of former Angeleno resident Harold Kappowitz whose alter ego "Koodles the Clown" went from cheerful circus performer, to the lovable star of his own children's network television show...before he was overcome by his genuine "killer instincts."
By the 1990s, hard knocks took a deadly toll on Kappowitz, and the onetime endearing clown found himself exiled by the very Hollywood entertainment community that once adored him. With an all-consuming anger and hatred, Kappowitz—a now crazed and disheveled recluse—took refuge from society by hiding out at Universal Studios, emerging as notorious serial killer clown, "Hollywood Harry." Recurring murders began to dominate the studio, as "Hollywood Harry" drew strength from recruiting other outcast former clowns who, together, took revenge on Studio Tour guides and visitors alike, ceremoniously killing them, and leaving behind a deadly trail of terror.
Considering how cinematic Universal's Halloween Horror Nights events tend to be (most of them are, after all, based on well-known movie properties), recruiting a filmmaker who also happens to be a genuine horror nerd like Roth makes a lot of sense. Hopefully, this will be the start of a trend – getting the chance to see various other noteworthy directors take a stab at the haunted house business could be terrific.
Speaking of things coming to Universal Studios Hollywood's Halloween Horror Nights, the acclaimed dance group Jabbawockeez is returning to to the park this year. Here's the official details:
Jabbawockeez, the acclaimed, award-winning hip hop dance group, universally recognized as America's best dance crew, returns to Universal Studios Hollywood for a new electrifying original series of performances, enhanced by spectacular multi-color laser projections and the addition of the first-ever female dancer, as part of this year's Halloween Horror Nights.
The always-reliable AliciaStella.com has posted a whole bunch of new photos and video from a recent visit to Universal Studios Florida, including man photos of early Halloween Horror Nights decorations. You can follow that link to check out a whole bunch of images. But be warned! There are also new images of the under-construction Jimmy Fallon ride, which may be the most terrifying thing on the entire page.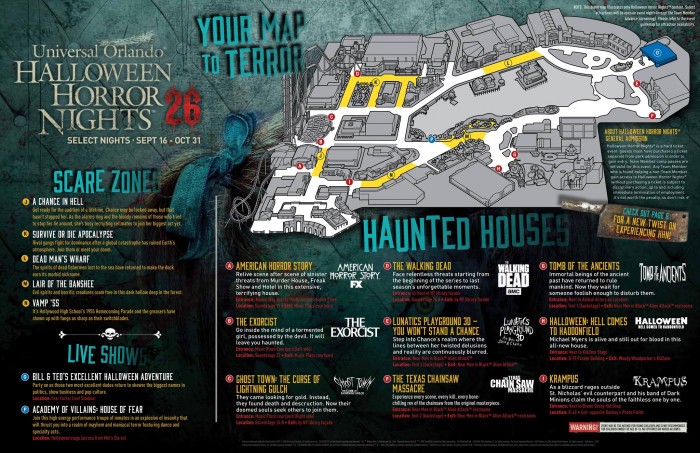 Let's wrap up this wave of Halloween Horror Nights news with this first look at the park for the Orlando version of the event, which features locations for each of the nine haunted houses, five Scare Zones, and two lives shows. As was previously announced, this year's line-up includes mazes based on American Horror Story, The Exorcist, The Walking Dead, The Texas Chainsaw Massacre, Krampus, and several original concepts.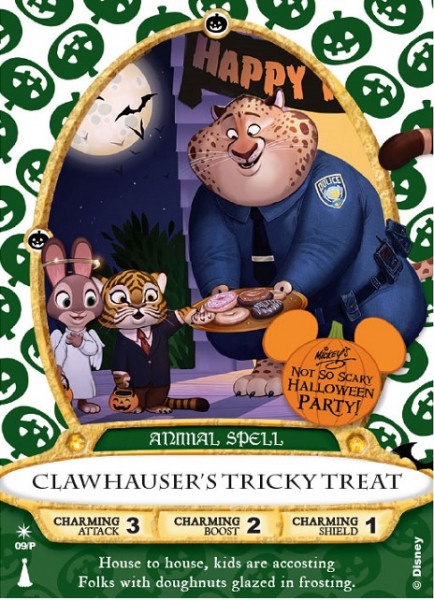 Theme park fans looking for something a little less intense this Halloween need only look to Disney, whose Mickey's Not-So-Scary Halloween Party continues to be very popular (and just as expensive as the seasonal offerings at Universal). The latest piece of news related to this event will sound like a random assortment of words jumbled together to anyone who hasn't been keeping up on their theme park business: this year's Not-S0-Scary celebration will involve an exclusive Sorcerers of the Magic Kingdom card featuring the character of Clawhauser from Zootopia. If you don't know what that means, know that this is an interactive, card-driven game that lets visitors battle Disney villains throughout the Magic Kingdom theme park in Walt Disney World. If you don't know who Clawhauser is...why haven't you watched Zootopia yet?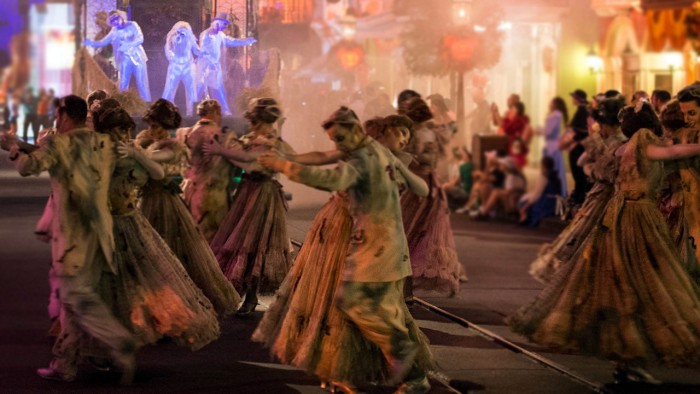 While Disneyland may not have Sorcerer's of the Magic Kingdom, it is getting new nighttime entertainment in the form of the Frightfully Fun Parade...and it honestly sounds like the better deal. The west coast Mickey's Not-So-Scary event is dedicating an entire parade to the spooky side of the Disney universe and it sounds like a must-see:
The Headless Horseman of Sleepy Hollow sets the mood as he arrives on his ghostly black steed just ahead of the parade itself, carrying a flickering jack-o-lantern as a warning to everyone along the parade route.
From "Tim Burton's The Nightmare Before Christmas," Jack Skellington the Pumpkin King brings greetings from Halloweentown, as residents arrive to celebrate their favorite time of year. Grim, grinning ghosts come out to socialize when Disney's iconic Haunted Mansion attraction comes to "afterlife," with swirling ballroom dancers, ominous gravediggers and a trio of hitchhiking ghosts. Inspired by Disney's "The Princess and the Frog," Dr. Facilier calls on mystical powers, summoning his Shadow Men from the bayou to loom large over his strange and twisted Voodoo parlor, and the mischievous Disney Villains appear out of the darkness, ready to stir up some trouble. A dark and dungeon-like lair takes over the parade route, bringing with it a wicked gathering of villainy from Hades and the Evil Queen to Jafar, Cruella and more!
Look, anything that gets those Haunted Mansion ghosts out and about is fine by me. Heck, anything that casts a loving spotlight on Disney villains is fine by me!
The spooky going-ons will continue to next door to Disneyland at California Adventure, where The Twilight Zone Tower of Terror is getting a special seasonal upgrade of sorts:
During this celebration, the deepest, darkest corner of the imagination will get even darker. Each night, beginning September 9, after twilight Disney California Adventure park guests will be treated to "Late Check-Out." Experience The Twilight Zone Tower of Terror™ as you never have before ... in complete darkness!
In addition to "Late Check-Out," guests will find commemorative merchandise as well as special food and beverage items throughout the celebration. You'll also get the chance to picture yourself "checking out" with a special photo location in front of the Hollywood Tower Hotel marquee, complete with vintage luggage and other nods to the landmark's story and the glitz and glamor of a bustling young movie town.
The attraction will also host live musical acts over the next two months. Of course, this is something of a celebratory goodbye, as the attraction is set to shut down on January 2, 2017 so it can be re-themed into a Guardians of the Galaxy attraction.
In this very cool video, legendary Disney Imagineer Tony Baxter (who oversaw construction of attractions like Big Thunder Mountain Railroad and and Splash Mountain) shares one of his earliest designs: a Mary Poppins ride that he used to help get his foot in the door. It never amounted to an actual, physical ride, but it's an intriguing look at a fun concept and a reminder that everyone has to start somewhere.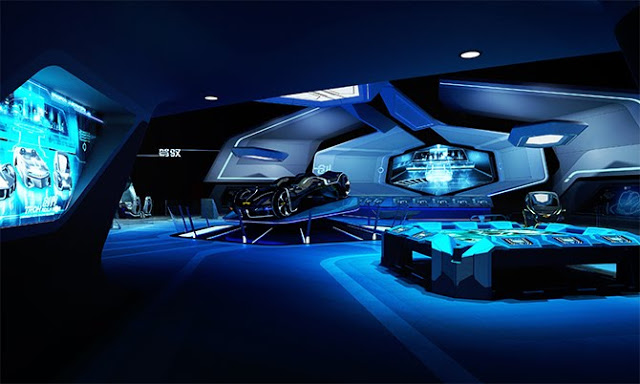 Remember that incredible Tron roller coaster that opened with Shanghai Disneyland that made regulars at every other Disney theme park a wee-bit jealous? Well, now the park is getting a second Tron attraction with Tron Realm. Here's what you need to know:
Located in Tomorrowland, – a place of limitless possibilities that celebrates the hope, optimism, and potential of the future – TRON Realm, Chevrolet Digital Challenge joins the TRON presence already at Shanghai Disney Resort. The experience is easily accessible from TRON Plaza outside the immensely popular TRON Lightcycle Power Run, which made its global debut at the grand opening of the resort and is exclusively sponsored by Chevrolet. The new and exciting TRON Realm allows guests to imagine, create, and drive virtual vehicles through the incredible world of TRON, fulfilling Tomorrowland's bright promise of the future, and making it attractive for guests seeking new worlds of adventure.
In other words, it sounds like a thinly veiled Chevrolet commercial. Then again, corporate sponsorships like this help keep expensive attractions running smoothly, so we may just have to grin and bear this one.
Disney has released a behind-the-scenes look at the new Frozen stage musical that is premiering on Disney Wonder cruise ship, because those kids can't get enough Frozen! Seriously. They can't. You'd think people would be getting over it by now, but they're not. Anyway, this show looks similar to the stage adaptation currently playing at the California Adventure theme park, but with some noteworthy changes, like the use of puppets to portray Anna and Elsa when they're young children.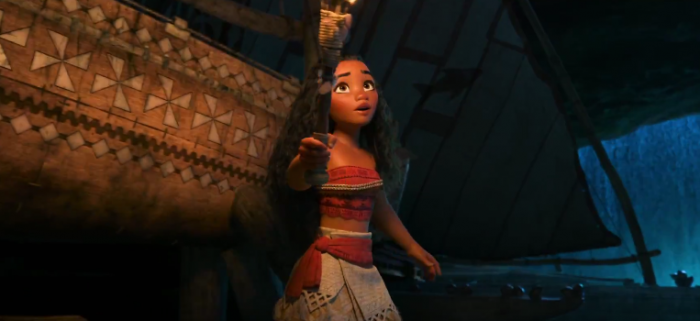 However, those who are getting tired of Frozen should note that another animated musical is currently waiting in the wings. Moana opens in November and we already know that Disney parks are looking to cast performers to play the character in meet-and-greets. But Stitch Kingdom is speculating that a new show may be in the works. The emphasis here should really, truly be in speculating:
...the wording in the casting calls is unusual as well. While the only role being cast for at this time is that of Moana (role description below), the exact wording of the notice reads: 'Disney Creative Entertainment is seeking female performers to help bring to life Moana,' suggesting that the aim is to bring the movie itself to life, not just one of its characters — and quite frankly, the only other 'human' likely to be cast is Maui as we can't imagine Moana's animal friends Pua and Hei Hei wouldn't come along for the ride as well.
It's a bit of a stretch, but Disney thinks about and discards a hundred ideas before it gives a new project the all-clear. There's no way people at Disney haven't already given serious thought to a Moana show of some kind
And while there will always be new movies appearing on the horizon and grabbing headlines, there's something comforting abut the enduring popularity of Beauty and Beast. After all, Gaston has officially come to Disneyland as a "face character" after being a regular at Walt Disney World for quite some time. Unlike his more heroic and hairy counterpart, this version of the character is given a great deal of space to riff and interact with visitors, often with charming and funny results.
Princess Jasmine side by side look. Old look on the left, new on the right! #disneyland #disneyprincess #aladdin pic.twitter.com/RfXq3nHaab

— DisneyCharacterGuide (@wdwmickeyhunter) September 4, 2016
While we're on the subject of still-popular characters and their presence in the parks, it looks like the meet-and-greet version of Aladdin's Jasmine has been given a new (and far less revealing) outfit.
How about we close out this edition of Theme Park Bits with some non-Disney, non-Universal news? Footage of the still-under-constrction Star Trek: Operation Enterprise ride has arrived online, offering a rough first look at the upcoming Movie Park Germany attraction. As you can see, this will be a roller coaster...and that's really all we can see. How this ride will capture the Trek theme remains to be seen, although the early designs for this park has promised something very immersive.