'Hell Or High Water' Director David Mackenzie Breaks Down The Opening Scene Of His Modern Western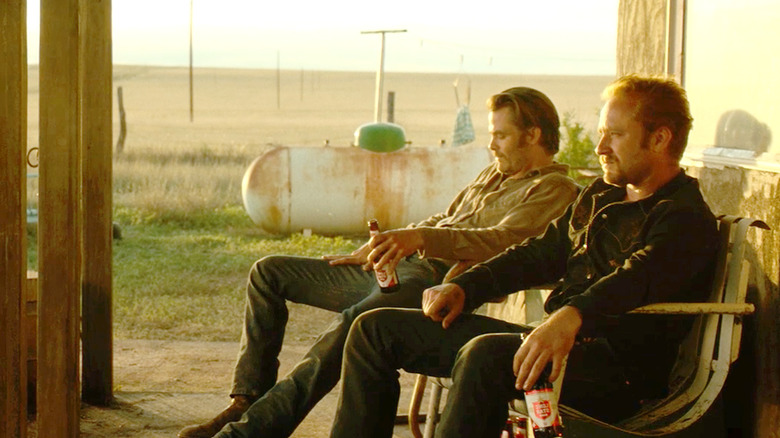 If you haven't seen David Mackenzie's Hell or High Water yet, then you're missing out on one thrilling drama. Mackenzie's picture opened to rave reviews last month, and since then, it's been expanding into theaters and finding a responsive audience. Right from the opening shot, this film grabs its audience and doesn't let go.
In the latest Anatomy of a Scene featured below, Mackenzie breaks down his film's first shot and robbery sequence.
Screenwriter Taylor Sheridan's (Sicario) story begins with Tanner (Ben Foster) and Toby Howard (Chris Pine) robbing a Texas Midland bank. Mackenzie and DP Giles Nuttgen's (Perfect Sense) tracks the two brother's car in the opening shot, providing a sense of geography, the desolate atmosphere, the tone, and even a theme in the film ("3 TOURS IN IRAQ BUT NO BAILOUT FOR PEOPLE LIKE US"). The opening doesn't grab our attention with a bang; it does so with a shot that visually communicates what we're about to see.
Here's the Hell or High Water anatomy of a scene (Source: New York Times):
Mackenzie wanted the opening shot to tell audiences he's about to take the audience on a journey, and in the end, he accomplishes just that. The director has been making some powerful, incredibly well-acted dramas over the past few years — like Starred Up and Perfect Sense – but it's great to see the filmmaker find his biggest audience yet with a film that finds the sweet spot between art and commerce. Hell or High Water is a thoughtful and often emotional drama, but it's also an exciting, intense thriller with highly personal stakes. This is the kind of movie to experience with an audience, not at home.
Here's the official synopsis:
A story about the collision of the Old and New West, two brothers—Toby (Chris Pine), a straight-living, divorced father trying to make a better life for his son; and Tanner (Ben Foster), a short-tempered ex-con with a loose trigger finger—come together to rob branch after branch of the bank that is foreclosing on their family land. The hold-ups are part of a last-ditch scheme to take back a future that powerful forces beyond their control have stolen from under their feet. Vengeance seems to be theirs until they find themselves in the crosshairs of a relentless, foul-mouthed Texas Ranger (Jeff Bridges) looking for one last triumph on the eve of his retirement. As the brothers plot a final bank heist to complete their plan, a showdown looms at the crossroads where the last honest law man and a pair of brothers with nothing to live for except family collide.
Hell or High Water is now playing in wide release.