'Ready Player One' Set Photos Reveal 'Oasis' Ad, VR Goggles, More '80s References, And A Dystopian Reality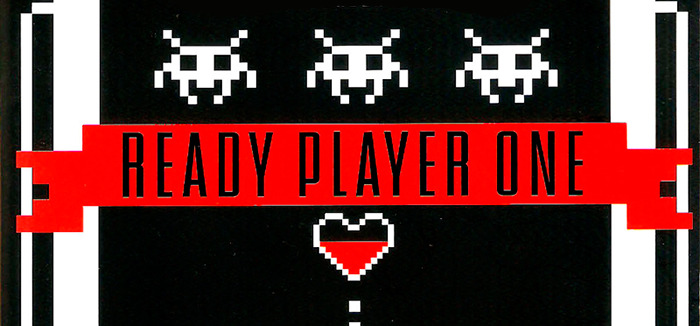 The future doesn't look too bright in Ernest Cline's Ready Player One. The world is dealing with an ongoing energy crisis that has shattered society and the economy. People want to escape the world of 2044, and they do so with the virtual reality called OASIS and a pair of VR goggles. Steven Spielberg's film adaptation is currently shooting in London, where some folks snapped a few photos of the set.
Below, get a look at the Ready Player One set photos.
Ready Player One stars Tye Sheridan (Wade Watts/Parzival), Olivia Cooke (Samantha Evelyn Cook/Art3mis), Ben Mendelsohn (Nolan Sorrento), Simon Pegg (Ogden Morrow), T.J. Miller (iR0k), Win Morisaki (Daito), Philip Zhao (Shoto), and Mark Rylance (James Halliday, creator of the OASIS). After Halliday passes away, he leaves behind a glimmer of hope for his bleak world. He created an epic, nerdy Easter egg hunt within OASIS, and the winner will inherit his fortune and company.
There are all sorts of equipment to enter the OASIS. Users can purchase pretty simple setups. At one point in the novel, Wade even visits what's basically an OASIS cafe, where users can rent equipment and purchase time within the epic virtual reality. But if you want your own gear, then all you need to do in Ready Player One is purchase a pair of VR goggles, like the ones shown in an ad displayed on set.
The first few of these set pics come courtesy of Ain't It Cool News and their readers:
Here's a glimpse at the reality many users have left behind:

Screen Rant also got their hands on some set photos. We recently got a look at some pop culture characters referenced in graffiti art on the set, but ThunderCats' Snarf will also make a background appearance, and so will a nice little nod to Jaws:
There's another advertisement trying to recruit Gunters, an army of users working for Innovative Online Industries. The story's antagonist, Nolan Sorrento (Mendelsohn), works there, and he does everything he can to make sure IOI secures ownership over the OASIS, to turn it into everything Halliday was against.
Love the look of this! Fun walking through the Birmingham streets seeing it come to life #readyplayerone #spielberg pic.twitter.com/cnFgYu0QG5

— Chris Bevan (@ChrisBevan89) September 6, 2016
We should expect to see more photos from the Ready Player One set soon. Considering it's a high-profile project from Steven Spielberg — and one shooting out in public, at least for now — more pics are bound to make their way online. Maybe we'll see even get a good look at the OASIS in the near future.
Ready Player One opens in theaters March 30th, 2018.