Kevin Smith Reacts To Awful 'Yoga Hosers' Reviews, Cries For An Unrelated Reason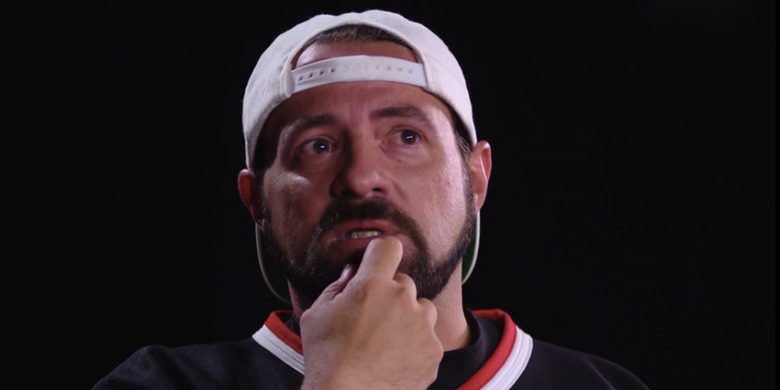 Right now you can see Yoga Hosers in select theaters if you're in the mood to see the latest insane romp from Kevin Smith. The filmmaker behind Clerks, Dogma and most recently the weird horror movie Tusk has said that he set out to make a movie that he would have wanted to watch if he were a 12-year old girl. However, I'm not sure there's anything in the movie that's really appropriate for tweens to see. But that's a different conversation entirely.
Regardless of the appropriateness of the movie for certain ages, the reviews of the movie haven't been very kind. The movie stands at 21% on Rotten Tomatoes (with a 3.5 rating out of 10), and even Kevin Smith's most loyal fans haven't found much to like about the movie. But since Kevin Smith has made nice with critics (apparently by way of this very movie), he decided to face the criticism head-on by reacting to some of the more scathing reviews on a recent episode of his podcast Hollywood Babble-On with Ralph Garman.
Kevin Smith reacts to Yoga Hosers reviews after the jump along with a video featuring a clip where the director gets a little emotional while answering a question posed to him by the film's star, his daughter, Harley Quinn Smith.
Regardless of whether or not you like just how open and talkative Kevin Smith is about his career, critics, movies or pretty much anything, you have to give him credits for facing reviews like this. I can't think of any other well-known filmmaker who has sat down specifically to listen to bad reviews of their movie and react to them. He takes all of the harsh words in stride, as does Ralph Garman, who is also pretty awful in the movie.
On the sweeter side of things, Kevin Smith and his daughter participated in a little Yahoo interview session where Harley posed a question to her filmmaker father. Of course, the answer requires a long-winded story, but the ending is rather touching, and Smith gets emotional about the fact that he got to work with his daughter and how that shifted his perspective a bit.
If you're feeling daring, Yoga Hosers is in select theaters now.