New 'Rogue One' Photos Feature Handcuffed Jyn Erso, Dastardly Director Krennic & More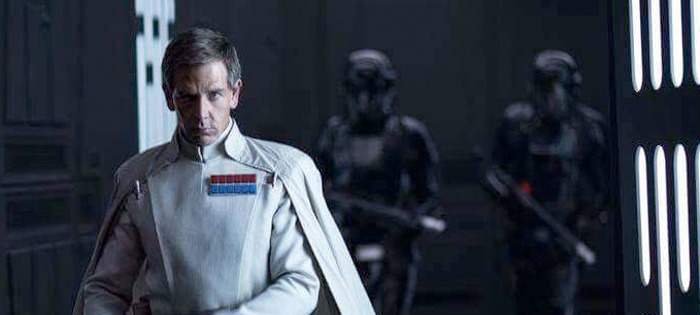 This past week brought new looks at the characters, vehicles and more from Rogue One: A Star Wars Story in the form of a slew of new pieces of merchandise. Lucasfilm teamed up with some fans to feature some of the new offerings in a stop-motion animated short film, and throughout the week new items have been unveiled pretty much everyday since then. We even had a special edition of The Toy Box featuring a bunch of Rogue One LEGO sets, Funko POP! Vinyls and more.
Now another glimpse at Rogue One has surfaced online for those who don't have an interest in collecting Star Wars toys, but are still excited about the spin-off. Some new Rogue One photos have surfaced online showing a detained Jyn Erso (Felicity Jones), a stern Director Krennic (Ben Mendelsohn) and those sleek, black Death Troopers. Check them out after the jump.
Here's the small batch of new Rogue One photos (via MakingStarWars.net):
One of the photos has a tag from Yahoo Movies, but you won't find the still in their gallery of all the officially released Rogue One photos so far, so we're not sure where it came from exactly. The other two surfaced thanks to one of MakingStarWars.net's readers, and we're glad he spotted them.
The shot of Jyn Erso is likely from early in the movie after she's been apprehended by the Rebel Alliance for committing some kind of crime. You can see vines on the wall in the background which have been seen all over the Rebel base in trailers and other photos. Presumably this is where she's being kept before she's taken to see Mon Mothma and assigned her secret mission.
Then there's that shot of the Death Troopers. These guys look so bad ass in every single shot. That new armor design is outstanding, and I hope there's some kind of reasonable explanation as to why this elite unit of Imperial troops aren't used at any other point (that we know of) by the Empire.
Finally, that shot of Director Orson Krennic is an interesting one. It appears Ben Mendelsohn is reaching for the blaster pistol in his side holster. His left arm is clearly in motion, and the look on his face isn't a happy one. Perhaps he's stumbled upon a Rebel spy in the Death Star and is grabbing his weapon to take them out? Those Death Troopers don't seem to be in any hurry to protect him, so maybe they're caught off guard by whatever they're facing.
With just three and a half months left until Rogue One: A Star Wars Story hits theaters on December 16, we're going to start seeing plenty more from the movie.