New 'Star Wars Rebels' Promo Is All About Thrawn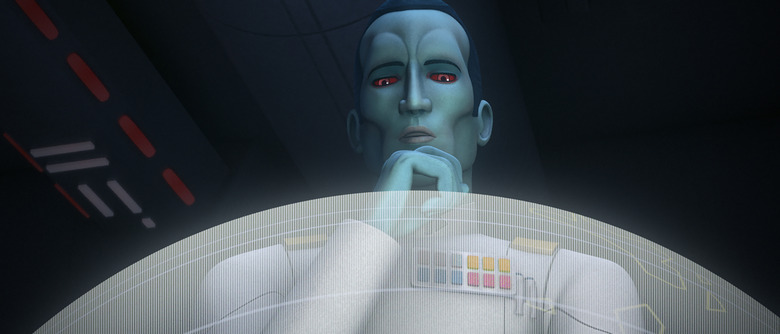 There are plenty of reasons to get excited about the return of Star Wars Rebels later this month, but one of the biggest is Thrawn. Not only does the Imperial officer represent an exciting and intimidating new threat to our heroes, he's someone fans have been waiting to see onscreen for a very long time. With that in mind, Disney XD has released a new Star Wars Rebels season 3 promo that is all about Thrawn, voiced here by Lars Mikkelsen (who just happens to be the brother of Mads Mikkelsen, star of Rogue One: A Star Wars Story).
Watch the Star Wars Rebels Thrawn promo below. 
Thrawn originated in Timothy Zahn's 1991 novel Heir to the Empire and quickly became a fan favorite. However, when Disney took over the Star Wars franchise, they rebranded the Star Wars Expanded Universe — including all the Thrawn stories — as non-canonical Star Wars Legends. But this legend was apparently too good to pass up. At Star Wars Celebration in July, Lucasfilm officially announced they'd be reintroducing Thrawn to the Star Wars canon. In addition to his appearance in Star Wars Rebels, he's getting another novel written by Zahn, simply titled Thrawn. And since this one is coming after the Disney acquisition, it'll count as canon.
The Star Wars Rebels Thrawn immediately establishes himself as a calculating sort. "War. I've studied the art of war," he begins. He teases his plan to tear apart our heroes and ends with the grand prediction that "they'll be the architects of their own destruction." It'll be several more weeks before we know for sure how this Thrawn measures up to the one we met in the books so many years ago, but that chilling speech seems like a promising start. Here's how Disney XD describes your old new favorite character:
Grand Admiral Thrawn – A methodical, tactical genius, Grand Admiral Thrawn is summoned by Governor Pryce to bring an end to the growing rebel threat. Thrawn is coldly analytical and values information above everything else. The only officer in the Imperial fleet of Chiss descent, Thrawn earned his position through decisive victories where he used his brilliant mind to outmaneuver his enemies.
Star Wars Rebels kicks off its third season Saturday, September 24 at 8:30 PM ET / PT on Disney XD.