'Transformers: The Last Knight' Set Video Shows Michael Bay Shooting Mayhem With "Bayhem"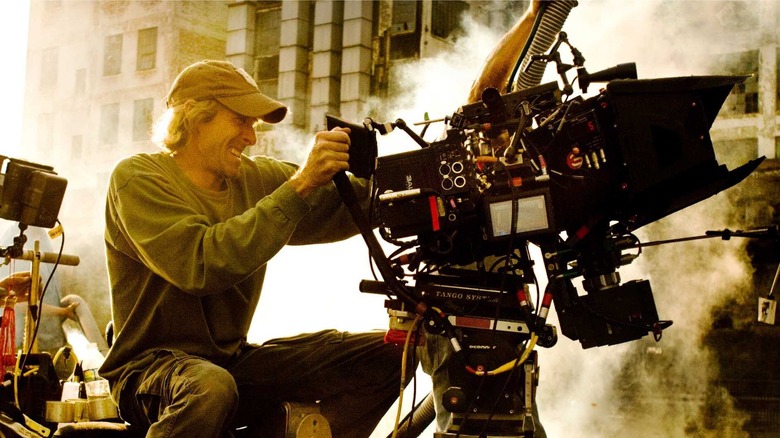 Just last week, director Michael Bay provided the internet with a look at his custom RED camera affectionately known as "Bayhem." However, it didn't really show how helpful the camera is on a traditional Michael Bay set since he was just using it for some Victoria's Secret commercial. But thanks to a new video from the set of Transformers: The Last Knight in the United Kingdom, we get to see what Michael Bay does with his custom camera in the middle of one of his explosive movie sets.
Check out the Transformers The Last Knight set video after the jump.
Here's what Michael Bay posted to his own Instagram page yesterday:
RED Camera named it "BAYHEM" They created the lightest, most advanced hand held motion picture camera in the world. I put it through the paces on Transformers in UK.#Tranformers #redcamera
A video posted by Michael Bay (@michaelbay) on
Explosions, flying stuntman, gunfire, debris. Yep, this is definitely the set of a Michael Bay movie. Unfortuantely, we don't really get an idea of what's happening in this scene beyond some likely Transformers action featuring human soldiers embroiled in the battle either with or against the alien robots.
However, there does appear to be some pieces of some kind of vehicle scattered on the ground. Perhaps this is more footage from a sequence that yours truly witnessed being shot in person on the set of Transformers: The Last Knight back in August. Here's a little snippet of what was being filmed the day we were on set:
We were about 30 or 40 feet away from this #Transformers action. That's @michaelbay with the camera on the right. pic.twitter.com/NRaidXrSVS

— Ethan Anderton (Support the WGA!) (@Ethan_Anderton) August 5, 2016
As you can see, there were plenty of soldiers, gunfire and explosions on set that day. We're not sure if these two scenes happen around the same time in the movie, but either way, we can't discuss the details of what was seen on set just yet. But when the embargo lifts on our set report, you'll be able to find out plenty more about the action above.
With production shifted to the United Kingdom, some new details about The Last Knight have been surfacing online, the most recent of which being the confirmation of some kind of flashback sequence taking us back to Arthurian times. Beyond that, rumors have indicated links to the wizard Merlin, but no official story synopsis has been provided by Paramount Pictures just yet. We're bound to find out more about the sequel soon though, so stay tuned.
Transformers: The Last Knight arrives on June 23, 2017.