'Blazing Saddles' & 'Willy Wonka And The Chocolate Factory' Return To Theaters This Weekend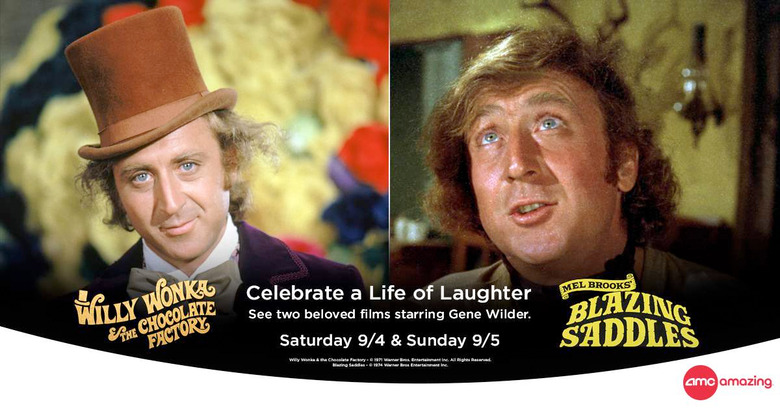 Earlier this week we found out the sad news that comedy legend Gene Wilder had passed away at 83 years old due to complications from Alzheimer's disease. Fellow actors, comedians, filmmakers and fans have been paying tribute to Gene Wilder all over the web, and now movie theaters are offering the chance to celebrate the man's life by enjoying two of his most iconic roles on the big screen again.
Willy Wonka and the Chocolate Factory and Blazing Saddles will both return to select AMC Theatres locations for this weekend only. Since neither of these titles are readily available on Netflix, Hulu or Amazon Prime for free, this might be your best way to experience the classic films and enjoy them with fellow comedy lovers and Gene Wilder fans.
Get the full list of locations where you can see Willy Wonka and the Chocolate Factory and Blazing Saddles in theaters after the jump.
Here's the entire list of AMC Theatres locations playing both movies:
Atlanta: AMC Barrett Commons 24, AMC Southlake Pavilion 24
Baltimore: AMC Owings Mills 17
Baton Rouge: AMC Baton Rouge 16
Boston: AMC Loews Boston Common 19
Charlotte: AMC Concord Mills 24
Chicago: AMC River East 21, AMC Streets of Woodfield 20
Cincinnati: AMC Newport on the Levee 20
Dallas: AMC Grapevine Mills 30, AMC Mesquite 30
Denver: AMC Highlands Ranch 24, AMC Westminster Promenade 24
Grand Rapids: AMC Grand Rapids 18
Hartford: AMC Plainville 20
Indianapolis: AMC Showplace Bloomington 12
Jacksonville: AMC Orange Park 24
Kansas City: AMC Barrywoods 24, AMC Town Center 20
Las Vegas: AMC Town Square 18
Los Angeles: AMC Ontario Mills 30, AMC Orange 30, AMC Burbank
Miami: AMC Aventura Mall 24
Milwaukee: AMC Mayfair 18
Minneapolis: AMC Eden Prairie Mall 18
New Orleans: AMC Elmwood Palace 20
New York: AMC Empire 25, AMC New Brunswick 18, AMC Stony Brook 17
Norfolk: AMC Hampton Towne Centre 24
Oklahoma City: AMC Quail Springs Mall 24
Orlando: AMC Disney Springs 24
Philadelphia: AMC Neshaminy 24
Pittsburgh: AMC Waterfront 22
Raleigh: AMC Southpoint 17
Rockford, Ill: AMC Showplace Rockford 16
Salt Lake City: AMC West Jordan 12
San Diego: AMC Mission Valley 20
San Francisco: AMC Cupertino Square 16, AMC Metreon 16
Seattle: AMC Alderwood 16
South Bend: AMC Showplace South Bend 16
Spokane: AMC River Park Square 20
Springfield, Ill.: AMC Showplace Springfield 12
St. Louis: AMC West Olive 16
Tallahassee: AMC Tallahassee Mall 20
Tampa: AMC Woodlands Square 20
Washington D.C.: AMC Hoffman 22
At all locations, on Saturday, September 3rd and Sunday, September 4th, Willy Wonka and the Chocolate Factory will play at 5pm while Blazing Saddles will play at 7:30pm. And the good news is that tickets for each are only $5. That sounds like one hell of a double feature.
If you don't live near any of these AMC Theatres locations, you should check your local listings, because Variety says there are also 145 non-AMC locations that will be playing Willy Wonka and the Chocolate Factory as well. There are probably plenty also playing Blazing Saddles as well and maybe even Young Frankenstein too. In the meantime, watch this clip from The Tonight Show with Jimmy Fallon this week where Mel Brooks fondly remembers his friend and frequent collaborator: