'The Dark Tower' Producers Ron Howard And Brian Grazer Discuss The Long Journey To The New Movie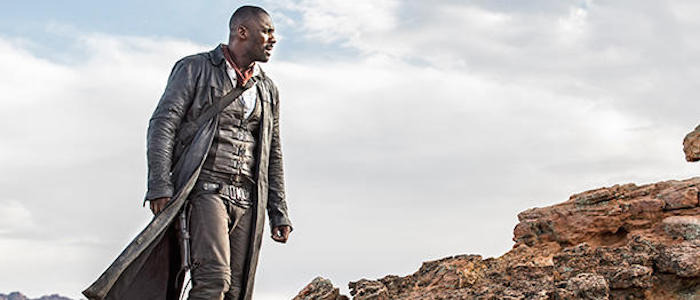 The fact that a film adaptation of Stephen King's The Dark Tower has finished filming and it currently being edited for an early 2017 release date still amazes me. Just two years ago, this project looked completely and totally dead, the victim of an overly ambitious cross-media plan and budgetary constraints. And now, I can write an article that can include a picture of Idris Elba as Roland Deschain, the last Gunslinger at the top. This blows my mind.
From 2010 through 2015, Ron Howard was steering The Dark Tower alongside his producing partner Brian Grazer, eventually handing the project over to director Nikolaj Arcel. However, Howard and Grazer remained on board as producers and they've spilled their guts in a fantastic new interview where they explain the long journey to getting this movie off the ground.
Deadline sat down with Howard and Grazer for a sprawling interview that covers a lot of ground, including their upcoming Beatles documentary Eight Days A Week and third Robert Langdon film, Inferno. However, the most interesting stuff revolves around The Dark Tower (although I'll admit to being hideously biased).
It all started when J.J. Abrams dropped out of adapting King's "magnum opus" fantasy/horror/western series, allowing Howard, Grazer, and screenwriter Akiva Goldsman to grab the rights. Interestingly, Howard is upfront about their take on the material being more of a sequel/remix than a straightforward adaptation of the books, even directly mentioning the Horn of Eld. If you don't know what that means and don't mind some pretty major spoilers from the final book in the series, I've explained it all before. Anyway:
Akiva Goldsman first pitched it to me while we were making A Beautiful Mind and the rights weren't available. JJ Abrams was working on it at first and then Akiva told me JJ was involved in so many projects he let it go. We started talking about what it could be. I read all the novels and we broke them down. He presented this idea to Stephen King, and this is insider material you might not get, but it was about introducing the Horn of Eld into the very first story. He knew it would allow us to use elements of the novels in a new combination that would give us the latitude to be true to the essence of the novels, but also re-balance and refocus the narrative in a cinematic way. That was the jumping off point that began this process. When MRC [Media Rights Capital] and Modi Wiczyk became involved, that discussion deepened and we focused more on the Jake Chambers-Roland relationship at the very center of the first movie as a way of launching the universe. We simplified the story line, made it less expensive as a result, but we still utilized a lot of those important structural adjustments that Akiva and I had devised going back years ago. One of the things we did was put together a team of Dark Tower researchers, devotees of the books. We wanted to restructure the novels to be most cinematic and Stephen King agreed completely and understood the journey we were on immediately and supported it. We used this group to inspire our thinking and stay in the universe of Dark Tower.
Howard goes on to explain that they were just about ready to abandon the project when Nikolaj Arcel entered the picture, proved himself to be a huge fan of the material, and took control of the whole thing:
Just about the time Akiva, Modi, Brian and I we were going to give up, Tom Rothman at Sony came aboard and that was an important turning point and that led to Nik. He grew up on the books and always loved them. He really was a great choice to approach the story in the most humanistic and cool way, focusing a lot on the Jake-Roland relationship. He understood the importance of that and connected with both characters. He's also a strong original filmmaker with great taste. He and his writing partner tackled a rewrite and Nic has done a terrific job staging it.
While Idris Elba is inspired casting for Roland, he did not enter the picture until much later. As some of you may remember, Javier Bardem was attached to the project for some time before dropping out. Howard spoke about casting Roland, noting that they used the King's more traditional Clint Eastwood-esque description as more of a guideline than a rule:
Back then, we came close to making it with Javier Bardem at one point. I've always felt that the essence of Roland was not necessarily the carbon copy of Clint Eastwood, even though that was what they used as the model on a lot of the book covers. The existential Western hero, played by Clint in The Good, The Bad and The Ugly, and Hang 'em High and those Sergio Leone Westerns, that was what inspired young Stephen King to begin with. But I never felt it was necessarily a look as much as an essence. So did Stephen. In this iteration, when we began thinking about candidates, Idris just felt like a really exciting and dynamic possibility. Idris brings this crucial combination of coiled danger, quiet charisma, undercurrents of complexity and nobility, and a kind of timeless cool. These are the elemental qualities of Roland, in my mind, and I think Idris carries it incredibly well. Then there is McConaughey. I had always thought he would be a tremendous Walter.
And finally, those hoping that those original plans for The Dark Tower to exist simultaneously as a film series and television show may need to start hoping a little harder. At this point, Howard doesn't have much to add, although he does confirm that the basic concept is still on the table:
It hasn't, really. We're developing the television part, now. We don't know what platform it will be on at this point, but we're developing the content in hopes for more movies that will cover the epic and the characters involved.
The Dark Tower opens on February 17, 2017.