'Arrival' Early Buzz: Denis Villeneuve's Sci-Fi Drama Is Smart, Chilly, And Fantastic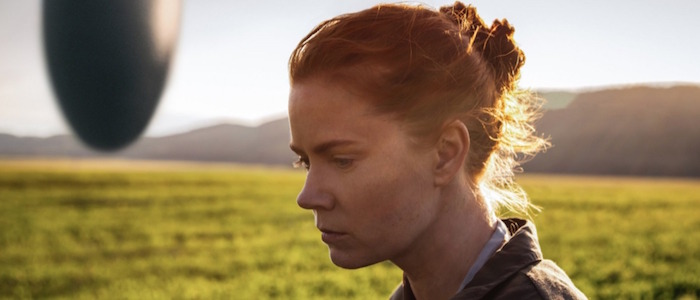 Arrival held its world premiere at the Venice Film Festival earlier today and the first wave of reviews for Denis Villeneuve's new science fiction drama have been nothing short of glowing. It seems that Villeneuve, who has previously directed terrific movies like Enemy, Prisoners, and Sicario, is adept at smart genre filmmaking as he is at intense human drama (which bodes well for that Blade Runner sequel he's currently filming).
Our own Angie Han will catch this film at the Toronto International Film Festival next week and I intend to make it a priority at Fantastic Fest later this month, but in the meantime, here are some of the earliest reactions, which range from very positive to wildly effusive.
First up is The Hollywood Reporter, whose review has kind words to say about star Amy Adams, who plays a linguist tasked with making first contact with mysterious aliens who have arrived on Earth. It also sounds like the film makes fine use of Jeremy Renner:
Another is Adams' moving performance. Restraint is very much the defining note here, but within that generally muted emotional palette, Louise registers as a woman who has accepted her solitude and pain while never attempting to cover her deep wound. That makes her extraordinarily receptive to connecting with a mysterious species whose intent is automatically interpreted by much of the planet as hostile. Renner is given less to do, though the mutual respect and burgeoning friendship between Ian and Louise is drawn in gentle, affecting strokes by both actors. Their rapport builds to a touching final reveal that earns its emotional impact subtly, not with the usual flood of sentiment.
Meanwhile, Variety notes that Arrival isn't a typical blockbuster or alien invasion movie, but a smart slice of hard science fiction that goes against what many people expect from an alien movie. Also, please note that this full review dives deep into spoilers, so you may want to think twice before reading the whole thing:
So you have to say this for Arrival, a solemnly fantastic tale of a highly enigmatic alien visit: The film has been made, by the intensely gifted director Denis Villeneuve, with an awareness that we've already been through this more than enough times, and that the definition of an alien movie — or, at least, one that's trying to be a serious piece of sci-fi, and not just a popcorn lark like "Independence Day" — is that it's going to hypnotize us with something that appears extraordinary because it's altogether unprecedented.
The Guardian praises the film's atmosphere, noting how Villeneuve doesn't shy away from the inherent creepiness of the film's premise:
Inevitably, these "contact" moments are where the film's real impact and atmosphere have to be. And Villeneuve doesn't disappoint in sequences of eerie and claustrophobic strangeness – though I concede the film is most effective before the physical form of the aliens is revealed. There are also touches of comedy: Ian and Louise decide, for convenience's sake, to nickname two aliens Abbott and Costello – maybe in homage to the linguistic misunderstanding in the duo's famous routine about a baseball batting order.
The Playlist's rave review devotes a paragraph to the film's third act, saying that the film ultimately builds to a hugely satisfying conclusion that directly addresses every big question raised earlier in the movie:
That is what happens in a third act which is perhaps an all-time great example of how to release the massive power that your considered pacing has been quietly accumulating the whole time, and one of the cleverest uses of non-chronological storytelling in memory. The slow build to the grand reveal is the most impressive aspect of Arrival, because most films that ask Big Questions flake out at supplying an answer. And that's only to be expected: if you really knew the secrets of the universe would your first thought be to write them into a screenplay? But Arrival gets better as it goes on, pursues its logic to its furthest extreme and beyond. It doesn't just theorize, it comes to a conclusion.
However, The Wrap's slightly mixed (but still very positive) review has qualms with he film's final stretch, saying that it functions better as a cerebral journey than an emotional one:
If "Arrival" falls short in any way, it's in a third-act pivot that attempts to appeal to the heart as much as to the head. Louise's personal story is a powerful one, and the film never betrays this fascinating character, but it has so successfully created such a cool and detached vibe that it's a bit jarring to get a last-minute play for the emotions. It's not impossible to give audiences both a puzzle-box narrative and an exploration of life choices and what it means to be human, but the balance just doesn't play here.
Arrival is set to open in theaters on November 11, 2016. If you haven't already, you can watch the trailer for the film right over here.