'Ouija: Origin Of Evil' TV Spot: Can Director Mike Flanagan Make A Good Sequel To A Bad Movie?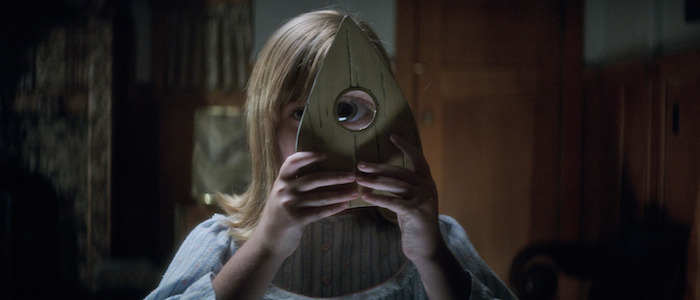 I recently caught up with 2014's Ouija and I was simply bowled over by its badness. My standards are low enough that I enjoyed the (underrated?) but poorly received Annabelle that same year, so that probably says something about the languid, overly lit, predictable, and just plain not scary Ouija. However, the film did well enough at the box office to warrant a sequel and Universal has made a bold move with Ouija: Origin of Evil. Rather than simply churn out another movie in the same mold, they've hired a strong director who filmed a screenplay that seemingly has nothing to do with the first movie beyond its title.
You can check out this course correction in a new extended TV spot and it's remarkable just how different this movie looks from its predecessor.
I won't say Ouija: Origin of Evil looks great or even good, but it does look like a perfectly serviceable haunted house movie, which is more than you can say for the first film. The period setting instantly lends it a sense of style and the idea that a real demon enters the home of a charlatan psychic is clever hook. What's most promising though is the involvement of director Mike Flanagan, whose divisive Oculus was one of my favorite horror movies of 2013 and whose Hush is a very fun and crafty slasher movie. With his name in the credits, I'm willing to give this one a shot.
Interestingly, this will be the third Mike Flanagan-directed horror movie to arrive in 2016. Hush was quickly acquired by Netflix earlier this year (and can be watched there right now) and Before I Wake is set to arrive sometime this fall after a lengthy delay. If all three movies are good, someone needs to send Mr. Flanagan a nice gift certificate or something.
Ouija: Origin of Evil arrives in theaters on October 21, 2016 (just in time for Halloween). Here's the official synopsis:
It was never just a game. Inviting audiences again into the lore of the spirit board, Ouija: Origin of Evil tells a terrifying new tale as the follow-up to 2014's sleeper hit that opened at number one. In 1965 Los Angeles, a widowed mother and her two daughters add a new stunt to bolster their séance scam business and unwittingly invite authentic evil into their home. When the youngest daughter is overtaken by the merciless spirit, this small family confronts unthinkable fears to save her and send her possessor back to the other side.