'Inferno' Featurette: The Adventures Of Robert Langdon Continue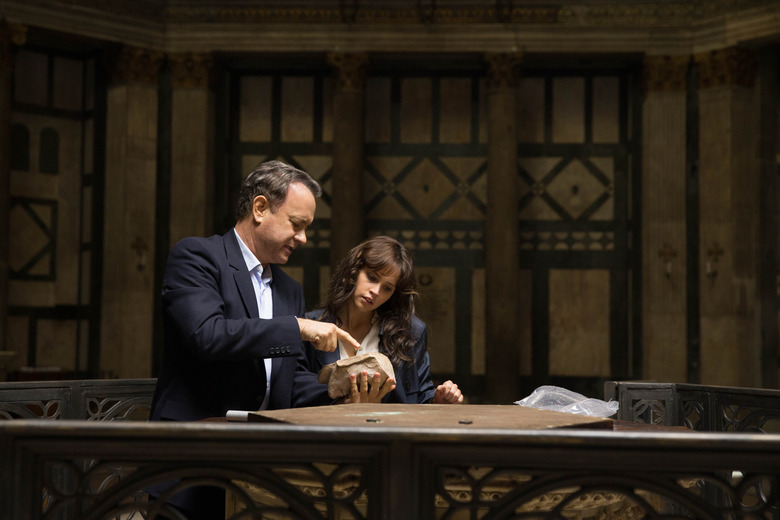 Robert Langdon is back. Six years after Angels & Demons, director Ron Howard and Tom Hanks are returning to a character they can't seem to get enough of. While the previous adaptations of Dan Brown's novels left much to be desired, these movies make good money at the box-office. There's an audience for Langdon's adventures, and that audience will likely be happy to see Hanks back in the role next month.
Below, a new Inferno featurette dives into the latest Robert Langdon mystery.
Dante Alighieri's The Inferno plays a major part in the story. The epic poem holds clues to the latest mystery Langdon attempts to unravel, after he wakes up in a hospital, unable to remember how he got there and what he did over the past 36 hours. Langdon has been set up, and Dr. Sienna Brooks (Felicity Jones) will help him prove his innocence, as they try to prevent a virus from wiping out half of humanity. Hanks and Jones' co-stars are Ben Foster (Hell or High Water), and two Jurassic World stars, Irrfan Khan (Life of Pi) and Omar Sy (The Intouchables).
This featurette and the trailers have been teasing a more lively, less self-serious Langdon adventure, and let's hope that's what we see next month in theaters:
Hearing Howard say "that clock is really ticking in this movie," especially if that is the case, is refreshing. His previous takes on Dan Brown's novels lack energy and momentum. Thankfully, the stakes seem much, much higher in this sequel, and who better to help raise them than Ben Foster? Foster's character is the evil mastermind behind the film's end of the world scheme. A strong foil for Robert Langdon is another ingredient this franchise needs, and casting an actor of Foster's exceptionally high-caliber was a step in the right direction in that regard.
Here's the official synopsis:
Academy Award® winner Ron Howard returns to direct the latest bestseller in Dan Brown's (Da Vinci Code) billion-dollar Robert Langdon series, Inferno, which finds the famous symbologist (again played by Tom Hanks) on a trail of clues tied to the great Dante himself. When Langdon wakes up in an Italian hospital with amnesia, he teams up with Sienna Brooks (Felicity Jones), a doctor he hopes will help him recover his memories. Together, they race across Europe and against the clock to stop a madman from unleashing a global virus that would wipe out half of the world's population.
Inferno opens in theaters on October 28th.