Warner Bros. Denies Reports Of A 'Harry Potter And The Cursed Child' Movie Trilogy [Updated]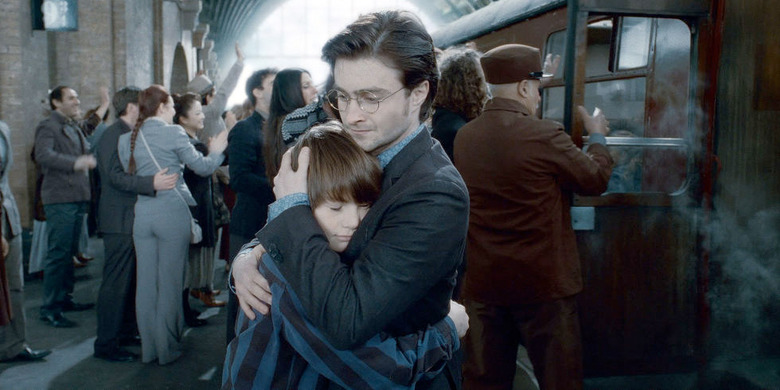 Update: Warner Bros has released the following statement in response to these reports: "'Harry Potter and the Cursed Child' is a stage play, with no plans for there to be a film."
Back in July, Warner Bros. Pictures filed a trademark for Harry Potter and the Cursed Child. This might not seem surprising since the film studio was the distributor of every single film in the Harry Potter franchise, as well as the upcoming spin-off Fantastic Beasts and Where to Find Them. However, Warner Bros. has absolutely nothing to do with the stage production of the play in the United Kingdom, which was also just published as a book at the end of last month. So having them file a trademark for motion pictures, merchandise and more seemed rather unnecessary, unless of course they were actually planning to make a movie.
Now a new rumor seems to indicate that Warner Bros. Pictures would like to turn Harry Potter and the Cursed Child into a film trilogy that they hope to begin as early as 2020. In addition, they want to bring franchise star Daniel Radcliffe back in the lead role. Find out more about the proposed Harry Potter and the Cursed Child movie trilogy after the jump.
This rumor comes from The New York Daily News, who can be hit or miss with big stories like this due to their predilection for gossip, so take it with a grain of salt for now. But their source had this to say about the project:
Warners is secretly working on getting the movie rights and a screenplay settled, and of course in their minds only one man should be Harry. However he has made it clear that his mind is certainly not focused on returning to the role anytime soon — and that could be until he hits 40.
If the studio filed a trademark, it doesn't sound like they're developing a movie in secrecy. However, since J.K. Rowling has previously said that Harry Potter and the Cursed Child would not be a movie, and the best format for the story was a stage play, maybe she was intentionally misleading us in an effort to keep fans off the scent.
However, getting Harry Potter and the Cursed Child off the ground could be tricky if they want Daniel Radcliffe in the lead role. The actor was asked earlier this summer if he would ever return to the role of Harry Potter and he said:
It would depend on the script. The circumstances would have to be pretty extraordinary. But then I am sure Harrison Ford said that with Han Solo and look what happened there! So I am saying 'no' for now, but leaving room to backtrack in the future.
Production on Harry Potter and the Cursed Child wouldn't need to start production until 2018 if Warner Bros. wanted to have a 2020 release date, so Radcliffe saying no at the time doesn't mean he wouldn't change his tune after a couple years. After all, I'm sure the studio is more than willing to throw plenty of money at Radcliffe to get him back as The Boy Who Lived all grown up.
However, if that route doesn't work out, the same source indicates that the studio has also discussed the potential of storyline that focuses more on Harry Potter's son. That sounds a little desperate, almost like Warner Bros. misguided plan for turning The Hobbit into a trilogy when it just needed to be one long movie. In the cast of Harry Potter and the Cursed Child, at least the play is already split into two parts, so maybe there's enough there for three movies. But again, that wasn't the case with The Hobbit.
Either way, the studio is still hoping for a new trilogy, and considering the timing of their hopeful release, it would immediately follow the conclusion of the proposed Fantastic Beasts and Where to Find Them trilogy. A sequel is already in the works and planned for release in 2018 and a third one would logically follow in 2020.
Again, this is all just a rumor for now, but Warner Bros. eventually adapting Harry Potter and the Cursed Child into a movie (or three) is a no-brainer for the studio. We'll just have to wait and see if this is something that will come together in the next few years or not.