Watch Gene Wilder's Final Late Night Talk Show Appearance With Conan O'Brien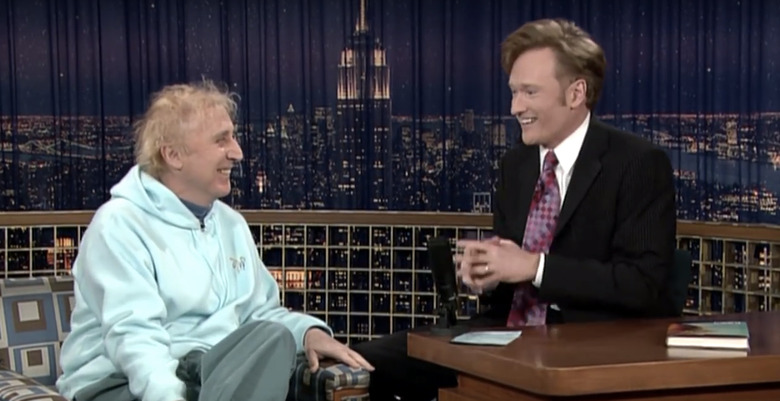 We may receive a commission on purchases made from links.
Yesterday brought the sad news that comedy legend Gene Wilder had passed away. The star of films such as Willy Wonka and the Chocolate Factory, Blazing Saddles and Young Frankenstein has inspired countless talents who we watch on the big screen and flickering box today. While many have remembered and honored Wilder in their own way since his passing was reported yesterday, comedian and late night host Conan O'Brien paid his respects by posting his interview with the legendary actor from NBC's Late Night back in 2005.
At first glance, it's just a regular late night interview with Gene Wilder promoting his autobiography that was published that year. But this is actually the final appearance the actor would make on any late night talk show, which makes it rather bittersweet. They have a fantastic eight-minute discussion ranging from Willy Wonka to Young Frankenstein and more. Watch it below
Here's the Gene Wilder Conan O'Brien interview from YouTube:
Conan O'Brien posted to Twitter, "It was a true honor to talk to Gene Wilder. He was an unusually brilliant and sweet comic artist." Wilder rarely did interviews, especially later in his career when he wasn't working as often, so the fact that O'Brien was able to land this interview, and even get complimented very sincerely by such a comedy icon, is just wonderful.
If you're anxious to soak up as much of Gene Wilder's life as you can, the book they're talking about is one of the best autobiographies you'll ever read. It's full of great stories from show business and provides some amazing insight into Wilder's ambitions, personal life and all the decisions he made that would make him the man we all loved so much. Here's the official synopsis of his biography which you can get at Amazon right now for just $15.33 in paperback or $7.99 on Kindle.
Gene Wilder is one of the great comic actors who defined the 1970's and 1980's in movies. From his early work with Woody Allen to the rich group of movies he made with Mel Brooks to his partnership on screen with Richard Pryor, Wilder's performances are still discussed and celebrated today. Kiss Me Like A Stranger is an intimate glimpse of the man behind the image on the screen.
In this book, Wilder talks about everything from his experiences in psychoanalysis to why he got into acting (and later comedy-his first goal was to be a Shakespearean actor) to how a midwestern childhood with a sick mother changed him. He writes about the creative process on stage and on screen, and divulges moments from life on the sets of the some of the most iconic movies of our time. He also opens up about his love affairs and marriages, including his marriage to comedian Gilda Radner. But the core of Kiss Me Like A Stranger is an actor's search for truth and a thoughtful analysis of why the choices he made-some of them so serendipitous they were practically accidental-changed the course of his life.
Or if you don't have time to pick up a book right now, this episode of Role Models from The Biography Channel provides some fascinating insight into Gene Wilder's life and career as well:
As someone who grew up on Willy Wonka and the Chocolate Factory and Young Frankenstein (both were recorded from movie channels by my parents), the passing of Gene Wilder is heartbreaking. But thankfully, he left so many laughs behind for us to remember him by for a long time. Rest in peace.