Stranger Things Bits: New Demogorgon Theory, Barb Tribute Rap, Ratings Update & More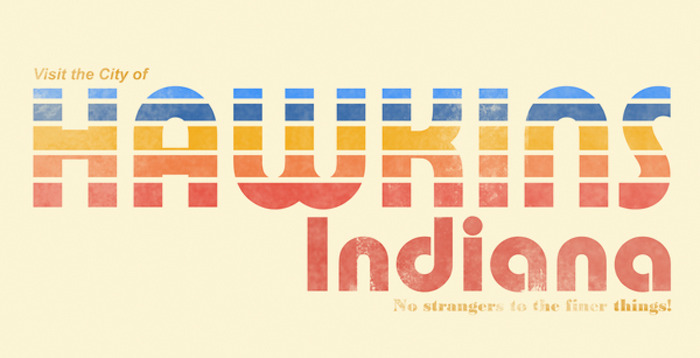 People are still buzzing about Stranger Things, and new viewers keep being sucked into it all the time. That means there are plenty of interesting theories still bouncing around the web along with new t-shirts, tribute videos and even a bump in sales for a certain beloved '80s movie that clearly influenced the Netflix series. Here's what we have in this edition of Stranger Things Bits:
The popularity of Stranger Things boosts sales of The Goonies.
A new theory about Eleven and the Demogorgon.
Watch a tribute rap video to the beloved character Barb.
Find out how the movement of the Demogorgon was crafted.
A couple new prints paying tribute to the show.
New ratings reports reveal the show may be more popular that initially thought.
Check out some new shirts mashing up the show with Star Wars and more.
Read an interview about the production design of the show.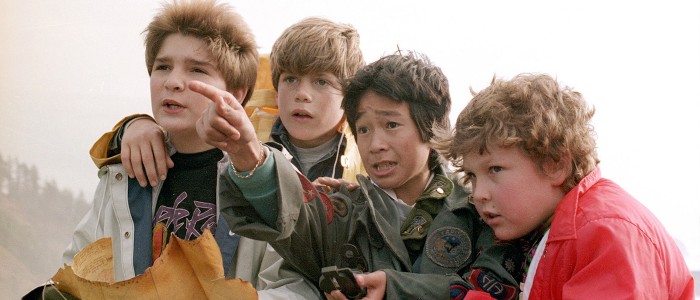 An article over at Exstreamist points out that last month The Goonies got a huge boost in sales and landed at #58 on the best-selling DVD list at Amazon. While that's a cool fact, I'm not entirely sure that we can thank Stranger Things for this boost in sales. After all, if the movie was on sale last month, that could have resulted in the jump on the DVD list, especially since it hadn't broken the top 1000 before then. But who are we to deny Stranger Things the credit for this latest achievement for The Goonies?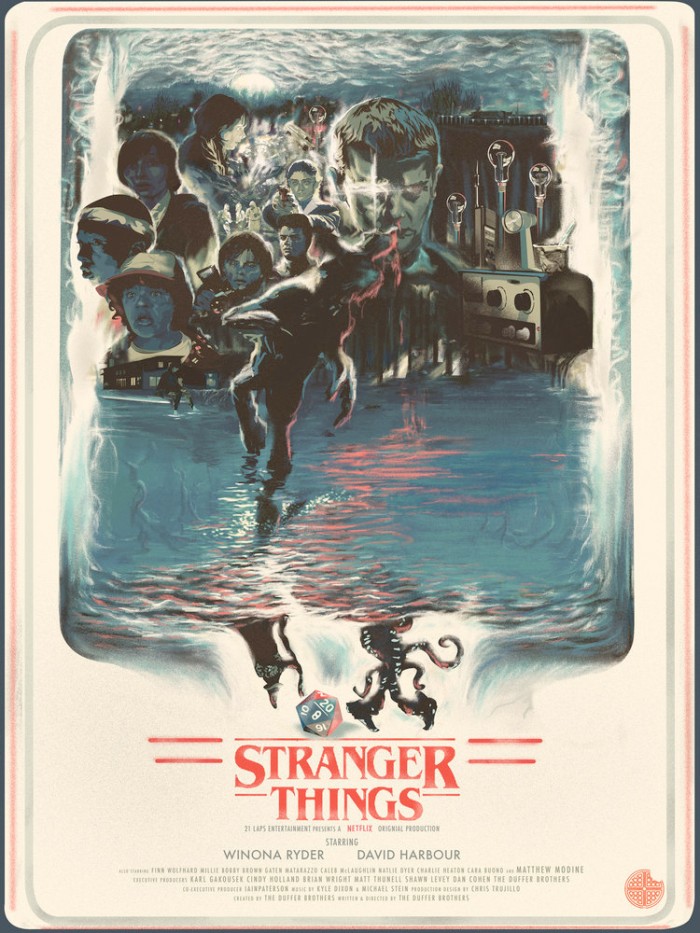 Fro, aka Fernando Reza, has created this print inspired by Stranger Things. It's a giclee print on archival paper that measures 18" x 24" and only has an edition of 50. It's hand signed and numbered and will only cost you $35 at the artist's website right here.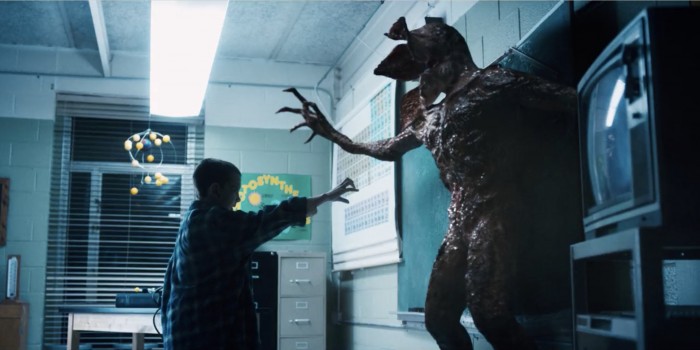 There are plenty of theories about there about The Upside Down, the Demogorgon and more, and now one more has just been proposed about the latter. However, this one is really intriguing because it links Eleven to the monster by theorizing that they are one and the same. Uproxx rounded up the theory from Reddit which believes that the Demogorgon may be the physical manifestation of Eleven's anger. There are several interesting pieces of evidence to support this fact, the most convincing one being how the monster lifts up its hand just like Eleven does before they both disappear into bits.
Read the whole theory over at Uproxx.
The YouTube channel DrChorizo put together this Stranger Things rap that recaps some of the events of the Netflix series, but then turns into a tribute to the beloved, presumed dead character of Barb. Beware that there's some NSFW language though.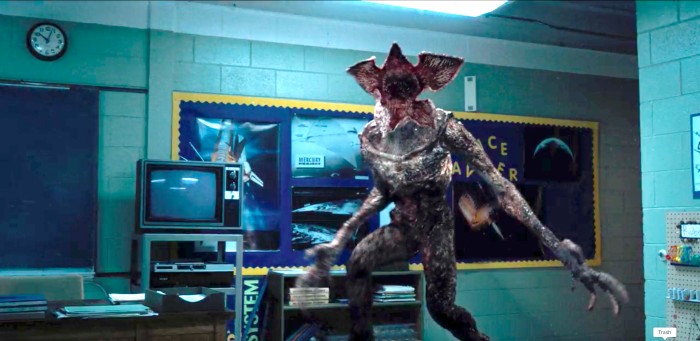 The man responsible for bringing the Demogorgon to life is Mark Steger. We're not talking about designing the creature, but rather creating and performing its movement onscreen, something he's done in movies like I Am Legend and The Last Witch Hunter. In a new interview, Steger talks about the early influences for the monster that the Duffer brothers told him they were looking to emulate:
I got a call to go meet with the Duffer brothers, who I didn't really know anything about at the time. They showed me the lines for the creature and we discussed different film influences that they were playing with. John Carpenter's 'The Thing' is one that obviously comes up quite a bit. 'Alien,' the early films of David Cronenberg.
So how does he figure out how a fictional monster moves? Steger explained to IndieWire:
I read the scripts but I didn't fully understand the cosmography, so I was kind of embellishing myself. I ask myself questions when I do characters like this: What's the gravity like for where this creature comes from? Where does it breathe? What's the nature of its consciousness? I mean, it's obviously not psychologically human. How does it develop?
Read the whole interview over at IndieWire for much more from Mark Steger.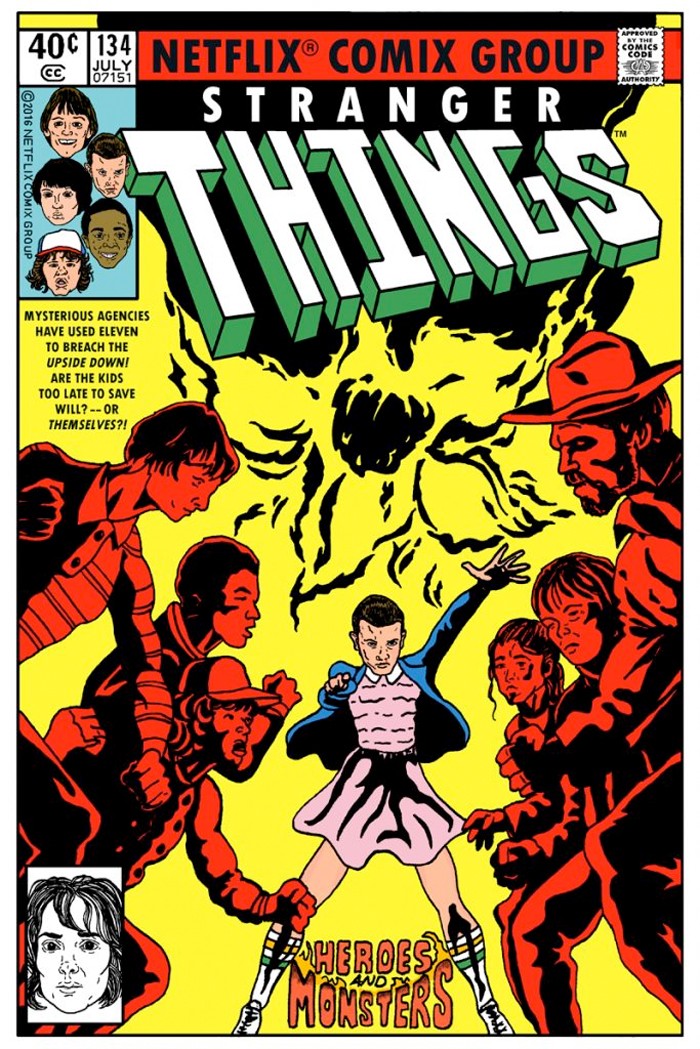 Here's another cool print inspired by Stranger Things from Austin artist Lance Schibi. This design is also a tribute to X-Men issue #134. The image got pretty popular online earlier this month, and now it's a limited print available to purchase from Nakatomi Inc. Limited to an edition of 50, the print measures 12" x 18" and will be signed and hand-numbered. It'll only cost you $25, but you better act fast if you want one.
We know Stranger Things is one of Netflix's most popular shows, but it turns out that it might be more popular than initially thought. According to Deadline, the latest numbers figured out by Symphony Advanced Media indicate the show is the third most-watched show on the streaming service after just 35 days of release. Stranger Things has pulled in an average of 14.07 million adults among viewers 18-49 putting it behind only the first season of Fuller House and the fourth season of Orange Is the New Black.
Since Netflix doesn't release their ratings numbers, these aren't exactly official, but there's no denying that Stranger Things is one of the biggest successes they've had, and new people will continue to discover the series as time goes on.
Some new shirts paying tribute to Stranger Things and mashing the show up with other beloved properties have popped up over at Shirtoid. The four boys from the show get a South Park makeover in one shirt while Eleven is turned into Rey in a mash-up with Star Wars: The Force Awakens. In addition, the cool font of the title design is used to create a shirt showing love for waffles that only fans of the show will understand. But my favorite recent shirt out of the bunch is the retro Hawkins, Indiana shirt.
Click the respective links to buy the shirts that you want to throw on your body.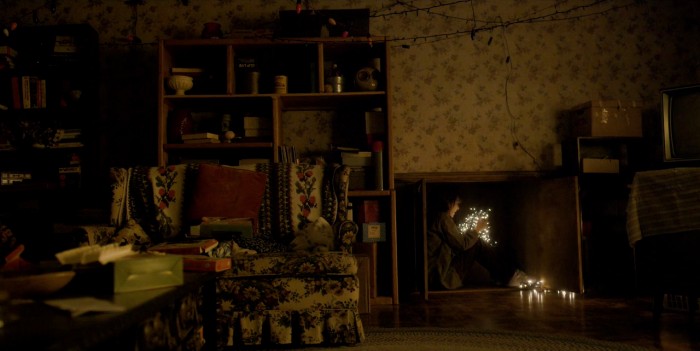 A new interview with production designer Chris Trujillo discusses how the cinema of the 1980s influenced the look of the show, from the aesthetic of the Byers house to all of the exterior locations on the show and more. Trujillo starts off by explaining how he came to be involved with the show to Interiors:
A series of very fortunate events led me to Stranger Things. In the Spring of 2013, I designed a dark little gem of a genre film called Honeymoon for Leigh Janiak. She and I really jived creatively and became fast friends in real life. We kept in touch, and then, in the summer of 2014, I was in Los Angeles for a few months designing a film and staying in an Airbnb around the corner from where Leigh and her then fiance, now husband, Ross Duffer live in Los Feliz. The first time I heard of Stranger Things was over brunch with Leigh and Ross. At that point, the project was still called Montauk and it was little more than a glimmer in the Duffers' eye. It seemed like too awesome an idea, like a perfect pipe dream. I'm a child of the 80s American Suburbs, and, as a production designer, I'm a student of the great American films of the late 70s and early 80s. So once we started throwing around influences like Mike Nichols, David Lynch, and Ken Russell in the same context as Steven Spielberg, Stephen King, and John Carpenter, I knew this was a dream project for me. We talked excitedly about it for a bit, I made them promise to remember me if ever the stars aligned, and then we moved on to other topics.
For more with Chris Trujillo, check out the full interview right here.
That's all for this edition of Stranger Things Bits. Stay tuned for more.