'Luke Cage' Clip: Marvel's New Hero Is Sick Of Always Having To Buy New Clothes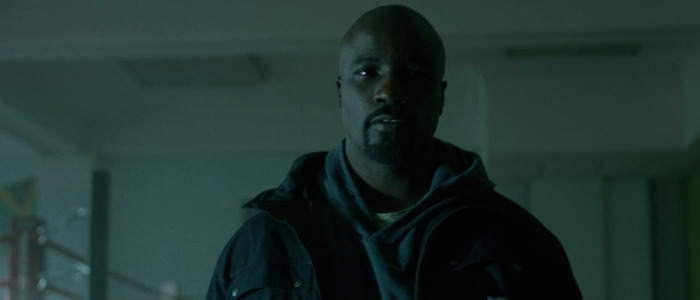 I loved many things about the first season of Marvel's Jessica Jones, but I was especially impressed by Mike Colter's Luke Cage. He may have been a guest star in another superhero's show, but he made a strong case for why he was getting his own solo series. Now, that solo series is a month away from arriving on Netflix and a new clip has made its way online. I was already planning to watch this whole thing in one or two sittings (because this is the life I have chosen), but this clip only helps to further convince me that this isn't a terrible choice.
The clip is an extended version of a moment we've already seen in an early trailer. Luke Cage, who was left with super-strength and unbreakable skin following an experiment gone wrong, confronts a group of criminals in a boxing gym. Punches are thrown. Guns are drawn. Bullets bounce right off Luke's skin. And then he bemoans the fact that this particular crime-fighting outing is going to require him to go buy a new outfit.
Although the action is good (in that low-budget, television of kind of way) and Colter oozes charm, what really grabs my attention in this clip is the music. We know that the series will boast an impressive soundtrack, but the music on display here is full of personality, reflecting Luke Cage's brazen confidence while establishing a clever musical connection to the blaxploitation films of the '70s, to which this character owes a great deal.
And if the image of bullets literally bouncing off the skin of a black man wearing a hoodie feels inherently political in 2016, that's no accident. As showrunner Cheo Coker said during the show's Comic-Con panel:
Even now, even though the character came out in '72, when I think about it and I think about the impact of what's going on right now, the world is ready for a bulletproof black man.
All 13 episodes of Luke Cage will drop on September 30, 2016. In the meantime, you can revisit the first two trailers. Here's the official synopsis:
After a sabotaged experiment leaves him with super strength and unbreakable skin, Luke Cage (Mike Colter) becomes a fugitive who attempts to rebuild his life in modern day Harlem, New York City. But soon he is pulled out of the shadows and must fight a battle for the heart of his city – forcing him to confront a past he had tried to bury.