See 'Snowden' Early With A 45-Minute Q&A Featuring Oliver Stone And Edward Snowden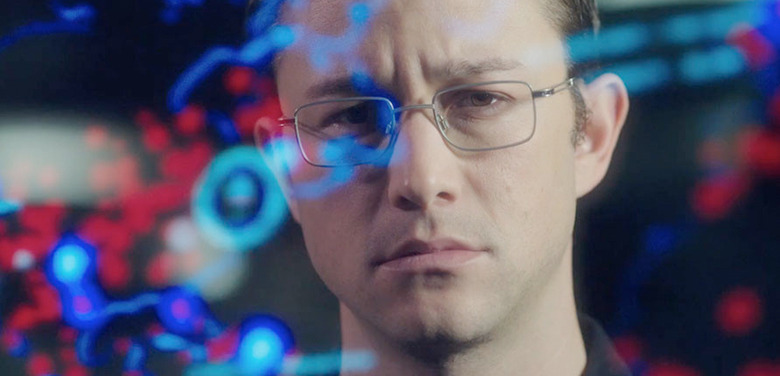 Fall is just around the corner, which means awards season isn't too far away either. The first film out of the gate that could be a major contender at the Academy Awards next year is Snowden. The biopic from director Oliver Stone tells the story of the former CIA employee Edward Snowen (Joseph Gordon-Levitt) who became a whistleblower when he leaked classified information about the NSA to the media that revealed the agency was spying on unknowing citizens of the United States. Now you can see it early thanks to a special Fathom Events engagement that includes a live Q&A with Oliver Stone and Edward Snowden himself.
Find out about the Snowden advanced screening after the jump.
Fathom Events has announced that they'll have a special early screening of Snowden on Wednesday, September 14, which is two days before the movie hits theaters everywhere on September 16. The screening will happen at 7:30pm ET/6:30pm CT with a 45-minute interview between Oliver Stone and Edward Snowden (via satellite from Russia) following the 2 hour 15 minute movie. The screening will be tape-delayed for those on the west side of the United States to play at 7:30pm in both Pacific and Mountain time zones.
For a list of locations playing this special engagement, check out the Fathom Events website right here, where you can also buy tickets. If you haven't seen the most recent trailer, you can watch it right here. Or if you're interested in more from Joseph Gordon-Levitt and Edward Snowden, check out the short film they collaborated on together called Are You There, Democracy? It's Me, The Internet:
Here is the short film I directed feat. Edward @Snowden..https://t.co/JIsGGjtG45

— Joseph Gordon-Levitt (@hitRECordJoe) August 23, 2016
Academy Award®-winning director Oliver Stone, who brought Platoon, Born on the Fourth of July, Wall Street and JFK to the big screen, tackles the most important and fascinating true story of the 21st century. Snowden, the politically-charged, pulse-pounding thriller starring Joseph Gordon-Levitt and Shailene Woodley, reveals the incredible untold personal story of Edward Snowden, the polarizing figure who exposed shocking illegal surveillance activities by the NSA and became one of the most wanted men in the world. He is considered a hero by some, and a traitor by others. No matter which you believe, the epic story of why he did it, who he left behind, and how he pulled it off makes for one of the most compelling films of the year.
Snowden opens on September 16.