New 'Rogue One: A Star Wars Story' Photos Show Off The Rebel Team And Director Krennic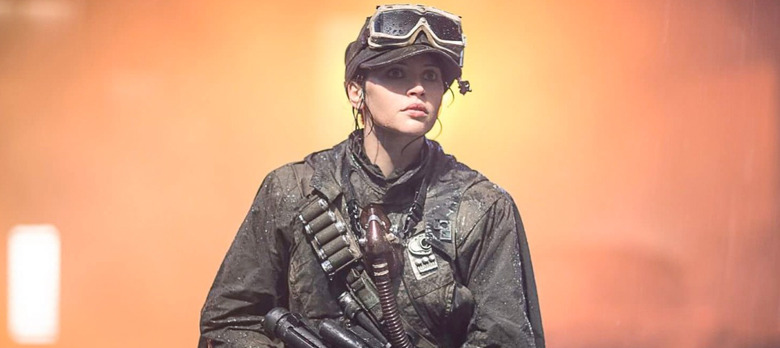 There's about a month left until this year's Force Friday unveils a bunch of new details about Rogue One: A Star Wars Story on merchandise shelves all over the world. On that day, new action figures, books, shirts and tons more will give us a better look at some of the characters, vehicles, settings and more from the first Star Wars spin-off from Lucasfilm. In the meantime, a new batch of photos has been unleashed online to give us a closer look.
The new Rogue One photos give us a different look at our new Rebel team including Felicity Jones as Jyn Erso and Diego Luna as Captain Cassian Andor, but there's also a cool new shot of Ben Mendelsohn as the villain Director Orson Krennic and more. Check them out below.
Here's the new Rogue One photos from the latest issue of Empire:
As you can see, we also get new shots of Donnie Yen as the Force sensitive spiritual warrior Chirrut Imwe, Jiang Wen as his trusty, deadly partner Baze Malbus, Riz Ahmed as a pilot named Bodhi Rook (with some new gear), and Alan Tudyk's motion-capture created droid K-2SO. Sadly we don't get any new shots of Forest Whitaker as Saw Gerrera, and we've yet to see any photos of Mads Mikkelsen as Jyn's father Galen Erso.
Still, these photos do allow us to get a good look at some of the gritty details of these characters. Jyn Erso gets a totally new look with a bunch of different gear on such as a hat, goggles, a poncho and even a breathing apparatus of some kind. Meanwhile, Mendelsohn still looks like he's going to be quite an intimidating villain in the movie as a couple Deathtroopers escort him through what appears to be the Death Star, but could just as easily be a Star Destroyer.
We don't get any new revelations about the story in these photos, but some of that will likely come on Force Friday on September 30th. Otherwise, the most recently released trailer offered plenty for us to sink our teeth into, and it will likely be a couple months before we get another one of those. Once November hits though, we're bound to get a barrage of TV spots that will show off more and more as the release gets closer.
There's been some concerns over the amount of reshoots that took place earlier this year, but as we pointed out, reshoots aren't always a bad thing for a blockbuster production. They could end up saving the movie. We'll find out when Rogue One arrives on December 16.