This Kurt Russell Art Show Looks A-Number One, Is All In The Reflexes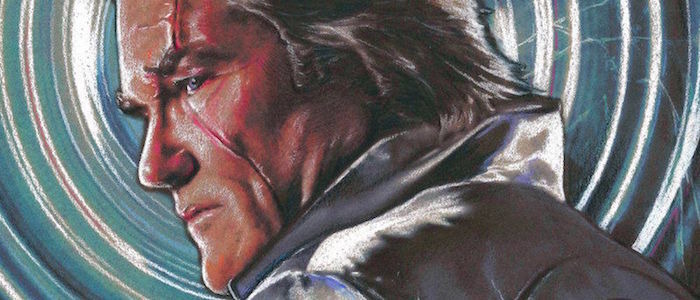 One of the greatest pleasures of my career so far arrived last year, when I was able to interview the great Kurt Russell following the premiere of the fantastic horror western Bone Tomahawk. Russell is one of the greats, a massive screen presence who's willing to take chances on strange movies, a "man's man" who isn't afraid to play weak or buffoonish, an actor who can embody cowboys and criminals and psychopaths and moody helicopter pilots stranded in the ass-end of Antarctica. There has never been a movie that wasn't made better by his presence. He's an icon. He looms as large as the larger-than-life characters he so often plays.
So, if there was any living actor who deserves to have an entire art show dedicated to him, it's Kurt freakin' Russell. And yes, there is a new Kurt Russell art show right around the corner, featuring pieces that pay tribute to movies like The Thing, Big Trouble in Little China, Escape From New York, The Hateful Eight, and Death Proof.
This show is titled "Kurt Russell: Deep Cuts" and it's set to open at the Public Works SF in San Francisco tomorrow, August 27, 2016. If you're in the Bay Area, you know what to do. If not, you can always peruse the art that has already been shared online (a tip of the hat to the good folks at io9 for bringing this to our attention).
Despite the title of the show, it looks like this gallery will be focusing on Russell's most beloved movies and most iconic characters, but that's okay. What, are you going to tell an artist they can't draw or paint Jack Burton or Snake Plissken or Stuntman Mike? Are you really going to say "Nah, we really don't need any more art featuring imagery from The Thing?" Please.
Although I like all of the art revealed so far (and you can check it out in the gallery below), I'm especially fond of Chris Voy's piece, which depicts the various hairstyles Russell has rocked over the years. After all, you can probably pick out many of his characters from their facial hair alone.
The show's Facebook page lists the full artist line-up as Paul Shipper, Luke Harrington, Craig Drake, Robert Bruno, Jeany Ngo, Kevin Wilson, Marko Manev, Nathan Anderson, Amy Beth Christensen, Eli Maffei, Andre Kirk, Chris Voy, Chris Koehler, Dawn Carlos, Tegan Bellitta, and Malisa Suchanya. For additional information, you should follow that link. This could be your big chance if you missed out on recent posters for Big Trouble in Little China and Escape From New York.