Don't Expect To Hear The 'Star Wars: Episode VIII' Title Soon, Says Daisy Ridley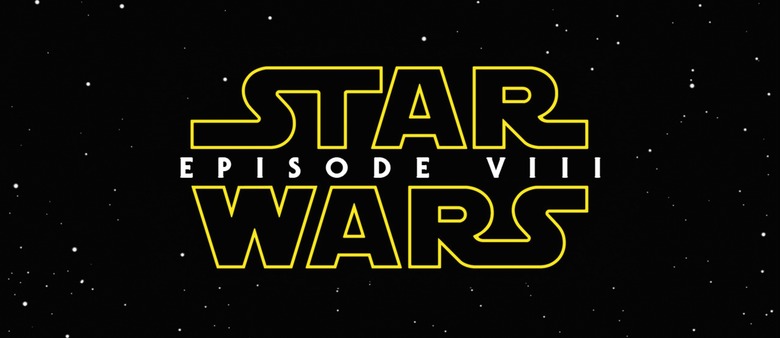 Production is wrapped on Star Wars: Episode VIII, and with post-production underway, John Williams will begin his work on the film's score imminently. So far details have been pretty sparse on information about the sequel, which is exactly what we all expected. However, some fans have been hoping that we would get an official title for the movie sooner than later. But according to Star Wars: The Force Awakens star Daisy Ridley, we may be waiting a while longer.
Find out what Daisy Ridley had to say about the Star Wars Episode VIII title after the jump.
Daisy Ridley appeared on a popular podcast called My Dad Wrote a Porno (via Star Wars Underworld) from across the pond, and they briefly touched upon Episode VIII, specifically if we might find out a title sometime soon. Here's what the actress had to say on the matter:
I heard a title, but I don't know if it's going to be that. I really don't know much about anything. I heard the title a long time ago before we started filming, and so I feel some things have slightly tweaked during production. It's going to be a while before it's released I imagine.
Ridley is being pretty modest when she says "I really don't know much about anything," but more than likely she's referring to decisions like what the final title will be, when we'll find out about it, and other parts of the movie that she doesn't have a say in at all. Once production is wrapped, Ridley is done with the movie until she has to do some ADR work and eventually promote the movie non-stop in every form of media possible.
Just because Ridley has heard a title doesn't mean it will end up being the final name for the movie either. Let's not forget that for a long time, the title of Star Wars: Episode VII was intended to be Shadow of the Empire. But it ended up becoming The Force Awakens, likely to avoid any confusion regarding the title's similarity to the book Shadows of the Empire, which is now no longer canon.
The fact that we don't have a title yet shouldn't be too surprising. After all, we didn't learn that The Force Awakens was the title of Star Wars: Episode VII until November 6, 2014, and that was a whole year and a month before the movie even hit theaters. Shortly thereafter we got the first teaser trailer on Black Friday and Star Wars fans lost their mind. The same thing could happen for Star Wars: Episode VIII, but this year is a bit different.
With Rogue One: A Star Wars Story on the horizon, a good time to announce the title and reveal a teaser would be when the spin-off hits theaters. Attaching the teaser to Rogue One would assure that even the more casual fans would likely go out of their way to see the spin-off that may not be as popular as the milestone stories in the Star Wars saga. At the same time, it could overshadow the arrival of Rogue One, so it's hard to say what Disney and Lucasfilm will do. We'll just keep hoping that we'll get the Star Wars: Episode VIII title sometime before the end of the year, and it would be nice if there was a quick teaser too.
Star Wars: Episode VIII arrives on December 15th, 2017.