James Cameron-Produced 'Alita: Battle Angel' Eyes Christoph Waltz For Non-Villainous Role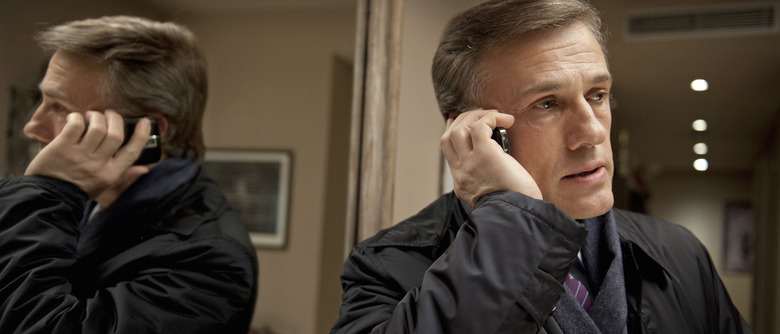 After several years of on-again, off-again development, Alita: Battle Angel got a much-needed shot in the arm last year when Robert Rodriguez signed on to direct. Not long after, Rosa Salazar was cast in the lead role. And now the film may have its second star. Christoph Waltz is reportedly circling the James Cameron-produced adaptation of the popular manga series. And in a shocking twist, he might actually get to play a good guy for once. 
Based on Yukito Kishiro's original series, Alita is set in the 26th century and follows a female cyborg who wakes up in a scrapyard with no memory of her past life. She does, however, remember her martial arts training, and she uses her skills to become a bounty hunter. All the while, of course, she's also digging deeper into her own past. According to The Hollywood Reporter, Waltz is in early negotiations to play Doctor Dyson Ido, the cybersurgeon who originally finds and revives Alita and then becomes her mentor. Alita is billed as an action-adventure story with "themes of self-discovery and the search for love."
Cameron has had Alita on his to-do list for years. The original plan was for him to direct the film himself, possibly after Avatar 3. But after Cameron decided to spend the rest of his life making Avatar sequels, Rodriguez came on board to direct instead. Cameron remains on board to produce along with Jon Landau through Lightstorm Entertainment. Alita has been gaining momentum under Rodriguez, and filming is expected to begin this fall for release on July 20, 2018. Expect to hear many more updates in the coming weeks.
In the U.S., Waltz has made his name playing villains. He first broke through internationally as the bad guy in Inglourious Basterds, and has most recently played the bad guys in The Legend of Tarzan, Spectre, Big Eyes, and Horrible Bosses 2. To be fair, he's mixed it up with some nicer folks from time to time — he put in a remarkable against-type performance in Terry Gilliam's The Zero Theorem and reunited with his Basterds director Quentin Tarantino to play one of the heroes in Django Unchained. His upcoming roles include the period romance Tulip Fever and Alexander Payne's Downsizing.