Funko Continues To Tease 'Stranger Things' POP Vinyls With Fan Favorite Character Barb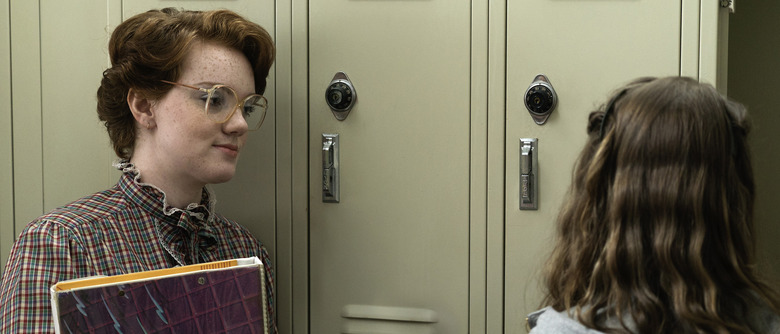 UPDATE: Funko has released another hypothetical POP! Vinyl figure, this time giving a fan favorite character their own figure. You can check it out after the jump. Our original story follows.Funko has turned any and nearly every kind of character from pop culture into one of the POP! Vinyl figures. Disney, Star Wars, Batman, Ghostbusters, Family Guy, The Avengers, Gremlins, Futurama and tons more movies and TV shows have had their characters turned into the adorable little doe-eyed collectibles. Basically, anything popular gets the Funko treatment, so you would think Stranger Things would be next right? That's what we're hoping, and it appears Funko got a head start on their collection by creating a POP! Vinyl sculpt of the telekinetic girl known as Eleven, played by Millie Bobby Brown.
Check out the Stranger Things Funko POP Vinyl of Eleven after the jump.
Funko is completely strung out on @strangerthingstv so we sculpted Eleven. It's our number one wish for Pop! LIKE & COMMENT BELOW IF YOU WANT THIS TO BE REAL!!! #StrangerThings
A photo posted by Funko (@originalfunko) on
As you can see from the caption with the picture, this isn't an official Funko POP! Vinyl addition just yet, but the company is just as in love with the show as plenty of other Netflix subscribers, so they decided to make one just for fun. She has all the appropriate touches, including some dirt on her face, a little bit of a nosebleed, and those tasty Eggo waffles. UPDATE: Funko is continuing to tease the possibility of a POP Vinyl line for the show, and they've unveiled their latest possible creation with one of the more popular characters, Barb. Look:
Our love affair with @Stranger_Things continues! Our artists keep working on their dream figures – here's Barb! pic.twitter.com/ghQCXxqRdk — Funko (@OriginalFunko) August 25, 2016
The best friend of Nancy Wheeler met a grisly end in The Upside Down, and some fans were a bit upset that the character's fate didn't really seem like that big of a deal in the grand scheme of things. But The Duffer Brothers promise that there will be justice for the character in the second season.
Of course, with the overwhelming response to both the show and this custom creation, we're bound to get an official line of Stranger Things Funko POP! Vinyl figures sooner than later. When this inevitable line comes to fruition, I hope the demogorgon is one of the figures made, even though I'm sure that not even e POP! Vinyl version of that creature would make it cute.