'Doctor Strange' Shot New Scenes Written By Dan Harmon After Production Wrapped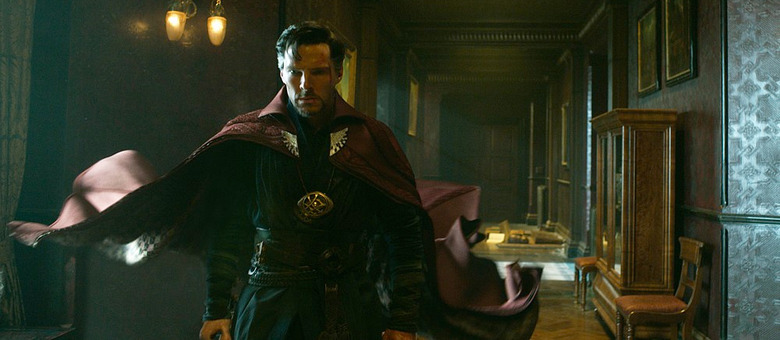 Doctor Strange wrapped principal photography back in April, where Benedict Cumberbatch spent part of his last day of shooting making a surprise appearance at a comic book shop in his full Sorcerer Supreme wardrobe. However, just recently when a rumor popped up about a potential cameo from one of The Avengers in Doctor Strange, it appeared as if some additional photography was done as recently as this month, thanks to an update to Twitter by co-star Benedict Wong.
Now we have confirmation that new scenes for Doctor Strange were recently completed, and the scenes in question were actually last minute additions written by Community and Rick and Morty creator Dan Harmon.
Find out about the additional Doctor Strange scenes written by Dan Harmon after the jump.
The Hollywood Reporter has learned that Dan Harmon was brought on board Doctor Strange after production had wrapped and that the scenes he wrote were "for additional photography." Unfortunately, beyond that we don't have any details about the scenes that needed to be added into the movie. But this is kind of a big deal since Dan Harmon has no experience writing for a big blockbuster movie like Doctor Strange.
Dan Harmon is best known for creating Community and co-creating Rick and Morty, but he also wrote the script for the underrated animated flick Monster House, not to mention doing uncredited work on Kung Fu Panda. However, his hiring isn't completely out of left field since Captain America: The Winter Soldier and Captain America: Civil War directors Anthony and Joe Russo also have their roots in directing episodes of Community, Happy Endings and Arrested Development. Maybe it was the Russos who recommended that Harmon write the scenes in question.
This is purely speculation on my part, but I wonder if Harmon was hired to write some scenes that better explain some of the exposition that will undoubtedly be needed to help explain the new mystical side of the Marvel cinematic universe. Harmon does a fine job bringing sci-fi concepts into Rick and Morty without slowing the show down or losing any comedic flair, so maybe a writer with that kind of sensibility was needed for Doctor Strange.
It's not clear if Dan Harmon will be credited alongside writers Scott Derrickson (who is also directing) and C. Robert Cargill (Sinister), who also get story credit alongside Prometheus writer Jon Spaihts. Usually when writers are brought on for gigs like this, they don't end up getting their name in the credits, but they still get a paycheck. We'll find out when the credits roll after we see the movie on November 4, and hopefully we'll find out what scenes he wrote shortly thereafter.