Is Universal Studios Working On A New Harry Potter "Video Game Ride"?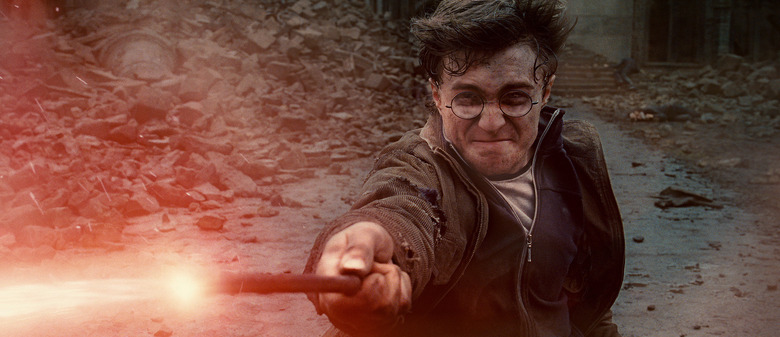 Major companies filing patents isn't always news, because many major companies file patents just because they can. This is especially true in the theme park industry, where potential ride and show technology is patented so it can be utilized in a potential future attraction. You know – just in case. After this is a competitive business. Disney was supposedly planning to utilize Kuka arm technology to build a ride based on The Incredibles, only to watch Universal snatch the exclusive rights to this tech for Harry Potter and the Forbidden Journey, the headliner attraction at their The Wizarding World of Harry Potter lands in Universal Studios Florida, Universal Studios Hollywood, and Universal Studios Japan.
So don't look at Universal's newest patent as solid confirmation for what we might see in a future Harry Potter ride – look at it as a suggestion of what Universal may be considering for a future attraction. And this patent centers around a "video game ride" that will allow riders to to interact with and change their experience.
Biz Journals dug into the patent and there's some very interesting stuff here. Specifically, the patent deals with a new ride vehicle equipped with a "game controller" that will allow riders to "modify the game environment":
...configured to receive respective inputs from one or more riders via the vehicle interface circuitry, and wherein the respective inputs are related to one or more game features of a game environment; and a game controller configured to receive information from the vehicle interface circuitry related to the respective inputs; and provide instructions to modify the game environment based on at least one of the respective inputs.
On a surface level, this is nothing new. Interactive theme park rides have been around for some time, with Disney's Buzz Lightyear: Astro Blasters and Universal's Men in Black: Alien Attack leading the pack. Those rides move you through intricately themed environments filled with enemies, allowing you to use a weapon to fire back and trigger environmental effects (and try to rack up the highest score, of course). More recently, Disney introduced Toy Story Midway Mania, a massively popular attraction that was more responsive and adaptive to how the players choose to approach the interactive elements.
This new patent suggests an even deeper focus on a malleable ride environment, with events and scenarios changing based on the age and experience of the rider:
The interactive game ride may also provide the benefit of a dynamic narrative that changes in response to interest from the game players. For example, if a family with small children is participating in the ride, the game may receive input on the player ages to select appropriate game environments. Alternatively or additionally, the player interactions with the game may also influence the game to provide feedback. In one example, the game is a series of puzzle rooms, and the actions that the players take within each scene or puzzle change the environment and allow different paths to be activated or different physical effects to take place
However, the biggest difference here is that Universal's new patent doesn't involve a plastic gun or canon – it's motion sensitive. Using the example of a "wizard-themed game" that uses "wands" (oh, you know, just a randomly chosen example), the patent explains how riders could wield a wand as they experience the ride, with different motions triggering different effects in the environment:
In certain embodiments, the score input may include input from external sensors that capture player motion, such as wand motion, and provide the motion characteristics as input to a score determination algorithm. If the wand motion is associated with a particular spell that is an effective spell for the game, the player's score may be updated to indicate a successful 'freezing spell' or other spell has been cast.
Universal has already dipped their toe into interactive wand experiences (there's a sentence I never thought I'd write). If you buy a certain souvenir wand and make the right motion in the right places while in the Wizarding World of Harry Potter, you can trigger certain environmental effects. Could this be the test run for something more elaborate?
There have been rumblings that Universal Orlando is planning to close the Dragon Challenge roller coaster (a magnificent leftover from the pre-Harry Potter days) and replace it with a new attraction themed around Fantastic Beasts and Where to Find Them. It's easy to imagine this patent being a part of that. Heck, who wouldn't want to ride through a series of fantastical environments while using a wand to do battle with monsters and creatures? It certainly makes sense.
We have no actual confirmation, so all we can do right now is speculate. In the meantime, here's some art from the patent, which is further evidence that few things are quite as amusing as intentionally bland patent art.