'Manchester By The Sea' Trailer: Casey Affleck Stars In One Of The Most Acclaimed Movies In Recent Memory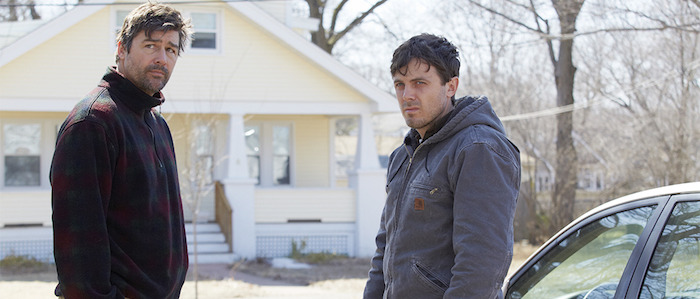 When Manchester by the Sea premiered at the Sundance Film Festival earlier this year, it was met with near universal acclaim from all who saw it. Many attendees declared it an early frontrunner for the best film of 2016. It started the 2017 Oscar conversation before the 2016 awards could even occur. The film was quickly purchased by Amazon Studios and Roadside Attractions. Director Kenneth Lonergan, whose Margaret famously endured all kinds of hell on its way to release, was now responsible for a movie that looked like it could play far beyond an audience of faithful cineastes and critics.
The first Manchester by the Sea trailer has arrived and it's full of drama and bittersweet laughs and glimpses at complex performances from the likes of Casey Affleck and Michelle Williams. Oh, and there are Massachusetts accents. Oh boy, are there Massachusetts accents.
The film follows Lee Chandler (Casey Affleck), who returns to his hometown following the death of his brother (Kyle Chandler) and finds himself made legal guardian of his nephew (Lucas Hedges). Naturally, other family members and friends walk into the picture, including his separated wife (Michelle Williams). Maybe it's all of the praise I've been hearing about this film since January, but this looks so very good.
Our own Angie Han reviewed Manchester by the Sea from Sundance and gave it a perfect 10 out of 10 score, writing:
It's easy to imagine a version of this story that smooths over ugly, raw emotions in service of a happy ending, or, alternately, a version of this story that devolves into simple misery porn. Manchester by the Sea takes a more humane approach, guided by Lonergan's deep empathy for his characters. The world around Lee may judge the way he reacts to the blows life has dealt him, or may not even realize what he's dealing with in the first place. But Lonergan presents a portrait of grief that feels almost honest in its ugliness, because it feels truthful. Redemption and hope are hard to come by for these characters, but they're apparently nearly as impossible to extinguish completely.
The film is set to screen at the New York Film Festival and the Toronto International Film Festival, so expect another wave of reviews and reactions then. In the meantime, here is the official synopsis for the film:
After the death of his older brother Joe (Kyle Chandler), Lee Chandler (Casey Affleck) is shocked to learn that Joe has made him sole guardian of his nephew Patrick (Lucas Hedges). Taking leave of his job, Lee reluctantly returns to Manchester-by-the-Sea to care for Patrick, a spirited 15-year-old, and is forced to deal with a past that separated him from his wife Randi (Michelle Williams) and the community where he was born and raised.   Bonded by the man who held their family together, Lee and Patrick struggle to adjust to a world without him. In his first film since 2011's acclaimed Margaret, Lonergan once again proves himself a powerful and visionary storyteller as he seamlessly weaves past and present together, crafting a tension-filled tale that deftly eschews sentimentality in favor of penetrating emotional insight and deeply affecting human relationships.
Manchester by the Sea is set to open on November 18, 2016. It'll be very interesting to watch how Amazon Studios and Roadside Attractions roll this one out, especially since it has "serious awards contender" written all over it.