'Batman: Return Of The Caped Crusaders' Trailer: Batman & Robin's Greatest Foes Team Up Again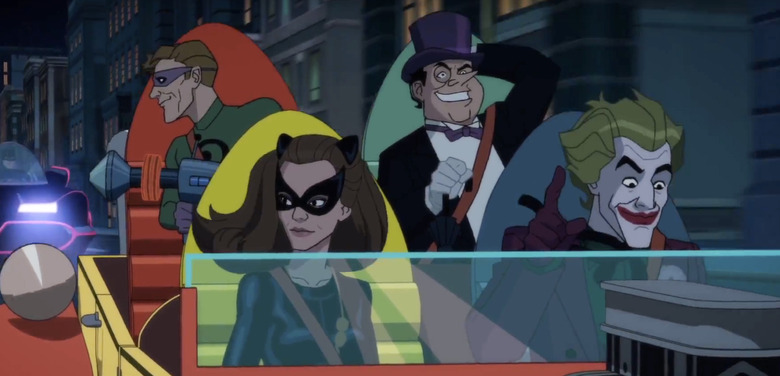 About a week ago, the first promotional teaser arrived for an animated feature that would bring back Adam West and Burt Ward as Batman and Robin. The two actors played the live-action television iterations of the Caped Crusaders in a TV series that started back in 1996, and now we get to see (or rather hear) the duo back in action with the full trailer for Batman: Return of the Caped Crusaders.
The animated feature is modeled after the 1966 series, complete with plenty of cheesy jokes, Robin's signature "Holy ____, Batman" lines, and all of the key villains back to bring trouble to Gotham City all over again.
Watch the Batman Return of the Caped Crusaders trailer after the jump.
The good news is that unlike the recent release of Batman: The Killing Joke, this animated feature is rated PG, which means you can sit down and watch it with your kids. And while the humor from the original 1966 series is still there, it appears the action has been amped up a little bit since animation allows these versions of the characters to do much more than they were able to do 50 years ago. For example, in this trailer, The Joker, The Penguin, The Riddler and Catwoman (voiced by Julie Newmar again) are cruising around in a car that blasts bombs at the Batmobile as they speed through the streets of Gotham City.
We don't know just what kind of dastardly plan these super villains have been putting together this time, but the official synopsis offers up some hints of what we can expect to see:
It's back to the 1960s as Batman and Robin spring into action when Gotham City is threatened by a quartet of Batman's most fiendish foes – Penguin, The Joker, Riddler and Catwoman. This time, the four Super-Villains have combined their wicked talents to hatch a plot so nefarious that the Dynamic Duo will need to go to outer space (and back) to foil their arch enemies and restore order in Gotham City. It's a truly fantastic adventure that will pit good against evil, good against good, evil against evil ... and feature two words that exponentially raise the stakes for both sides: Replicator Ray. Holy Multiplication Tables!"
Batman: Return of the Caped Crusaders is directed by Rick Morales (LEGO DC Comics Super Heroes – Justice League: Cosmic Clash) with a script written by Michael Jelenic (Teen Titans Go!) and James Tucker (Justice League vs. Teen Titans). The animated features arrives on Digital HD on October 11 and Blu-ray and DVD on November 1.