Dwayne Johnson's 'Fast And Furious' Role Was Originally Written For Tommy Lee Jones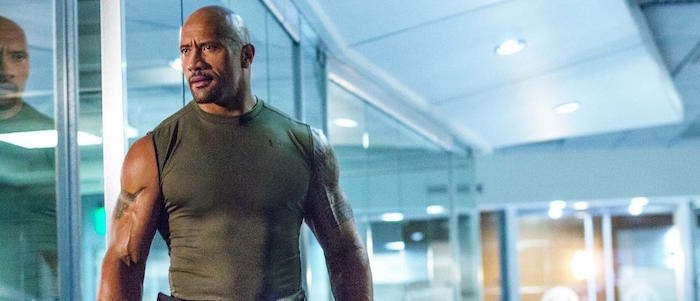 Over the course of seven (and soon to be eight) movies, the Fast and Furious series has built one of the strangest and most likable ensembles in Hollywood history. Once everyone settled into their roles (and it took some of them a few movies to get there), these movies stopped being all about wacky car action and started being about these characters bouncing off each other, trading barbs and blows, but also stares of deep, brotherly affection and whatnot.
At this point, it's hard to imagine the series without Dwayne Johnson, whose permanently sweaty Luke Hobbs has become provides the crew with a macho moral compass. That means it's awfully hard to imagine that the role was originally written for Tommy Lee Jones.
This weird little piece of trivia was shared by series star Vin Diesel in the middle of a lengthy video posted to his Facebook page (via Geek Nation). He revealed that certain creative decisions, like bringing Michelle Rodriguez's Letty back from the dead and introducing Jason Statham as a villain, were inspired by fan suggestions. As was the casting of The Rock:
Back in the fifth film, I was asking 'Who should I work with?' The reason why we brought Dwayne Johnson into Fast Five was because of you. There was a girl named Jen (maybe, Jan?) Kelly who said, 'I would love to see you guys work together on-screen.' And so, we gave a role that was initially written for Tommy Lee Jones but we gave it to Dwayne, and he shined in it.
Jones may be a celebrated actor and Oscar-winner, but it's tough to envision him flexing his way out of a plaster cast before shooting down a drone with a minigun. However, you can see traces of how he would have functioned in this role within Johnson's performance. Strip him of his muscles and Hobbs is really a revised version of the dedicated, straight-shooting U.S. Marshall Jones famously played in The Fugitive. Sure, he'd look out of place physically brawling with Diesel, but he'd be well cast as a rigid professional who spends much of his screen time shooting disapproving looks in the general direction of his co-stars. Johnson owns Hobbs and has made him his own, but you can see this familiar DNA lurking at the core of the character.
And while Jones probably won't be joining this series anytime soon (although he will sport a horrible soul patch and battle Jason Statham in Mechanic: Resurrection), the role of "respected actor lending chops to the most ridiculous franchise going today" has been filled by the great Kurt Russell...and by the equally great Helen Mirren, who will play a new character in Fast 8, which is set for an April 14, 2017 release date.