'The Jim Gaffigan Show' Is Ending After Two Seasons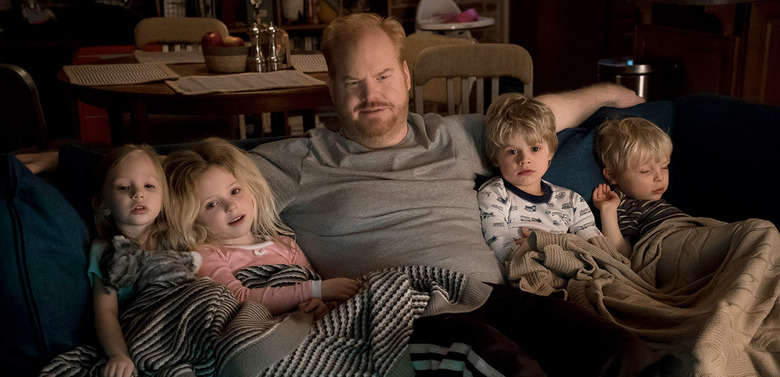 A couple days ago, the final episode of the second season of The Jim Gaffigan Show hit TV Land. For those who haven't been watching, the comedy series was hilarious, almost surprisingly so since it was airing on a channel not known for the best comedies. Plus, sitcoms starring comedians as themselves can be hit or miss, but Jim Gaffigan succeeded in bringing his own brand of humor to television with clever writing from him and his wife Jeannie Gaffigan and a cavalcade of outstanding guest stars. But sadly, the show is coming to an end after just two seasons. Find out why after the jump.
The Jim Gaffigan Show ending is bad news, but on the bright side, it wasn't canceled. So why end a show that has been critically acclaimed and found a solid audience on TV Land? We'll just let Jim Gaffigan himself explain from a post on WhoSay:
After months of discussion Jeannie and I have decided to make season 2 of 'The Jim Gaffigan Show' the final season. We realize this may surprise some and we don't make this decision lightly. It is hard to say goodbye to this highly personal passion project, which we have nurtured and poured our hearts into for over five years. Jeannie and I are grateful that TV Land allowed us to do this show about our lives the way we wanted. It was empowering, exhilarating and exhausting. As many of you know all the episodes this season were written by Jeannie and me. Jeannie was the showrunner and I acted in virtually every scene. In one way it was a perfect scenario. We worked with an amazing cast and crew, learned tons and laughed so much. However the time commitment to make the quality of show we wanted was taking us away from our most important project, our five children. We are truly grateful for all the support friends on social media and television critics have given 'The Jim Gaffigan Show.' Jeannie and I are excited to move forward with other creative pursuits.
You have to respect Jim Gaffigan's position as a family man, which is the primary source for his comedic material, even if it means we don't get to see any more of this outstanding show. It has to be difficult to manage a five-child family when both the father and mother are working full time on a TV show like this.
For those who don't know, The Jim Gaffigan Show followed Jim Gaffigan playing himself living with his wife and kids in New York City as he struggles to balance his life as a stand-up comedian and a father and husband. The supporting cast was especially great with Ashley Williams (How I Met Your Mother) playing Gaffigan's wife and Michael Ian Black as her judgmental friend Daniel, always giving Jim a hard time. In addition, Adam Goldberg played Gaffigan's best friend and fellow stand-up comedian Dave.
What was especially fun about The Jim Gaffigan Show, is just like Louie on FX, there were cameos by a bunch of stand-up comedians and other actors playing themselves. John Mulaney, Dave Atell, Colin Quinn, Will Ferrell, Gilbert Gottfried, Steve Buscemi, Chris Rock, Nathan Lane and Bill Burr were just some of the names who popped up on the series. Plus, there was a great recurring gag featuring a cameo by Macaulay Culkin every now and then.
You can watch all the episodes of The Jim Gaffigan Show on VOD right now, and I fully recommend you do that if you're looking for a show that won't take up too much of your time and also provides plenty of laughs.