Cool Stuff: Elsa & Anna Are Stunning In Two 'Frozen' Prints Designed By A Disney Artist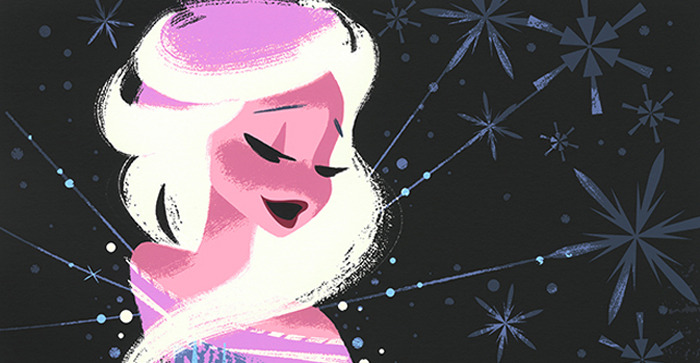 Even though the hype surrounding Frozen has died down since it was released late in 2013, that doesn't mean the love isn't still there for Disney's popular musical from Chris Buck and Jennifer Lee. Plus, the hype will return once Frozen 2 gets into full swing. We just heard the cast is waiting for the script to be finalized before they start recording sometime this year. In the meantime, there are also some LEGO Frozen animated shorts on the way. But if you need your Frozen fix now, we've got something cool for you.
Cyclops Print Works has collaborated with artist Brittney Lee to create two different Frozen prints featuring Anna and Elsa. What's cool about these particular prints is that Brittney Lee was also a visual development artist on Frozen, having designed all of Anna's dresses and hairstyles, not to mention Elsa's signature braid, shoes and parts of her dress. So these two Frozen prints come straight from one of the artists who made these characters look stunning on the big screen. Check them out below.
Here are both of the new Brittney Lee Frozen prints from Cyclops Print Works:
Oh My Disney debuted the prints yesterday, and they also got a chance to talk to Brittney Lee about the designs, which she says were inspired by fashion designer Rene Gruau as well as some vintage posters the artist has hanging in her home. Lee says, "I wanted to do something different. I've never done any fashion illustration of that sort, so I thought that would be fun."
As for why she chose these particular dresses that the characters wear in the film, she said it was "mostly for twirl factor." Indeed, the way the designs of Anna and Elsa's dresses is actually my favorite part of the prints. So how can you get your hands on them? Well, both prints are going on sale today over at the Cyclops Print Works website today, August 23rd, at 3pm ET/12pm PT.
Both of the prints are 20" x 30" serigraphs with 10 colors, limited to an edition of 200 each. Each will be hand-signed and numbered, given a varnish finish and an authenticity seal. Unfortunately, there's no word on price, so you'll just have to head over to Cyclops Print Works when they go on sale and see how much they cost.
Even if they end up being a little pricey, it might help to know that today is Brittney Lee's birthday, so maybe as a thank you for all the hard work she did on the movie, you can buy her incredible work. There are also some other cool Disney prints there for Big Hero 6, Alice in Wonderland and more that might tickle your fancy.