Theme Park Bits: 'Pirates Of The Caribbean' Coming To 'Fantasmic,' Celebration Of Harry Potter Returns To Universal, And More 'Star Wars' At Disneyland Paris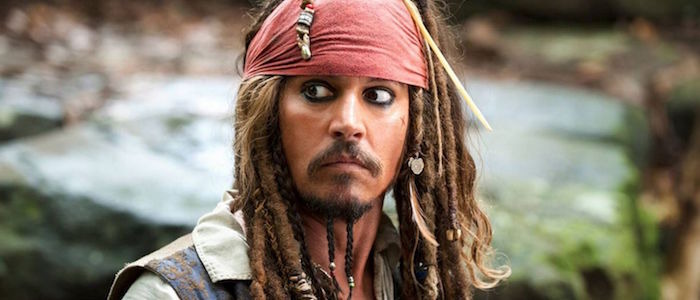 In this edition of Theme Park Bits:
Pirates of the Caribbean is reportedly replacing Peter Pan in Fantasmic at Disneyland.
Season of the Force is heading to Disneyland Paris.
A Celebration of Harry Potter returns to Universal Orlando for year four.
Universal's Toothsome Chocolate Emporium soft-opens amidst a lawsuit.
Notes on Animal Kingdom's ever-changing hours.
Hong Kong Disneyland rebounds, but it really wants that Iron Man attraction.
A first look at the new gingerbread house in this year's Haunted Mansion Holiday.
The crazy true story of two guys who documented Epcot's Horizons.
Walt Disney World's Magic Bands may be getting an upgrade.
Yep, this year's Disney parks Halloween merchandise is here.
Disney's Animal Kingdom theme park in Orlando, Florida has often been described (and derided) and a "half-day park" by fans, with many visitors only allocating four or five hours to exploring it while spending full days at the Magic Kingdom and Epcot. This isn't necessarily accurate – if you take your time and explore every animal exhibit, it is very much a full-day experience – but Disney actively started combatting this image earlier this year by introducing new nighttime entertainment. An evening show involving the central Tree of Life, a night version of the popular Kilamanjaro Safaris, and the show The Jungle Book: Alive With Magic all arrived along with longer operating hours. The park, which traditionally closed around 6:00 or 7:00 in the evening, was staying open until 11:00.
Until now, that is. Starting on September 6, Animal Kingdom will now close at 9:00 and in October, the park will once again close down at 6:00 or 7:00. There has been no official announcement – these times were only noted because they appeared on Walt Disney World's website. However, Disney spokesperson Andrea Finger did send this email response to Orlando My Way:
We will continue to offer new nighttime experiences at Disney's Animal Kingdom, including Kilimanjaro Safaris, the awakening of the Tree of Life, Tiffins restaurant and more. We will continue to adjust our hours and will remain open after sunset to deliver those experiences for our guests. As sunset gets earlier, we will be able to offer these experiences earlier than we have in the summer.
She doesn't mention The Jungle Book: Alive With Magic because that show, which received an underwhelming response from visitors, is reportedly closing on September 5. That show was a literal last-minute replacement for Rivers of Life, an ambitious and expensive show that ran into difficulties and has been indefinitely delayed. With no Rivers of Light on the horizon, and with Pandora: The World of Avatar not opening until next year at the earliest, Animal Kingdom's late-night offerings are looking a little thin at the moment. The change in operation hours can't help but feel like Disney throwing its hands in the air and saying "Fine! We can't justify those later hours yet!" Hopefully, that will change sometime in 2017.
While Rivers of Light sits in theme park purgatory, the massively popular Fantasmic show at Disneyland has been temporarily halted due to the construction of Star Wars Land. With the show not set to return until May 2017, Disney Imagineers have been reportedly fine-tuning the entire thing in its absence, replacing projectors, upgrading lights, and installing a new sound system. But WDWNT says that the segment of the show revolving around Peter Pan will be reworked to star characters from the Pirates of the Caribbean movies:
In addition, the show will be sporting a few new segments, including one for Pirates of the Caribbean, which would replace the Peter Pan segment which has been in the show since it debuted in 1992. Using projection mapping technology, the plan will be to turn the Sailing Ship Columbia into the Black Pearl. The ship will host a large fight between Jack Sparrow's crew and that of Captain Barbossa. Of course, The Columbia will be re-rigged for all new stunt work featuring Captain Jack Sparrow and his pirate friends. The truly amazing part (if true) is that the projection mapping technology will follow the ship around the river, also projecting onto the performers on the boat. This effect would allow performers to change in appearance, jumping between a skeleton and human form just like the characters in Pirates of the Caribbean: The Curse of the Black Pearl.
Feelings will probably be mixed about this change, since Peter Pan is still a beloved movie from the heyday of Walt Disney himself and the Pirates of the Caribbean movies have been diminishing returns for some time now, but I'm fascinated by the idea of using projection mapping technology to transform the Columbia into a pirate ship and the performers on it into skeletons. Similar technology has been employed in Disney's nighttime castle shows, but this sounds like a gigantic leap forward for some already fascinating tech.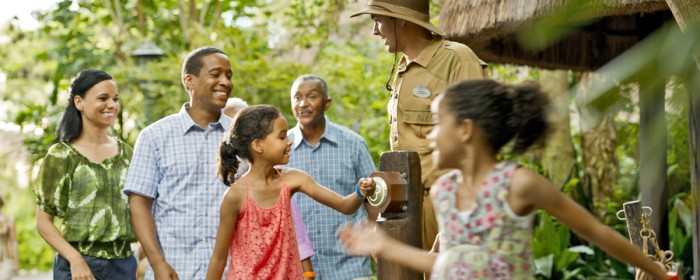 It looks like Magic Bands, the RFID-enabled wearables that make navigating Walt Disney World a breeze, are getting an upgrade. According to Disney Lists:
The FCC recently posted information about a new magic band system titled "MagicBand ID Q3E-MB-R1G2." Under this new generation of MagicBand technology would replace the straps with a small round puck. The puck could then be moved from band to band similar to how other wearables such as Fitbit allow users to move the tracker from one band to another. It would also allow guests that prefer not wearing their magic band on their wrist to carry the puck in a pocket.
Although they serve an actual purpose, traditional Magic Bands have proven popular amongst frequent visitors, who collect different bands. Naturally, a more portable "puck" opens the door for additional merchandising options while reducing costs for Disney itself.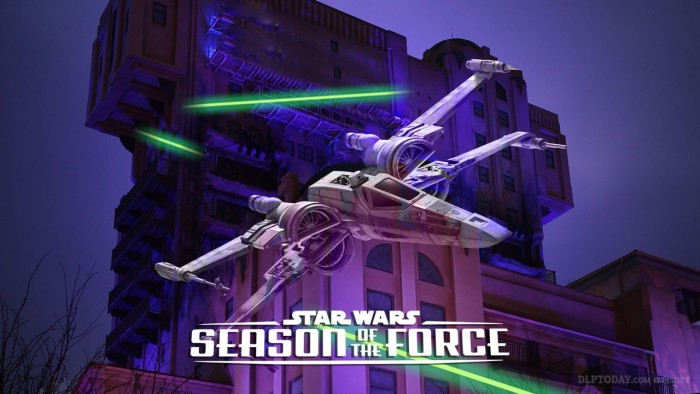 Disneyland Paris has struggled since day one, desperately trying to attract visitors in a region of the world where so many people don't seem to care one bit about Disney theme parks. Now, the Walt Disney Studios Park (the oft-maligned second gate at the resort) is getting its own Season of the Force event. Star Wars has been a common component of the stateside parks for some time now, so this was inevitable. However, it remains to be seen if the French iteration of this popular event (which will run from January 14 through March 26) will achieve the popularity of its California and Florida counterparts.  Here are some of the new shows coming to the park:
Feel the full power of Star Wars with the Disneyland® Paris Season of the Force
From 14th January to 26th March 2017, Disneyland® Paris awakens with the Season of the Force. Summon your inner Jedi and lead your young Padawans to Walt Disney Studios® Park for an intergalactic extravaganza, where a spectacular nighttime show blasts you to the heart of the Star Wars saga. During the day, the light or dark side, you must choose. But be sure to pick wisely, as the fearful First Order march perilously close and stormtroopers patrol the streets. And if it's more of the Force you're after, fulfil your destiny at the Jedi Training Academy in Disneyland® Park.
Star Wars mini showsThe light or dark side, you must choose
Let the Force guide you to Production Courtyard in Walt Disney Studios® Park for an extraordinary example of galactic might. Will you submit to the dark side? Or does your path lead to the light side?
First Order MarchBehold the power of the dark side
Blast off to Walt Disney Studios® Park and witness the wicked wonder of Captain Phasma leading a battalion of stormtroopers on an iconic military march.
Projection show on Hollywood Tower HotelLet the Force light up your night
Make your way to Walt Disney Studios® Park for a sensational show in front of Hollywood Tower Hotel, as light projection, special effects and live characters turn darkness into spectacular scenes from the Star Wars saga.
Stormtrooper interactionsAre you the rebel they're looking for?
Keep a cool head in Walt Disney Studios® Park because some stormtroopers are patrolling Production Courtyard and they're on the hunt for rebel spies.
With Star Tours currently closed for an upgrade and no plans for a Hyperspace Mountain overlay (as seen at Disneyland), this Season of the Force already feels a bit less impressive than other versions. Then again, this is the first time Disneyland Paris has attempted this. If it goes well, it wouldn't be surprising to see more events and added in future years.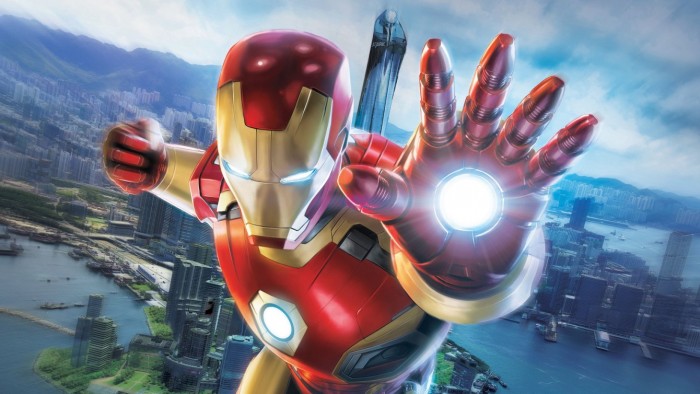 Speaking of struggling Disney theme parks, Hong Kong Disneyland has rebounded after losing $19 million in 2015. The main culprit in that loss may very well be the very successful (and brand new) Disneyland Shanghai, which has been dominating headlines and possibly keeping locals from journeying to Hong Kong for their theme park vacation. While things are looking up for the park in 2016, there are rumblings that insiders want to speed up the upcoming expansion to the park, which will see new attractions like the Iron Man Experience increase the number of things to do at the world's smallest Disney theme park. After all, if anything is going to keep Hong Kong Disneyland competitive with Shanghai, it'll be Iron Man.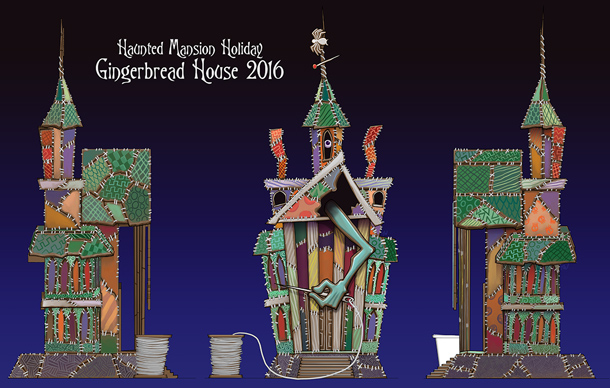 The fall season is upon us, so The Haunted Mansion at Disneyland will soon re-open as The Haunted Mansion Holiday, which finds the beloved attraction re-themed with characters from The Nightmare Before Christmas. Every year, the ballroom sequence of the ride features an extravagant (and generally morbid) gingerbread house and this year is no different. The Disney Parks Blog has revealed a first look at this year's version and associate art director Tom Wollweber described what we're looking at:
The whole structure has been cobbled and stitched together from other different gingerbread houses and treats. But it appears that sometime during the house's construction, a gingerbread ghoul was entombed! Apparently he's eager to sew himself up inside – much like another mansion graveyard ghoul you've probably seen.
Dangerous Minds has posted a fascinating story about two friends who began documenting the late Epcot attraction Horizons when it became clear that the ride was not long for this world. The resulting story is delightful for theme park fans fascinated by how old school Disney rides functioned and those interested in a bizarre story of people putting their lives at risk to do something very, very dumb (but admittedly amazing). Here's a sample:
Finally free to explore and hang out in the ride as long as they wanted, the duo went deep behind the scenes into the "guts" of the ride. They were surprised to find huge empty rooms, amazingly high catwalks, dirty Flintstone cartoons scrawled on the walls, empty beer cans from 1983, even a "Scent Cannon" used to create the smell of orange "citrus blossom." A weird abandoned maintenance room soon became their "base camp" where they could set down their equipment, go on little trips to take pictures, record audio, etc. and then come back without having to lug their backpacks and gear with them everywhere they went. This process became so routine that they quickly became totally familiar and comfortable with their environment as they ate dinner there and washed themselves in the Mesa Verde Kitchen scene's waterfall. They even began inviting some of their friends along on their adventures including "Sunnycide" (Hoot's girlfriend who years later became his wife and still is to this day), "Bionic Fonzi" (webmaster of the best Horizons tribute website at the time), and their pal Spike Tripper.
You really should read the whole thing at the link above.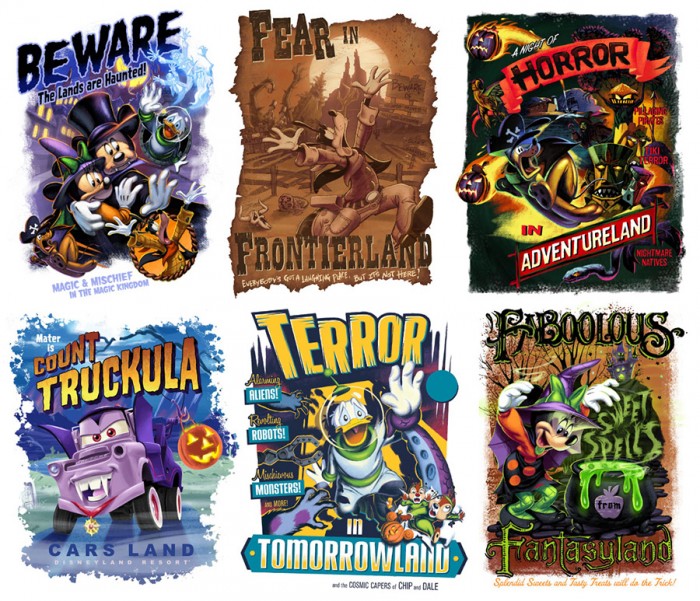 Halloween is over two months away...which means Disney is right on time with rolling out its Halloween merchandise. The Disney Parks Blog has a look at what's already on sale and it's pretty typical: shirts, socks, trinkets, and toys that see typical Disney imagery given a more seasonal flavor. The highlight of the bunch is undoubtedly this series of posters, which reinvent some of the most famous Disney "lands" as horror movies.
Universal Studios Florida has played host to the Celebration of Harry Potter for three years now, with the fourth iteration of this fan event arriving early next year and running from January 27-29, 2017. Although many of the special shows and activities (including panels and Q&A session with people who worked on the Harry Potter films) will be included with regular park admission, dedicated fans who are willing to drop some extra cash will be granted a bunch of perks. For example, here's what the Premium Vacation Package will get you:
3-night hotel accommodations at one of Universal Orlando's on-site hotels
3-Day Park-to-Park ticket to Universal Studios Florida and Universal's Islands of Adventure
Access to an exclusive evening event in The Wizarding World of Harry Potter (Friday)
Evening reception at the Harry Potter Expo (Saturday)
Exclusive autograph and photo session with select film talent
Exclusive talent Q&A session with select film talent
Shutterbutton's Photography Studio session at The Wizarding World of Harry Potter – Diagon Alley
Early Park Admission to The Wizarding World of Harry Potter one hour before the theme park opens
Special access to the Harry Potter Expo, panels and demonstrations
Reserved section for select panels and demonstrations
Breakfast at Three Broomsticks in Universal's Islands of Adventure
Breakfast at Leaky Cauldron in Universal Studios Florida
Commemorative A Celebration of Harry Potter merchandise item, pin and lanyard
Access to select venues at Universal CityWalk
These special tickets are on sale now and will sell out.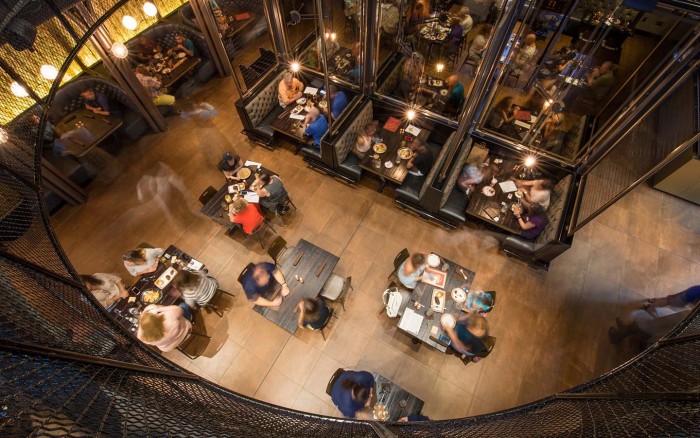 Meanwhile, Universal Studios Florida has just soft-opened another reason to head down to Orlando: the Toothsome Chocolate Emporium. This new eatery, located in the CityWalk shopping and dining area, is described as "a 19th Century Steampunk-themed, full-service restaurant that brings together a specially created and expansive menu plus an incredible array of gourmet-level chocolates and desserts." Right now, Toothsome is operating on unscheduled hours as it works out the various kinks involved in making any kind of new operation run smoothly. An official opening date has not been revealed as of yet.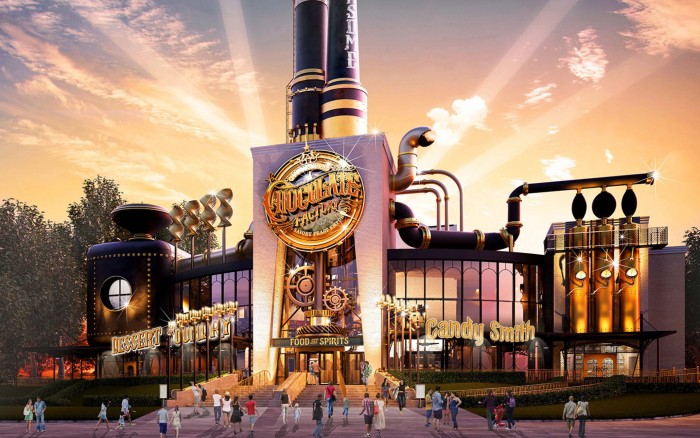 However, the Toothsome Chocolate Emporium isn't just all fun and desserts. It is also the subject of a lawsuit from a man who claims he pitched this concept to Universal and had frequent meetings with them about it...only for them to take his idea and cut him out of the picture. Adam Limle of Ohio claims he came up with The Chocolate Factory in 2003 and first pitched it to Universal in 2008. Another wrinkle in this who situation is that the Toothsome Chocolate Emporium used to be known as the Toothsome Chocolate Factory until earlier this year, when it was suddenly changed. If this goes down like so many theme park lawsuits, it will be quietly settled before a proper trial can begin.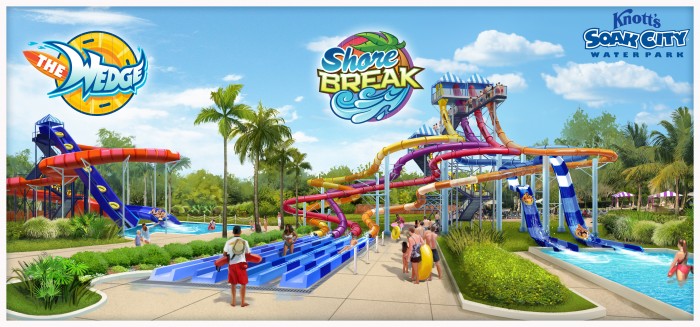 To wrap things up, let's take a rare Theme Park Bits journey beyond the Disney and Universal spheres and take a look at Knott's Soak City, which is getting a series of new attractions in 2017. The water park (the sister park to the beloved Knott's Berry Farm) will close down the Pacific Spin slide later this year and replace it with The Wedge, which is being described as "an open air family raft ride. Up to six guests at a time will descend down navigating twists and turns and surprise drops." Also on the way is Shore Break, a tower consisting of six different water slides, which is being described as follows:
Four of the slides on the 60-foot tall tower will start with guests climbing inside an Aqua-Launch chamber where they will wait anxiously for the floor to drop out from underneath their feet, sending them into a high-speed, almost vertical free fall through a series of flat loops and S-curves in a translucent flume. Shore Break will also feature dueling tube slides that will zip riders through an enchanting series of drops and turns.
Construction on the new slides is set to begin in September, with May 2017 acting a the estimated opening date.