James Gunn Reveals New 'Guardians Of The Galaxy Vol. 2' Concept Art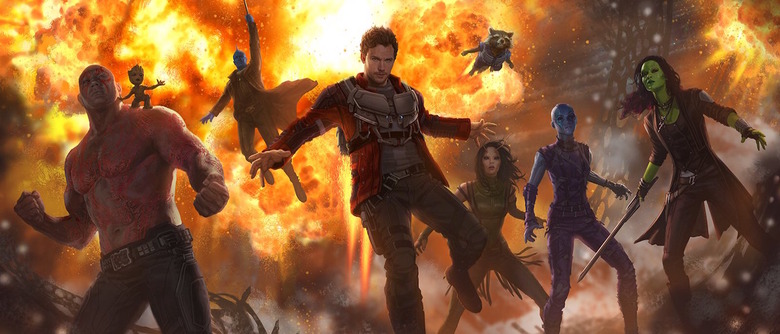 A new piece of concept art from Guardians of the Galaxy Vol. 2 is arriving in a new issue of Empire Magazine, but writer/director James Gunn has gone ahead and revealed it online. While this new images doesn't feature any new members of the team (as revealed in the first piece of released concept art, which sits at the top of this article), it does feature the core team doing battle with some kind of slimy alien menace. It's a fair trade-off.
Gunn released the art on his Twitter feed and it's good stuff: Star-Lord, Drax, Gamora, and Rocket, each both them equipped with jetpacks, do battle with a tentacled beastie with waaay too many teeth while baby Groot (still regrowing after the events of the first film) makes a hasty retreat. It's good to see this crew back together again, even in concept art form.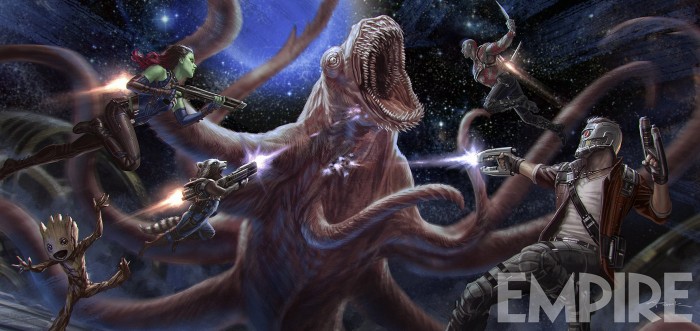 But who is that icky foe at the center of action? Gunn has the answer:
That's not setting off any alarm bells for me (and if it is for you, please let us know!), but it sounds like it was teased in the trailer that screened at Comic-Con last month. As our own Angie Han recounted:
The Guardians of the Galaxy Vol 2 Comic-Con trailer opened, naturally, with a close-up shot of Awesome Mix Vol. 2. Baby Groot picks up two wires to connect them, and Fleetwood Mac's "The Chain" starts playing.
We then see the Guardians in a giant glowing circle with spheres surrounding them. Something serious is about to go down. Star-Lord and Gamora begin their usual petty (and funny) bickering about her weapon of choice, a rifle rather than her usual sword. "We've been hired to stop an inter-dimensional beast, and I'm going to stop it with a sword?" she says. "You're the one who's being inconsistent!" he protests.
But the arguing stops when a giant portal opens in the distance and something — perhaps a ship or a creature — comes through. "Showtime, a**holes," says Peter.
Could this be the creature in question? And if so, is this a quick one-off adventure we see the Guardians get involved in before the main plot kicks in? After all, the new team members (including Yondu, Mantis, and Nebula) are nowhere to be found.
The film's Comic-Con panel revealed a number of other interesting details about the film, including the identity of Star-Lord's father (played by the great Kurt Russell). With a release date of May 5, 2017, we can probably expect to see the first trailer arrive as Marvel's next movie, Doctor Strange, hits theaters.