The Toy Box: Ghostbusters, The Force Awakens, American Psycho, Jaws, Batman 1966, TMNT 2 & More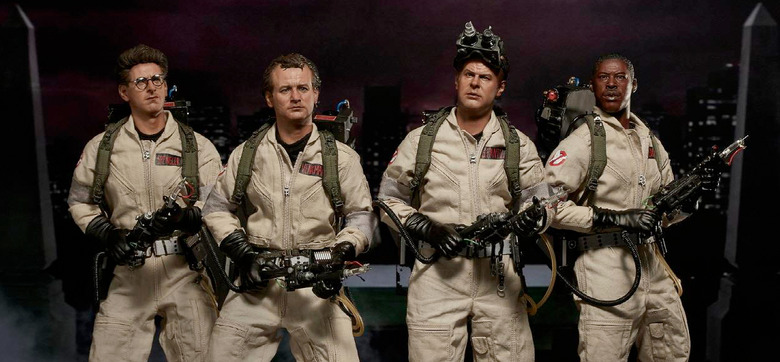 The Toy Box is a recurring feature at /Film that rounds up some of the newest and coolest collectibles, decorations, gadgets and other memorabilia that you nerds might want for your shelves.
Today we've got a set of some of the best Ghostbusters figures I've ever seen, a new Hot Toys version of Finn as FN-2187 from Star Wars: The Force Awakens, a great collectible version of the Batmobile from the classic 1966 Batman television series and more.
See everything in The Toy Box after the jump.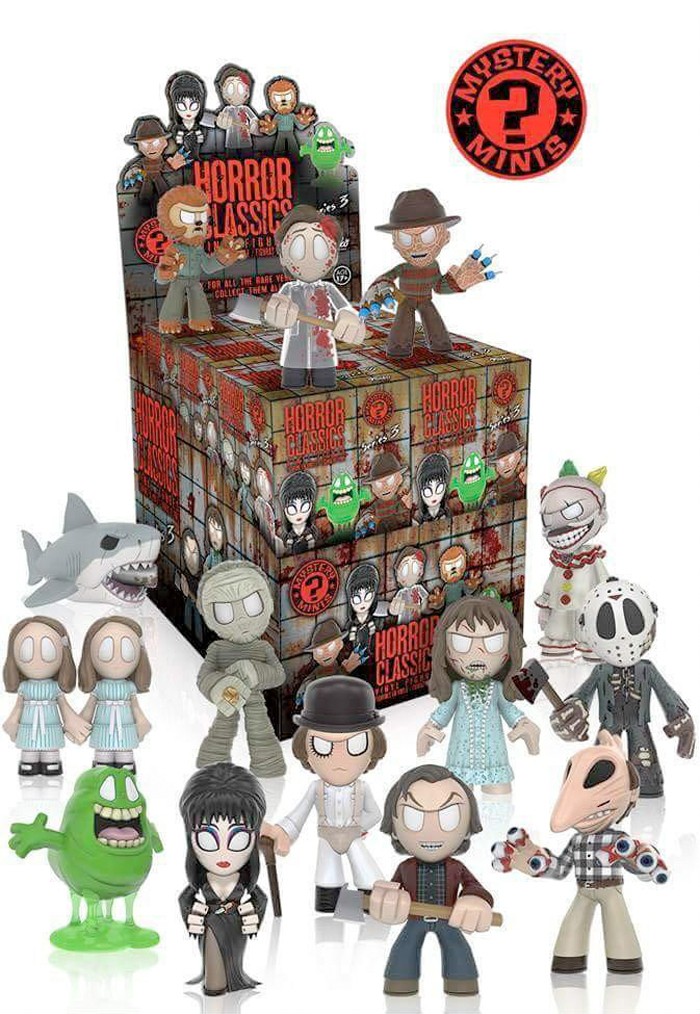 Funko's New Horror Classics Mystery Minis
The third series of Funko's Horror Classics Mystery Minis is coming just in time for Halloween this October, and the entire roster has just been unveiled with some great additions.
If you don't recognize all the figures in the photo above, here's all the included figures: The Mummy, The Wolf Man, Freddy Krueger with syringe fingers from A Nightmare on Elm Street 3: Dream Warriors, Patrick Bateman from American Psycho, the Grady Twins and Jack Torrance from The Shining, Alex DeLarge from A Clockwork Orange, Regan from The Exorcist, Jason Vorhees, Twisty the Clown from American Horror Story: Freak Show, Slimer from Ghostbusters, Elvira, Adam Maitland from Beetlejuice and Bruce the shark from Jaws.
Star Wars: The Force Awakens: Hot Toys Finn as FN-2187
Hot Toys has another great new sixth scale figure from Star Wars: The Force Awakens on the way, this time giving Finn a variant as First Order Stormtrooper FN-2187. The figure comes with the signature Stormtrooper helmet with a bloody handprint smeared on it, all the appropriate blasters, interchangeable hands, and armor that's all dirty from being on Jakku.
As of now there's no price or release date for the figure, but this one will have a limited quantity and will only be available in selected markets. No word on what those markets are, but this could be a more difficult figure to get your hands on. See more photos over at the Hot Toys Facebook page.
Batman 1966: Baiyodo's 1/35 Scale Revoltech Batmobile
The classic Batmobile from the 1966 Batman television series gets a new 1/35 scale collectible that comes mini versions of Batman and Robin standing a 6mm tall, as well as versions of the figures that sit inside the vehicle itself. The doors, hood and trunk open and of course the wheels turn too. There's no pre-order available yet, but the vehicle will cost about $80 from Kaiyodo and will be released in December.
Teenage Mutant Ninja Turtles: Out of the Shadows: Rocksteady and Bebop
Shredder's mutant henchman Bebop and Rocksteady finally made their big screen debut in Teenage Mutant Ninja Turtles: Out of the Shadows, and now they're getting a pricey set of statues from Prime 1 Studio.
Both are crafted as 1/4 scale collectibles standing around 21 inches tall. You can buy them both together or individually (though I'm not sure why you'd want one without the other). Plus, if you buy them together, you get an exclusive Shredder mask to display on your shelf as well. But if you want the set with the Shredder, you better act fast, because only 350 of them will be available.
The set will cost you $1199, or you can buy them individually for $599 each. There's no release date yet, but you can stay tuned to the Prime1Studio Facebook page to find out when they're on sale.
Ghostbusters: Blitzway's Sixth Scale Figures
These are easily the best Ghostbusters figures I've ever seen. They're super-detailed sculpts of Dan Aykroyd, Bill Murray, Harold Ramis and Ernie Hudson, complete with some of the coolest mini accessories. They all come with proton packs and radios, and there are also teases of the ghost trap, though it's not clear which figure will get that accessory. There's also a proton stream that can attach to the neutrino wand for the best ghostbusting poses.
There's no word on the price or release date for these figures yet, but the good news is if the 1/6 scale versions end up being too salty for you, there are also 1/12 scale versions being made as well. However, you might find the 1/6 scale figures more appealing when you learn there will be an Ecto-1 released on the same scale to go along with the figures. That's going to be so expensive, but I'm just gonna have to buy them.
See more photos of the figures over at Blitzway's Facebook page.
***
That's all for The Toy Box for now. If you're looking for some superhero goodies and other memorabilia, be sure to check out the third page of Superhero Bits or our recurring Cool Stuff articles.
Read the previous edition of The Toy Box right here.