Michael Pena Returns For 'Ant-Man And The Wasp'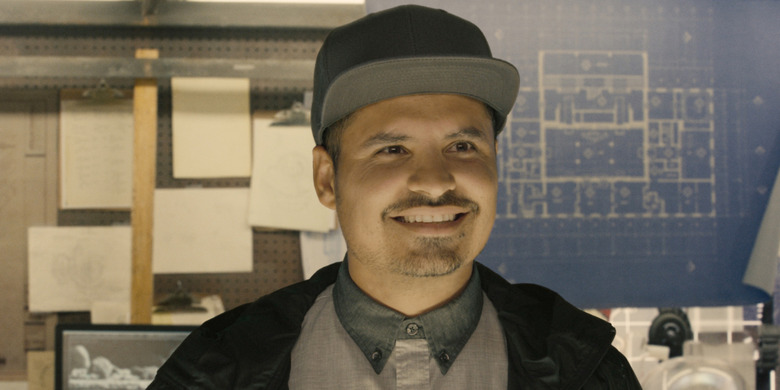 Last summer, Marvel Studios brought Ant-Man to the big screen, and the tiny superhero turned out to be a big hit, changing the pace by being a smaller, more isolated comic book flick. It has been particularly refreshing after The Avengers: Age of Ultron ended up being a little too big for its britches, and the film's success resulted in Marvel quickly changing up their schedule to allow for a sequel called Ant-Man and The Wasp to land a spot on the calendar in 2018.
Since we're a couple of years out from the film's set release, Marvel is making more moves to fill out the cast by bringing back one of the most entertaining parts of the film: Michael Pena.
Get details on Michael Pena in Ant-Man 2 after the jump.
In a story announcing that Michael Pena would star in a horror thriller called The Bringing at Columbia Pictures, The Hollywood Reporter has revealed that the End of Watch star will reprise his role as Scott Lang's fellow thief and friend Luis. The perpetually upbeat and energetic partner in crime brought some great comedy to the movie, including making the final scene in the film about Falcon tracking him down a memorable one.
Michael Pena is the first cast member outside of Paul Rudd, and Evangeline Lilly confirmed to return for Ant-Man and The Wasp. Michael Douglas is also expected to come back, but he wasn't under contract for multiple films at the start, so his return as Hank Pym will need to be negotiated (or maybe it already has been figured out without being announced).
Otherwise, we previously learned that Sharon Stone would have a role in Ant-Man and The Wasp. And since she teased it as a "wee part" in the movie, we're expecting her to show off some shrinking super powers, presumably as Janet Van Dyne, Hank Pym's wife who is believed to be dead after going subatomic to stop a missile from killing innocent people. There was a hint at her still being alive when Scott Lang goes subatomic in the climax of Ant-Man, so we're expecting the character to return with Stone in the role. However, a more recent detail added some confusion to her involvement, so we're waiting for more information.
With production on the sequel slated to begin early next year, we'll likely be hearing more about the cast returning director Peyton Reed is rounding up in the coming months so stay tuned for more updates.
Ant-Man and The Wasp arrives on July 6, 2018.