'Avengers: Infinity War' Could Feature A New Character, Say Directors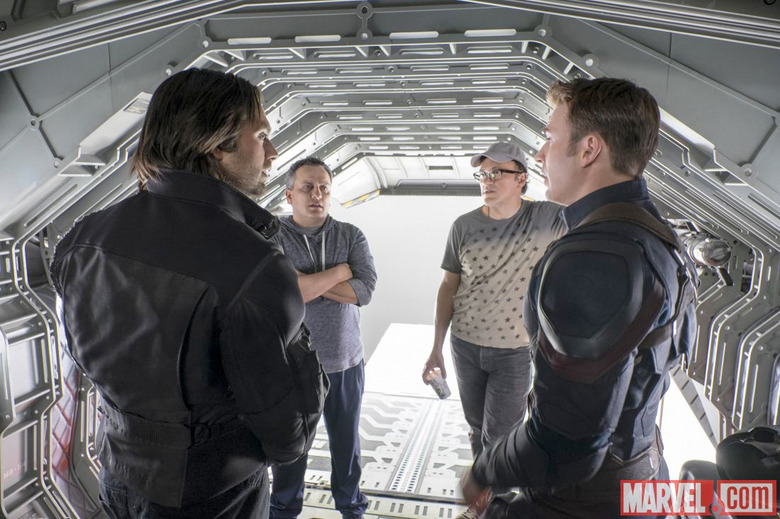 Captain America: Civil War had one of the biggest casts in Marvel movie history. Not only did it bring back nearly all the Avengers, it also unveiled Spider-Man and Black Panther. And Joe and Anthony Russo's next film for Marvel looks even bigger. Avengers: Infinity War promises to bring together the Avengers, the Guardians, and literally dozens of other existing MCU characters. But apparently, there's still room for more. The directors say the film will introduce yet another new character to the Marvel cinematic universe. 
While chatting with Yahoo about the (fun but far-fetched) notion of Anna Kendrick as Squirrel Girl, Joe Russo said, "Anthony would probably die from exhaustion if we introduced another character." However, Anthony Russo added, "That's not to say we're not going to introduce a new character."
That wording is about as vague as it gets, but the most likely possibility is that he's talking about Carol Danvers a.k.a. Captain Marvel, who already has a solo film lined up for 2019. However, the brothers aren't saying. "If they ever cast that role, maybe," Anthony joked. "Do you know if they've cast it yet?" The answer, as the Russos well know, is that they have — at last month's Comic-Con panel, Marvel Studios officially announced Brie Larson would take on the role. But given how famously secretive this franchise is, it's hard to blame the Russos for playing coy. "That's one we're going to have to plead the fifth on," said Anthony.
Call me Captain Marvel. pic.twitter.com/IgqRIb9ijM

— Brie Larson (@brielarson) July 24, 2016
Aside from the casting, Marvel hasn't revealed much about the big-screen version of Captain Marvel. Even the comics may not be all that helpful in this case. Nicole Perlman (Guardians of the Galaxy), who is working on the Captain Marvel script with Meg LeFauve (Inside Out), recently stated that the character's origins would differ from the source material. "But here's the thing, if you were just going to do a straight adaptation of the comics, her origin story is very similar to Green Lantern. And obviously, that's not what we want to do," she said earlier this month. "There's a lot of reinvention that needs to happen."
Captain Marvel's introduction has been a long time coming. The character was rumored to be joining the MCU for years before Marvel finally confirmed as much in 2014. At one point, Marvel considered debuting her in Avengers: Age of Ultron. But, Kevin Feige has explained, they felt that such an entry wouldn't do her justice. "The truth is, it just didn't seem appropriate to have this new person in a new costume come out of nowhere at the end of this story," he said. "It would have been a disservice to, what by the time the movie was coming out, a character people already knew was coming anyway."
It's probably just as well, considering Age of Ultron was crowded enough as it is, but it's a bummer that the decision means we're still waiting to see Captain Marvel. Hopefully the Russos have enough to do right by her in Avengers: Infinity War, even among the 67 characters slated to appear.
Avengers: Infinity War opens May 4, 2018.