'Avengers: Infinity War' Will Feature The Guardians Of The Galaxy, Confirms Vin Diesel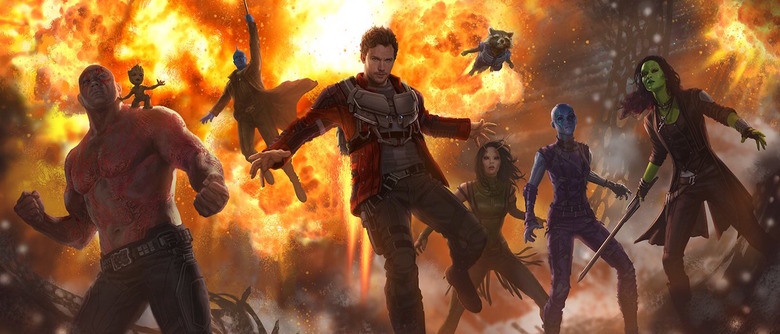 Marvel Studios likes to keep its cards close to the vest, doling out only the sparest bits of information early on, and then at a very carefully controlled pace. Marvel star Vin Diesel, on the other hand, loves to share. The Guardians of the Galaxy actor is famous for divulging details to fans on social media; in fact, that's how we learned he was circling the MCU to begin with. And now he's at it again with another big announcement. As confirmed by Diesel, the Guardians will appear in 2018's Avengers: Infinity War. 
Diesel took some time today for a Facebook Live stream. At one point during the nearly 30-minute video, he got to talking about how much he appreciates the support of his fans... which then led to him dropping the Avengers: Infinity War Guardians of the Galaxy news.
Next year, you've got Guardians of the Galaxy Vol. 2 coming, and that whole concept started from you all saying, 'When are you going to be in a Marvel movie, when are you going to be in a Marvel movie?' And you remember the first picture after that Marvel meeting that I had, where I was standing with the Avengers thing in the background ... there was an old Avengers copy behind me in the picture.
What's going to be surreal is, that picture is going to come to pass because now the Guardians will be included in Avengers: Infinity War and that's incredibly exciting, incredibly exciting. Incredibly exciting, and something that if you were a part of our page, you knew before everybody, or you were told before everybody.
The photo Diesel is referring to is this one, which shows him standing in front of a framed, blown-up cover of an old issue of the Avengers comic. We probably don't need to take his words completely literally — it's unlikely he means this exact scene will be in Avengers: Infinity War — but this does confirm what fans have long assumed. Yes, the Guardians will report for duty in Infinity War.
Although the Guardians and the Avengers belong to the same shared universe, they haven't overlapped much so far. But Thanos' quest for the Infinity Stones will bring together basically the entire MCU (well, the movie side of it anyway) in Avengers: Infinity War and/or Avengers 4. Diesel doesn't say how the Avengers / Guardians crossover will play out — will they butt heads or fight side by side? For that matter, will they actually share any scenes? Regardless, the thought of all of these great characters coming together in a single feature is pretty exciting anyway.
Avengers: Infinity War opens May 4, 2018. Joe and Anthony Russo are directing.