'Game Of Thrones' Season 7 Character Descriptions Revealed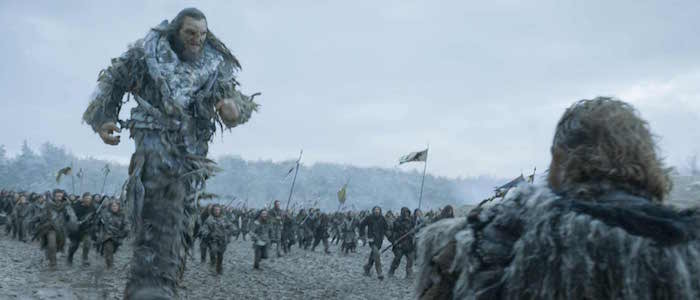 The days of Game of Thrones book readers being able to lord their knowledge over show watchers came to an end with season six of HBO's (still spectacular) fantasy series. After all, the plot of the show official outpaced the novels of George R.R. Martin, taking us beyond the cliffhanger ending of A Dance With Dragons and into uncharted territory. And yet, readers still had a minor edge, as many of the new characters introduced that season were leftovers from the books, like Samwell Tarly's abusive father and the priest played by Ian McShane.
But season seven? All bets are officially off. Descriptions of new characters set to show up in the next batch of episodes have arrived online and I can't even begin to tell you who any of these people are. (Spoilers for season six and speculation for season seven follow.)
These character descriptions come from the reliable folks over at Watchers on the Wall, who have been breaking Game of Thrones news for some time now. As you'd expect, the character descriptions don't feature any names, so it's often not clear if a character is Random Guy #2 or a named character with a great deal of dialogue and a large role to play in the plot. So ladies and gentlemen, start you speculation engines!
And naturally, potential spoilers lurk ahead (and anything from the first six seasons is fair game).
First up is a General, aged 40-55, who is described as "a senior military officer, and they're looking for a white actor who uses the British RP accent." For the record, RP refers to Received Pronunciation, the posher accent used by upper-class characters on the show, especially those who live and work in King's Landing. If I had to float a guess out into the ether, I'd say this guy is Queen(!) Cersei's military commander. After all, she's looking at a war on two fronts.
Next up is a Priest in his 60s, who is described as a "venerable priest with moral authority and gravitas" and the production is seeking an actor with a "characterful face" and an RP accent. Could this guy be the (Cersei-approved) replacement for the late High Sparrow?
The Warrior is one of the most interesting descriptions in the bunch. Aged between 35 and 45, the character is described as a "tough-looking bruiser with the attack skills of a pit bull, and the actor needs to be great at fighting." The character will have a lot of dialogue and is apparently an "excellent part for a top-end actor." This may sound like a Dothraki character, but the production is seeking a white actor with a neutral accent, so he definitely hails from Westeros.
Then there's the Gate Guard, who is in his 20s and is "confident, characterful, straight-talking Northern lad with a great face to play across a very excellent series of scenes." Northern may be the key word here. Will this guy have a role to play at Winterfell under the command of Jon and Sansa?
City Guard is in his 30s and requires an RP accent, so expect him to be a Gold Cloak on patrol in King's Landing or something along those lines.
The Merchant is in his 40s and he will be "at an inn during a busy evening." The ethnicity of the actor is open, so this character likely hails from Essos.
There is also a Lovely Lady that is a "good speaking part" and is "an attractive young courtesan who is sure of her own mind." Since this is Game of Thrones, full nudity is apparently required for the role. Because of course it is.
That brings us to the Young Lord, a "tall, handsome" man in his late 20s. He'll use the RP accent, so expect him to be a King's Landing fellow.
And finally, we arrive at a Lieutenant in his 20s, "an athletic, physically fit, and disciplined warrior." The casting notes specify someone of Middle Eastern descent, which implies that he is a Dothraki warrior. However, he could very well be working for House Martell as well.
For additional details, follow the link the above. Game of Thrones season 7 is about to get underway, but it will arrive later than usual as the production needs icier locations to represent the newly arrived winter.